Top 16 Latest Best 3D Games For Android Offline and Online – Mobile gaming has improved tremendously over the last half-decade. Where in the past I only had a few options which were basically Angry Birds, Solitaire, or Spades, I now have the best Offline 3D game 2023 full of amazing graphics. Since mobile devices don't have 3D screens (like the Nintendo 3DS), there are no true 3D games for Android. Instead, I decided to recommend this best game.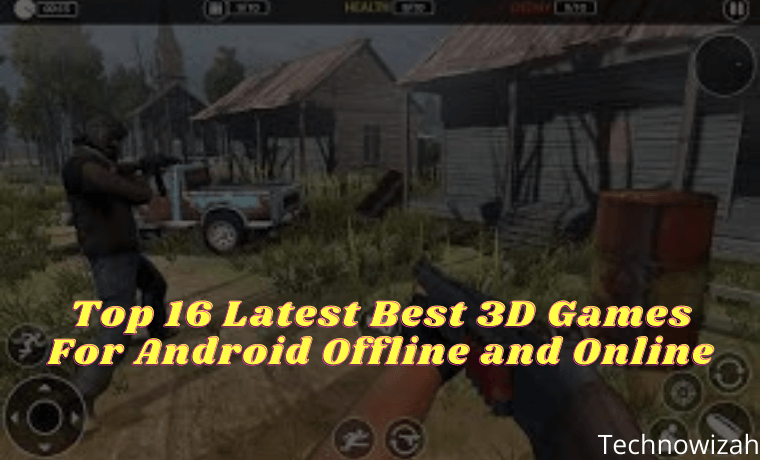 Top 16 Latest Best 3D Games For Android Offline and Online 2023
There are thousands of Android games on the Play Store in almost every genre imaginable. Many games require a reliable and stable internet connection to work, which makes them useless when we don't have internet access. Games that require an internet connection are sometimes full of annoying ads and popups that interfere with the overall gaming experience.
Read more:
There are times when you don't have access to the internet, and you have time to delete. Your best bet is to save some free 3D Android games (which don't require the internet) for reuse. My list of best offline 3D Android games 2023 can help you choose amazing games from various genres that can be played offline anytime, anywhere.
Android brings many 3d games to its users. There are many 3d games available on the play store. But I always try to pick the best out of it, and I usually don't want to try a lot of games for trial so we can pick the best one. We prefer to play recommended games. In this article, I round up 20 of the best 3d games for Android that you can choose as suggested.
#1. Sniper 3D Gun Shooter: Free 3D Shooting Android Game – FPS
Do you like to play FPS (First Person Shooter) games? Let's Install Sniper 3D Gun Shooter: Free Shooting Game – FPS; load, direct, and fire criminals in different scenarios.
This game comes with amazing gameplay and visuals that contain lots of entertaining and challenging missions.
Unlike other games where you just have to kill, you have to find the target out of many and save the victim by killing in time.
Important Features
It provides ultra-realistic 3D graphics.
There are hundreds of missions.
User-friendly controls.
You will have a variety of deadly weapons.
This is a free FPS game.
You can play it anywhere because you don't have to be online all the time.
#2. Best 3D Game – PUBG MOBILE
This is one of the best 3d games for Android which has caught the attention of all kinds of game lovers. The gameplay and graphics are not only attractive but also very impressive. You can create a four-man squad and fight with more than 96 people.
You have to tactically plan and execute to stay until the last moment of the game. You will have direct communication with your teammates. You must have tactical prowess, good shooting skills, and strong coordination with teammates to achieve success.
Important Features
This is a free game with great gameplay and graphics.
It helps you in growing camaraderie or camaraderie among teammates.
You have to deal with 100 people and fight their tactics and skills.
This is a real-time game where all your opponents are in real control.
A good internet connection is always required throughout the game.
There are many maps where you can play, and all areas are very large.
Different categories of weapons are there, and you have to collect them.
#3. Best 3D Game – Garena Free Fire – Winterland
This is another best 3d game for android which is a real-time online game. However, it is also available for iOS. This is a very challenging game with 49 other players with you. You have to survive using your tactics.
It is possible to play with other people as a duo or with more than three people as a squad. Playing in duo or squad mode adds more fun to the game where you can play the game with real-time conversation and planning. This addictive game will make your time thrilling.
Important Features
This game comes with realistic and smooth graphics.
Easy and user-friendly controls.
Can be played alone, with others in duo mode, and with up to three people in a squad.
Real-time voice chat among teammates adds a different dimension to the game.
A total of 50 real-time players will fight against each other.
Various weapons are available with different battle gear.
Full-time internet is a must for this game.
Different maps with large areas each make the game more interesting.
This is a free game.
#4. Best 3D Game – Asphalt 8: Airborne
Do you like racing games? It is one of the perfect games for you then. This game will allow you to play with some cool high-speed engines on really fantastic tracks with great gameplay and graphics.
This Gameloft racing game will take you to a different world with these super machines. In addition to the great graphics, you will enjoy insanely insane audio that will speed up your game modes.
Important Features
Around 200 crazy vehicles are there to keep you confused about finalizing your choice.
Engine audio will let you feel the real cockpit of a super vehicle.
More than a thousand styles will allow you to add your artistic mind to your car.
Flying, spinning, and stunning will make you crazy about this game.
A collection of more than 40 tracks with almost 20 different settings will not let you get bored.
Unlike other games, you have to control the damage in addition to racing.
Comparing scores with friends and opponents will make you competitive and addictive.
#5. Best 3D Games – Nautilus Mobile
Nautilus Mobile makes an amazing game for cricket lovers. They have added many innovative ideas to this game which makes it a unique game for cricket lovers. Different real reasons, weather, tournaments, camera settings, etc.
Making this game very realistic and one of the best 3d games for Android. The login system using an account has given this game a progressive and dynamic form.
Important Features
Realistic gameplay with excellent graphics.
Different timings can be selected by the player.
Most advanced systems are used for various decision-making processes by referees.
The inclusion of weather effects has made the game more realistic.
You can choose any authentic stadium you like.
Sixteen different world cricket championships are available in the game.
You can get the real feeling of the test match in these games.
The addition of mind games between players in terms of sledding, drama, and action adds a new dimension to the game.
#6. MORTAL KOMBAT X
Warner Bros. International Enterprises brings Mortal Kombat X action games for extreme fighting game lovers.
This game comes with very new special attacks with the ability to prepare your team which gives the experience a whole new dimension. Character customization and variety in all aspects make this game a unique fighting game and one of the best 3d games for Android.
Important Features
You can create your team and lead them into battle.
You can play with veterans and new faces.
Character customization will allow you to outwit and dominate your opponents.
Online battles allow you to invite your friends and challenge them with your skills.
Different lucrative prizes will increase your interest in playing the game.
#7. Best 3D Game – 3D Pool Ball
CanaryDroid brings an interesting game to those who like accuracy. 3D Pool Ball is a perfect quality game that you have never experienced before.
This game allows you to play with real players in real-time. And real-time gaming has always been very interesting. Amazing gameplay and graphics will make you feel real in this game.
Important Features
A well-reviewed game so far with a big download.
High-quality graphics and good gameplay.
Playable in one and eight-player tournaments in 8 balls and 9 balls online.
It also lets you play offline with artificial intelligence.
Allows you to switch 2D and 3D views.
#8. Call of Infinite Air Warfare
This is for those who love to fly and fight. BraveTale introduces a game that lets you experience flying and fighting like a hero.
Realistic modern warplanes will take you to adventure and thrill. Easy controls and good-quality graphics will quickly tune you in with its gameplay. This flight and flight simulation game has received good reviews from users.
Important Features
Very good quality graphics with easy and user-friendly controls.
Take extreme air combat situations with modern fighter planes.
Huge collection of modern and advanced airplanes.
Moderate ads that appear only at the end of the fight.
Has a very good number of downloads.
Reviews about this game are satisfactory.
#9. Fighter planes: WW2 Dogfight
War movies sometimes make us dream of flying with old works and fighting with courage and bravery. Living in modern times we often feel like going back in time and experiencing life, fighting, and thinking about our ancestors.
Home Net Games has made scope to go back in time and experience the same thing as flying a WW2 masterpiece. In addition, the game will allow you to experience the commando of the military flying leader.
Important Features
The whole game is based on a WW2 scenario.
There are more than 30 masterpiece glyphs available that were used during WW2.
The game controls are very easy and the planes are easy to use.
Apart from flying, you have to manage your team by planning and training them as leaders.
This game has managed to get very good feedback from users.
#10. Pacific Warships: Online 3D War Shooter
Sea, ship, and war all in one game. This free warship game turns you into a fleet admiral and lets you fight like a real tactical hero.
This online game will take you to the vast ocean with upcoming real-time opponents with big guns and modern lethal weapons. However, you will have the same with you, a tactical plan and smooth execution will lead you to success.
Important Features
This is an online multiplayer game.
You can upgrade your ship with various weapons and war machines.
In addition to managing the ship, you have to lead your troops and machines.
Easy and user-friendly controls let you master it.
Get positive feedback from users.
#11. Fun Race 3D
Want to have a relaxing and fun racing game? Then try Fun Race 3, it's a very fun racing game that won't stress you out in racing games. The 3D graphics that the developer uses in this game are satisfying.
Also, the soundtrack and the environment behind the racing road are nice to look at. So, playing this game will turn your boring time into a fun gaming experience. However, the easy-to-use interface of this game will always amaze you. At the same time, smooth controls and easy settings also make it a very enjoyable game.
Important Features
Lots of interesting and funny levels to play and enjoy.
Different types of obstacles will make you run harder.
Colorful and playful environments with a game-changing soundtrack.
Amazing graphics with 3D design.
You can unlock new characters and unlock cans of unplayable levels.
#12. City Racing 3D
Another exciting 3D racing game for Android is here for you. This is City Racing 3D. This amazing game is designed with high definitive graphics and an excellent sound system. Moreover, the game will let you become the king of street racing with its appreciative 3D physics. However, the strategy and function of this game are easy to understand and almost the same as the real racing function.
Moreover, it will offer you to play with your friends in its multiplayer mode. For that, you only need a wifi connection. Otherwise, it's fine not to connect. Get interested, right? Then study its features and learn more.
Important Features
Real-life-like feeling with 3D vehicles, traffic jams, and other problems.
You are free to customize and update your cars and trucks.
There is a huge collection of cars and you can choose any one of them.
Smooth control over the game and exciting gameplay.
You can join a global tour and learn more about meeting new friends.
3 kinds of racing modes.
#13. Color Bump 3D
Another Best Android 3D game offline 2022 that you can enjoy on your smartphone is here. This is Color Bump 3D, a fun game for relaxation and time passing. Here, you have to pass a certain way with one color.
And you can't go or touch any other color. It's a game. Now, install this game and enjoy your free time with it. Once you start playing it, you should be addicted and can't think of any other fun game. While you may think this game is very easy, it will be very difficult to master. However, you can give it a try for unlimited fun.
Important Features 
More than 100 levels of this game are available here.
Incredible 3D graphics with high-definition visual initiative.
The mood of the sound and music changed.
Addictive gameplay with an easy-to-understand structure.
Easy for beginners but hard to be a pro.
A game that people of all ages can enjoy.
#14. Turbo Driving Racing 3D
Want to play a 3D Offline Car racing game? Then try Turbo Driving Racing 3D. This is quite a popular 3D game for your Android device with very supportive controls and screen gestures.
This compact size racing game is very addictive and you will pass your boring moments playing this game. The strategy of this game is easy but it is not easy to be a pro in it. Because it will be more difficult as much as you will do.
However, the vehicles that you will drive in this game are designed with very satisfying graphics. At the same time, the mood swing sound effects will also increase your excitement level.
Important Features
Amazing graphics and customizable 3D vehicles are available.
You can customize your car with 9 types of wheels.
There are 9 different colors that you can apply to your car.
There are 8 high-performance vehicles that you have to unlock by winning races.
You can earn coins to unlock and upgrade your vehicle.
#15. 3D Tennis
If you're obsessed with tennis but can't play it due to a lack of equipment, I have an idea for you. Game Mouse comes with 3D tennis which can be a source of fun for you. It is a single-player game with an immersive user interface and stunning physics.
Playing tennis is all about timing and accuracy. This Best Offline Android 3D Game has a smooth engine that takes the game like a knife through butter. You can also choose players and participate in tournaments. It has a large inventory of bats and equipment that you can upgrade throughout the game.
Important Features
Coaching mood for beginners to improve their skills.
There are many characters with different outfits to enhance their performance.
Different places you can play.
The most realistic graphics you will see in any game.
A Quickplay setting that selects random places and opponents is also available.
#16. Gun Strike: Counter Shooting Game 3D
Do you like playing 3D first-person shooting games? Then try Gun Strick., another Best 3D Game 2022 for Android users. With this game, you can improve your shooting skills by simply shooting terrorists on the ground.
This game has an impressive open-world experience. So, you can play this game as a special force and destroy enemy troops. You will get various missions in this game just survive till the end and complete your task.
You can also practice and test your shooting skills in practice sessions. Get used to the weapon and be aware of its damage and accuracy.
Important Features
A realistic 3D environment is the best part of this game.
Smooth and easy game controls.
Huge inventory of weapons and customization.
Intelligent AI enemy players that are hard to kill.
Perfectly optimized for every Android device.
Conclusion:
This is the explanation of the 16 best 3d games for Android, which you can play online and offline. These are selected from various categories. Some of them shoot, some race, and some of them have extreme fights. You can take the right one according to your wish.
Don't forget to bookmark and always visit every day Technowizah.com because you can find here the latest Tech Computer Android games How-to Guide Tips&Tricks Software Review etc, Which we update every day.