How to Downgrade Oppo A37F on Android –  Several years ago, Oppo officially released its newest Android smartphone at a relatively cheap price in the Indian market. This smartphone is named Oppo A37F.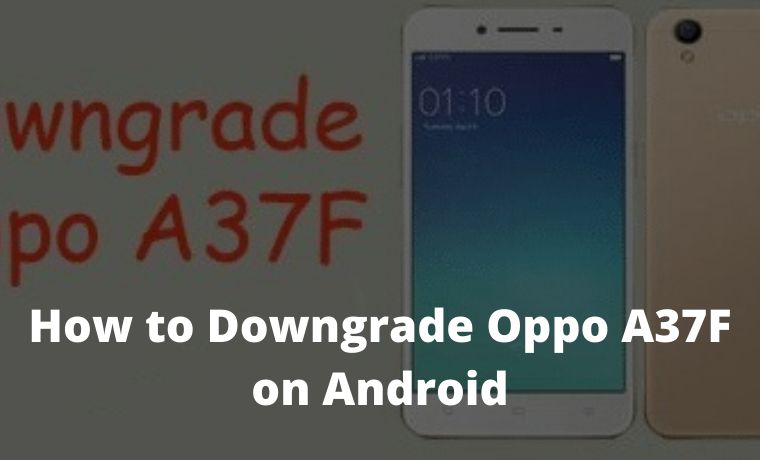 How to Downgrade Oppo A37F on Android 2023
If you are an Oppo A37F smartphone user, maybe you have experienced difficulty rooting because you have already upgraded to the latest firmware.
Read more:
It turned out that this happened because Oppo had closed the root path in the latest firmware.
If you experience something like this, then the solution is you have to downgrade the Oppo A37 firmware that you are using.
The method is not too difficult, you can downgrade via OTA. You only need to prepare a firmware version below it. Download the following.
How to downgrade Oppo A37 via the flash tool is not too difficult, you can downgrade via OTA.
You only need to prepare a firmware version below it. You can download it via the link below.
How to Downgrade Oppo A37F without PC
Prepare an SD Card with a minimum capacity of 4GB.
Then Format the SD Card to  Fat 32 Default.  Use a PC / laptop
Copy the above Firmware to SD Card
Then plug the SD card into your Oppo A37F cellphone
If so, then enter  Recovery mode.  The trick is to press the volume down button + the power button simultaneously until the Oppo logo appears, then release the power button but keep holding the volume down button until a display appears as shown below.
Then select  "English"


How to Downgrade Oppo A37F without PC

How to downgrade oppo a37F
For maximum results select  "Wipe cache & data".


Wipe cache & data

Next, then select  "Install from storage device"
Find and select the firmware on the SD Card.
The flash process will take a few minutes.
Please Reboot.
Done
The advantages of the Oppo A37F
Metal body that gives a luxurious impression to the design.
Already have a 4G LTE network that can provide smoothness when used for browsing without the slightest hitch.
Running the Android Lollipop Android v5.0 operating system which provides an attractive appearance.
Powered by a Snapdragon 410 processor with a Quad Core 1.3 GHz processor which is capable of delivering fairly fast performance.
2 GB RAM can run all types of applications and games without stopping.
The 16 GB internal memory can store various types of applications or games.
The rear camera (main) with 8MP resolution with autofocus function and LED flash can provide clear photos.
The front camera has a 5-megapixel resolution with a flash screen function that keeps night selfies clean.
2630 mAh battery, which can last long enough to play games.
Lack of Oppo A37F
Not equipped with a Fingerprint (fingerprint scanner sensor)
Lacks fast charging technology (Fast Charging)
This smartphone is here to compete in the lower-middle-class smartphone market. The Oppo A37F comes with a luxurious design.
As well as having a metal body combined with specifications that are very qualified on a cellphone in its class.
The Oppo A37F has a screen with an ideal size of 5.0 inches with IPS LCD technology with a resolution of 720 x 1280 pixels (HD) which has been coated with corning Gorilla Glass 4 protective glass, which makes this smartphone very comfortable to operate with one hand.
In addition, the Oppo A37F has a very attractive interface. Because it is running on the Android OS v5.0 Lollipop.
Then for the camera side, the Oppo A37F has a 5 MP front camera complete with a Screen Flash feature that makes nighttime selfies look clear.
The Oppo A37F camera has a resolution of 8 MP, which already has the ability to record video up to a resolution of 1080p 30fps (Full HD) which has been supported by the Autofocus feature and also LED Flash.
In the storage sector, this smartphone is equipped with internal memory with a capacity of 16 GB, and can still be enlarged by using microSD up to 256 GB which can store various types of files.
As for the battery, the Oppo A37F cellphone has a battery of 2630 mAh which can last for 12 hours for normal use.
That was the tutorial on  How to Downgrade Oppo A37F  easily which you can do yourself by following the tutorial above.
Read more:
Conclusion:
This is the explanation of How to Downgrade Oppo A37F on Android, which can be a solution to your problem. Good luck and good luck and thank you for visiting.
Don't forget to bookmark and always visit every day Technowizah.com because you can find here the latest Tech Computer Android games How-to Guide Tips&Tricks Software Review etc, Which we update every day.