10+ Best Android Download Manager Applications – You must have downloaded various files on the internet, right? Be it document files, videos, music, applications, and others.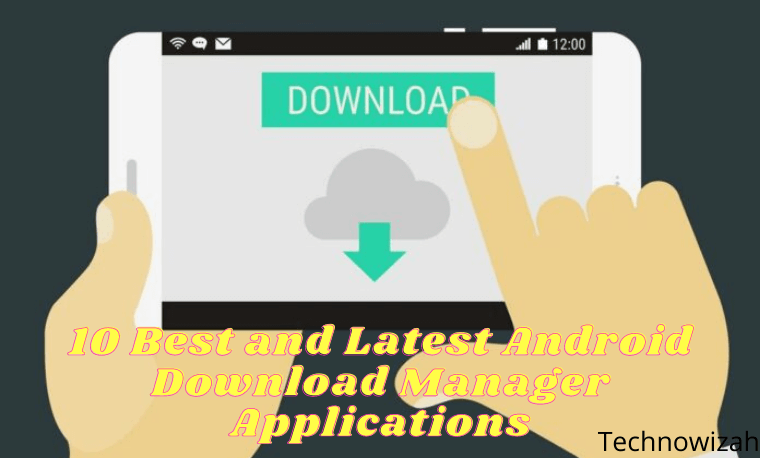 10+ Best And Latest Android Download Manager Applications 2023
If you download a video file or document that is up to gigabytes in size, then you have to download it with the help of the Android downloader application. This application will help you download large files on the internet quickly.
Read more:
Usually, if you download a file that reaches a gigabyte in size without the support of a downloader application, the download process may be interrupted. Why? because the file you downloaded has reached the maximum limit and is too large. Therefore you should use an Android downloader app.
Of course, we will feel very annoyed if the file we are downloading becomes an error or is interrupted in the middle of the download process. This often happens when we download large files on Android.
Therefore, for those of you who have a hobby of downloading large files such as downloading movies, you must have a downloader application on your Android. Here are 10 kinds of Android downloader applications that you must try and install on your Android phone.
#1. Advanced Download Manager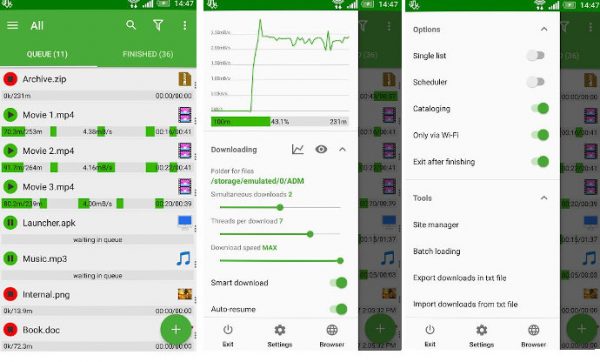 The first Android downloader application is called Advanced Download Manager. This app is one of the best Android downloader apps and you can download files faster.
This application has also implemented the spatial connection method. This method is a method of dividing the network by means of multi-threads up to 9 connections. Well, with this method, you can make large files download smoothly on your Android.
By using Advanced Download Manager, you can also check what the internet speed is in real-time. Then the results of your downloads will be organized more neatly and will be categorized by date, time and others. You can also use the pause or resume features to download large files.
#2. Turbo Download Manager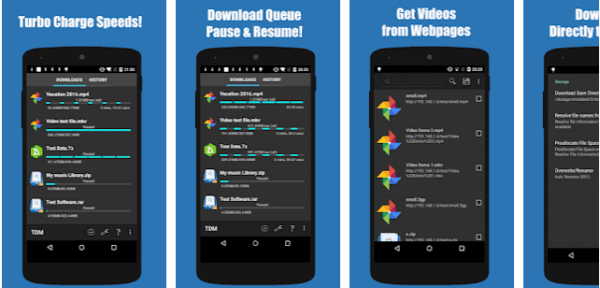 Turbo Download Manager is an application that allows you to download multiple files at once, such as downloading images, videos, audio, zip, and document files in the web browser of your Android phone.
How to use this application is also very simple, namely by sharing a URL link to the application, and then the application will increase your download speed by activating the multi-network method.
In the multi-network method, you can pause, resume or queue up many downloaded files at any time. If the file has been successfully downloaded, it will automatically be inserted into your SD card.
 #3. Louder Droid Download Manager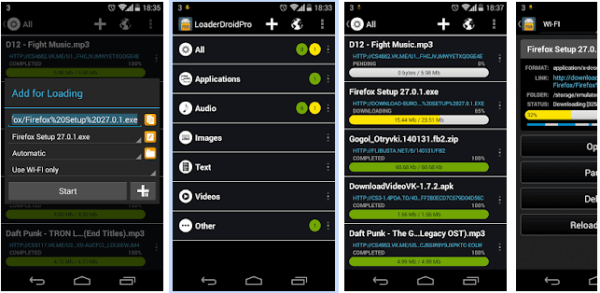 Louder Droid application is an application designed specifically for use on the Android platform. This application supports all types of files to download such as music files, videos, images, documents, and so on.
Louder Droid has a very friendly and familiar interface design in the eyes of users. This is enough to make users feel satisfied and can operate it very easily. This application can also use dark or light mode.
#4. Fast Download Manager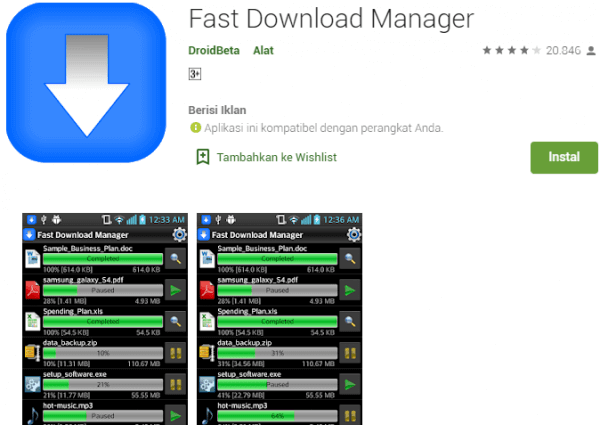 You can use the Fast Download manager application as an alternative application to the advanced download manager application. Why? Because this application has features and tools that are almost the same as the ADM application. This application can perform the download process using 10 connections and can use the pause or resume features.
The appearance of this application is also very good and has been integrated with the browser created in this application. Well, on that browser you can block annoying ads from all sites on the internet. That way, you can surf the internet freely and quickly.
#5. Browser code with Download Manager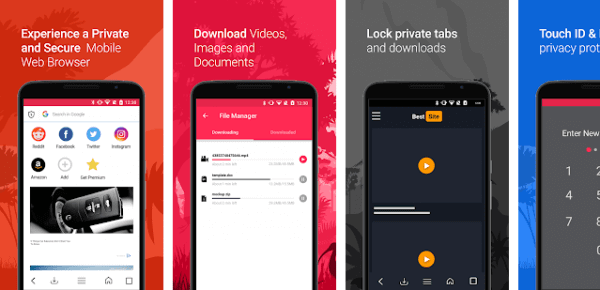 Unlike the previous application, this Browser Code application is an internet browser in which it already has a download manager that can speed up the process of downloading a file. You can download videos, pictures, music, documents, and so on using this application.
You can also lock private tabs and download tabs with a password or Touch ID. In this browser, there is also a USA-owned VPN that you can use unlimitedly. And to use it you can do it with a single touch on the protection icon. This application also supports various types of files such as mpp4, Avi, MOV, Docx, Xls, and so on.
#6. Download Accelerator Plus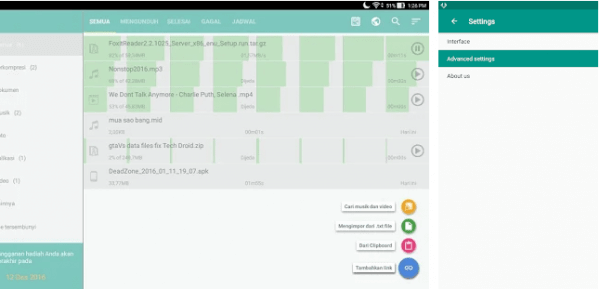 This application has almost the same features as other applications, so you can use it as an alternative to the previous download manager application. Examples of features such as being able to see internet speed in real-time, pause, or resume.
The Download Accelerator Plus application is also able to increase the speed of downloading your files on Android. To save files to Android, you can do it manually by saving them to your SD Card. Another excellent feature is that this application can auto-catch on download links in all browsers.
#7. IDM – Download Manager Plus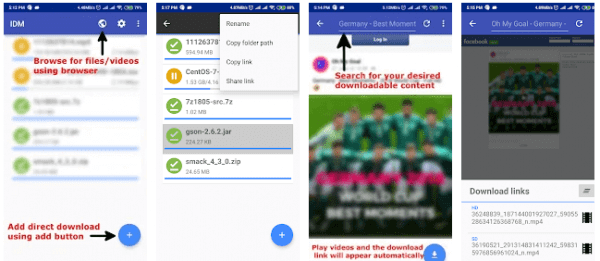 You must think that this application is an application released by the company that created the desktop version of the Internet Download Manager (IDM) application, right? But unfortunately, that assumption is wrong. Because this application is not an official application issued by the company.
But don't be discouraged just yet. Because this application is no less interesting than the desktop version of the IDM application. This application also offers download speeds of up to 500%. Not only that, this IDM application can support the download process in the P2P (peer-to-peer) method via Torrent.
#8. Phoenix Browser with Download Manager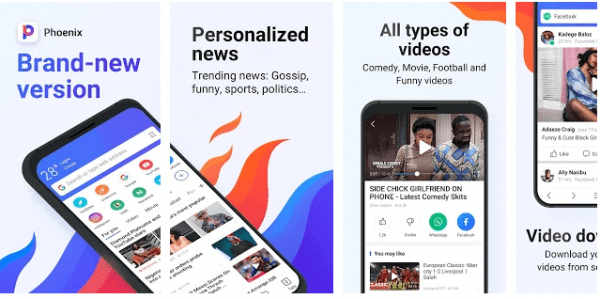 Similar to the Kode Browser application, the Phoenix browser application is also an internet browser application that includes a download manager. There are many various features available in this application, such as data saving, private browsing, and downloading files.
Phoenix browser can detect videos that you can download automatically with the smart detection function when you are browsing the internet. This browser will speed up your download process because it already has a download manager feature in it.
#9. GeThemAll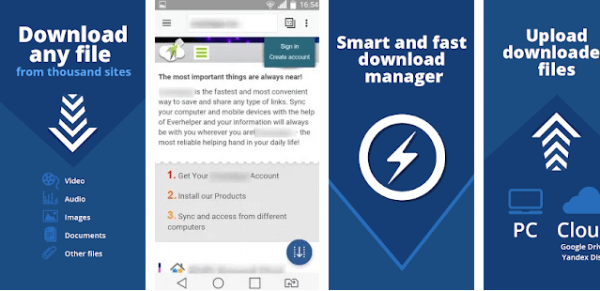 If you are bored with browsing various webs to download files one by one, then this application will give you a solution. You don't have to download various files one by one. Because by using this application, you can download all the files at once.
This application also features faster download management and good file management. You just need to find the file that you want to download.
#10. MyJDownloader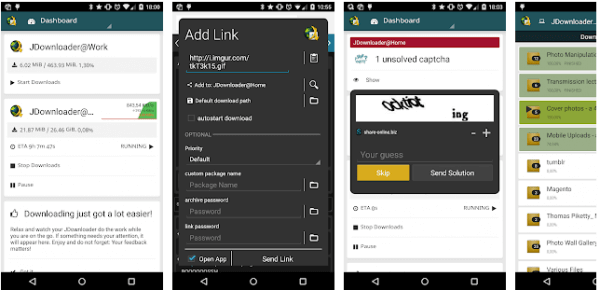 MyJDownloader has more than 300 plugins that you can use however you want if you want to download. A useful plugin to schedule the exact time the download process can be started or stopped is the scheduler plugin.
With this application, you can monitor the download process that is running, see the order of links that have been saved, or can add links in the link grabber.
Read more:
Conclusion:
This is the explanation of the 10+ best android download manager applications, I hope this article is useful for you, You can use it as a reference to download one of the applications above.
Don't forget to bookmark and always visit every day Technowizah.com because you can find here the latest Tech Computer Android games How-to Guide Tips&Tricks Software Review etc, Which we update every day.