15 Best VPN Applications For Android Free and Unblocked – Using the best VPN application 2021 on Android allows us to easily access blocked sites or services. For example Reddit, Tumblr, and other sites that are blocked by the Ministry of Communications and Informatics or cellular operators.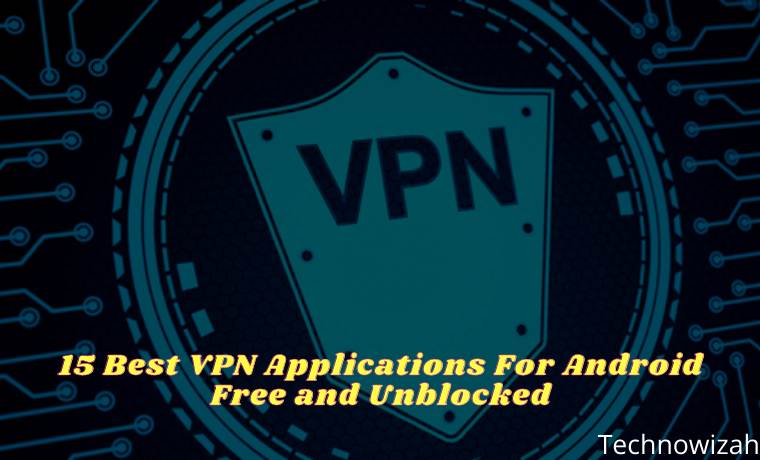 Best VPN Applications For Android Free and Unblocked 2023
For your information, a Virtual Private Network or commonly known as a VPN application is one solution to open blocked sites. There are a number of reasons why a site is blocked.
Read more:
However, there are sites that are actually useful but are actually blocked, such as Reddit or as happened with Tumblr.
This time, the Technowizah team has summarized the recommendations for the 15 best 2021 VPN applications on Android and of course free ones that you can use to access blocked sites. There anything? Let's look at the following list.
#1. Mini VPN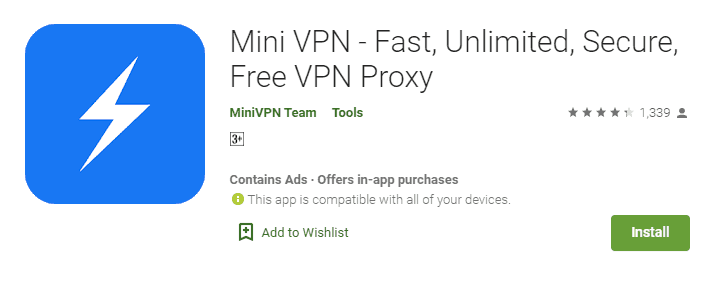 As the name implies, the Mini VPN application has a fairly small file size, only 11 MB. However, its ability to access blocked sites is unquestionable.
This free Android VPN has a number of advantages. These include encrypted connections, hidden IP addresses, and making the data on Android devices more secure.
Mini VPN also provides a network of servers from various countries, such as Canada, the United States, the United Kingdom, Germany, and so on. So if access on one server is slow, just change to another server. You can get this application on the playstore.
#2. TunnelBear VPN

One of the best VPN apps for Android that you can also use is TunnelBear VPN. Well, the application has various advantages.
The advantage of this best VPN is that it is available on multiple platforms. Not only on Android, the application can also be found on iOS and Windows. So, you can rely on this application for the various gadgets you have.
Thanks to the TunnerBear VPN application, all blocked sites can be accessed smoothly and successfully. Curious about the capabilities of the TunnelBear application? Let's just download it via playstore or appstore.
#3. 1.1.1.1: Internet Faster & Safer

Another best free VPN app is 1.1.1.1 by Cloudflare. If you are not familiar with the name Cloudflare, they are a company that offers a secure internet network.
This best VPN already has data encryption features, so your data privacy is safer. Uniquely, the application also promises that it will not sell your data.
Armed with the one-touch setup feature, you can easily use this application without having to bother with various configurations. 1.1.1.1: Faster & Safer Internet can be obtained by downloading in the playstore.
#4. Turbo VPN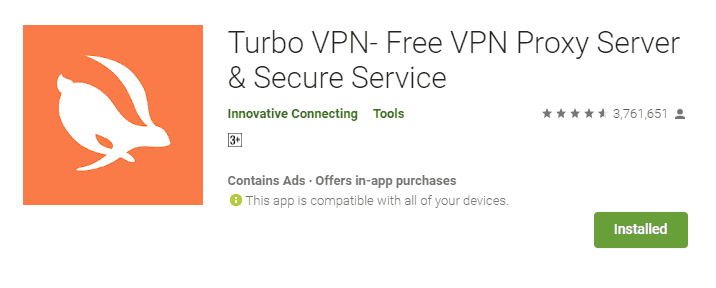 The Turbo VPN application has also been tested and is very reliable to open blocked sites. Also, this 2021 best VPN application on Android is also available for free.
Another advantage of Turbo VPN is that the application can be used on various networks, such as 4G, 3G, to WiFi. There are also many choices of servers that you can use according to your taste.
Turbo VPN can be used on smartphones using Android version 4.1 and above. Curious to try it? You can directly download the Turbo VPN application on the playstore.
#5. Secure VPN

Similar to Mini VPN, the Secure VPN app also has a smaller size. This fastest Android VPN app only has a size of 3 MB! Surely it will not make your smartphone memory full.
In addition to its relatively light size, the Secure VPN application offers features in the form of high internet speeds and extra security.
The application also provides a choice of servers from America, Europe, and Asia. You just choose which server offers maximum speed to use.
#6. ExpressVPN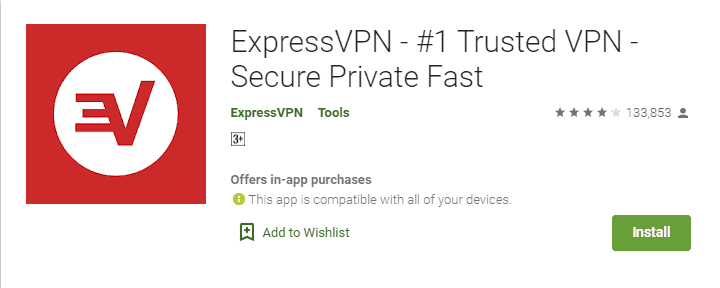 ExpressVPN is a VPN app that has thousands of servers located in 94 countries. Not only on Android, but the Express VPN application is also available on Windows, Mac, iOS, and Linux-based devices.
Besides being able to be used to access blocked ones, this best VPN also offers security when you are surfing by using WiFi facilities in public areas, such as offices or malls.
This application will also hide the location and IP address, and leave no activity logs or connection logs. You can use all kinds of features in ExpressVPN smoothly.
#7. Thunder VPN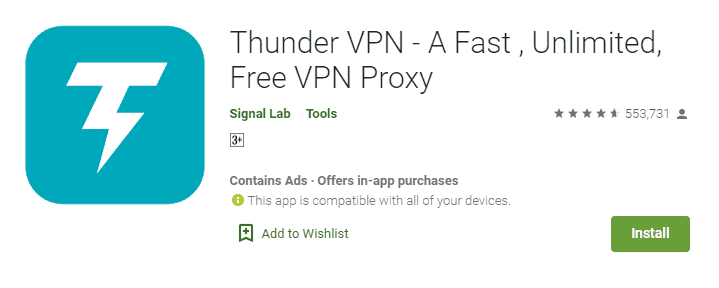 Thunder VPN is one of the best Android VPN apps with simple UI and UX. You don't need to bother with various configurations, just click one button, and the VPN service is activated immediately.
This application can run on various networks, such as WiFi, 4G, and 3G. There is a smart choose server feature that allows the application to automatically select the server with the best connection.
An encryption feature is also built into Thunder VPN, so you can use VPN applications and browse safely and comfortably.
#8. Unlimited Free VPN Monster

Having trouble accessing blocked sites? Using the Unlimited Free VPN Monster application could be the answer. Monster's best free VPN also offers unlimited bandwidth so you can use it satisfactorily.
In addition to making it easier for you to open blocked sites, the application will protect your passwords and personal data when connected to public WiFi networks. With this, you don't have to worry about data leaking to unauthorized parties.
#9. Hotspot Shield Free VPN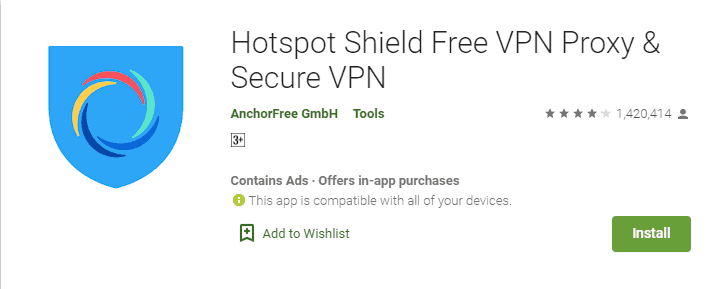 The best VPN application 2021 on Android is incomplete if you don't include this one application. Hotspot Shield Free VPN has been tested to help users access blocked sites.
Evidently, this application has also received an award in the form of the world's fastest VPN by Speedtest. Hotspot Shield Free VPN offers security and privacy to its users.
The developers of the app claim that they do not record the user's browsing activity.
#10. Speedify

The best free VPN app that you can use is Speedify. Besides being able to help access blocked sites, the application is said to offer stable internet speeds.
So, you will not be annoyed with unstable internet speed when using a VPN application. Speedify offers a solution to these problems.
#11. Windscribe 

Do you want to download a VPN and get a bonus internet quota at the same time? If Yes, the answer is to download Windcribe VPN. This best VPN service has the advantage of providing a quota of up to 10GB per month.
Windscribe VPN allows you to choose servers from different countries. The goal is that you can choose which server is compatible with your mobile device and mobile network. Another advantage Windscribe is also available on iOS and Windows.
#12. Nord VPN

Nord VPN app offers a service to access unlimited sites. There are many country options that you can use for network servers. Not only that Nord VPN also offers security when you access Wifi networks in public areas.
By activating Nord VPN, your phone can be more secure because Nord VPN will protect your cellphone from potential cyber-attacks that can arise from Wifi in parks or cafes.
#13. VPN Robots 

The Robot VPN app doesn't just offer unlimited access. At Robot VPN, you can also get a VPN Proxy for 24 hours without having to register or configure a difficult system.
In addition, Robot VPN also provides security services when you access Wifi networks in public areas. With this feature, you can be free from cybercrime by hackers who use Wifi networks.
#14. Speedy Quark VPN 

The best free VPN, not only allows you to access sites that are blocked by the government or mobile operators. VPN applications such as Speedy Quark VPN also provide convenience and security when accessing the internet.
Speedy Quark VPN is backed by an encryption service so no one is able to track your online activities.
#15. Tom VPN

Tom VPN is a VPN application that is claimed to be more stable and secure than similar applications. Tom VPN is capable of hiding and changing your IP address, encrypting internet traffic, and allowing you to access content anonymously.
Another advantage is that Tom VPN provides more than 30 server locations to choose from such as the United States, Brazil, France, Germany, India, Russia, South Korea, United Kingdom, and Japan.
Read more:
Conclusion:
Those were the 15 best Android VPN applications that you must try. You don't have to be confused anymore to access blocked sites or services. But it needs to be underlined, don't use this VPN application for negative things.
Don't forget to bookmark and always visit Technowizah.com every day because you can find here the latest Tech Computer Android games How-to Guide Tips&Tricks Software Review etc, Which we update every day.