4 Ways to Restore Your Disable or Locked Facebook Account – Facebook is a social media with the most users and still exists today. How restoring the following  Facebook account will make users get their accounts back. Because many users still do not secure their accounts, they are vulnerable to being hacked.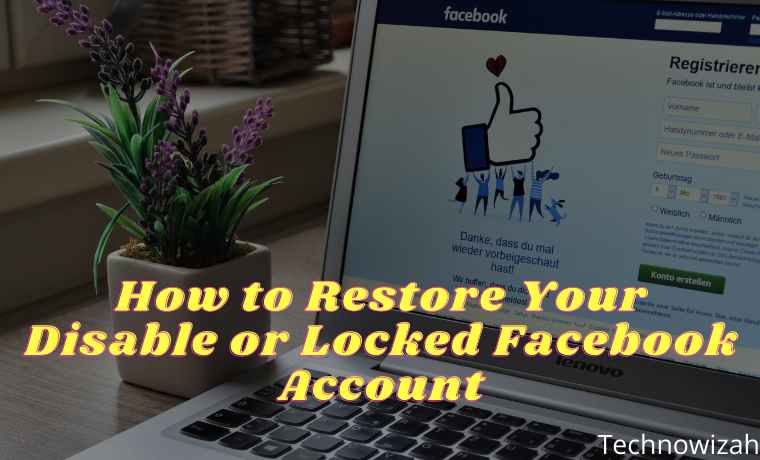 How to Restore Your Disable or Locked Facebook Account 2023
Even though Facebook itself provides security features. If it's already hacked, users can recover facebook through a few steps. Do recovery immediately if you realize that your Facebook account has been hacked/hijacked.
Read more:
The way to restore a hacked Facebook account can be done through several stages of the following appropriate method.
#1. Using a Phone Number Or Email
How restore the first Facebook account can only be done if the phone or email has not been changed by the hacker. The way
Login through the browser
Then click "forgot password"
Enter the e-mail or telephone used when logging in, if you forget the e-mail, click "Search by name" and enter the user's account name
Users can choose to get a login code via email or SMS, select the one that is still active
#2. If There Is No Access To Email / Phone But There Are Trusted Contacts
This step can be done if you have trusted contacts that have been set up before Facebook is hacked. The way
Perform the 4 steps above
If the email or password has been changed, click "I no longer have access here"
Enter a phone number or email that can be accessed
Contact trusted contacts and then ask for their access code
#3. Trusted Contacts Not Yet Setting
We recommend using the device and browser that are usually used to open Facebook. Because Facebook can record the type of browser and device and even the location when the user accesses it. If a trusted contact has not been set, the user can do the following steps
Go to www.facebook.com/hacked
Click the " My account has been broken " option
Enter the e-mail or telephone that you normally use to log in
Enter the old password that was used before being hacked
Then answer questions from Facebook according to the conditions experienced
Follow the next step until it's finished and the account can be accessed again
But remember, the above method can be done if the user is logged in with the device and browser as well as the location that Facebook has recognized.
#4. Through the Help Center
This method can be used if the email used for login has not been changed by the hacker and the account name can still be found. How:
Enter the main login page
Select the help center
Then click the policy and reporting boxes
Choose hijacked and fake accounts
Press " It looks like my account has been hacked or someone is using … "
Click the link " Visit this page "
Then choose my account has been broken.
Enter the old email used to log in
Enter the old password, then if a warning appears, click the words " Request a new one "
After that select " No more access here "
Click " I can't access my email "
Enter an email that can be accessed, and make sure the email is not connected to another Facebook account. To be more secure, users can create new emails
Fill in the form that Facebook displays, then send it
Wait for Facebook to send a link that the user does. The waiting time can be several hours
Click the link that is sent, then create a new password
Review the other devices and exit all sessions to avoid hacking again
It was successful and the account can be accessed again.
Tips For Facebook Accounts Not Hacked
In addition to presenting a wide selection of the best methods for returning your Facebook account, we also have a few tips that you can try so that your Facebook account is not easily hacked or hacked by people who are not responsible. The tips for your FB account to be safe are as follows:
Use passwords that are difficult to guess, and must change passwords regularly.
Do not just click any link, you should see and check and ask a friend who knows very well about a suspicious link. Usually, a suspicious link may take over your FB account without you knowing.
Don't use the same password on every account. You have to differentiate it!
Secure your Facebook account with trusted contacts.
Use two-factor authentication (two-Step verification) and turn on log-in notifications from foreign devices.
Read more:
Conclusion:
So, friends, These on above 4 ways to restore your disabled or locked Facebook account in 2023, If you are able to do security measures by making Facebook two-factor authentication and notification.
Don't forget to bookmark and always visit every day Technowizah.com because you can find here the latest Tech Computer Android games How-to Guide Tips&Tricks Software Review etc, Which we update every day.