15 Best File Manager Apps For Android Phone Devices – If you are an Android user, surely you need the best file manager app. Using these applications can help you to browse files in the system, allocate and manage storage memory, and move and copy files and other things from one particular location to another. For this reason, this article will discuss some of the best file manager applications on Android that you can try.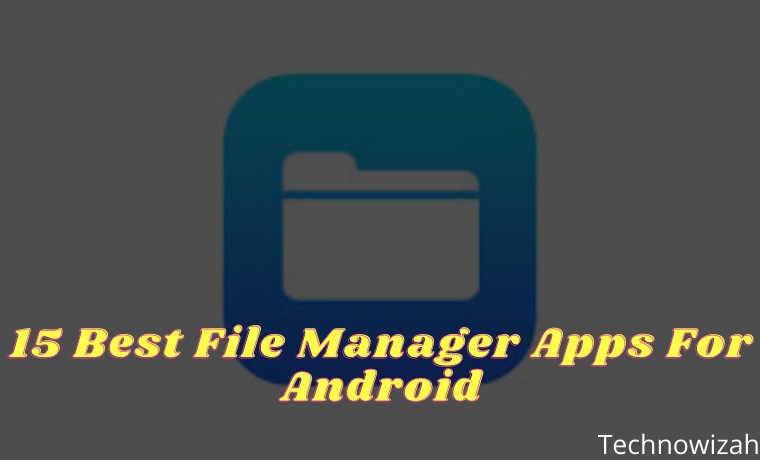 15 Best File Manager Apps For Android Phone Devices 2023
Several smartphone manufacturers have provided a built-in file manager application in each of their products. However, some users feel that the application has not met their needs in managing files. Therefore, they try to find the best file manager app to meet their expectations.
Read more:
In this review, you will get to know about the best file manager apps for the android platform and their internal specifications, user interface, quality, and ease of access. Here's a list of the best file manager apps on Android for free.
#1. AMAZE FILE MANAGER
For people who want an open-source and lighter experience on file browsing, Amaze file manager will meet your expectations. The app is still relatively new, but Amaze has a nice user interface and file access.
This file manager's main attraction and uniqueness is the app design, built-in SMB file sharing feature, app management feature for all systems and the third-party installed apps, root explorer, cache, and junk file cleaning facility.
#2. X-PLORE FILE MANAGER
The quite precise and professionally driven user interface which contains the best file manager app is X-plore file manager. It provides a multi-tasking facility in the form of a dual-pane file exploration feature so that you can access two individual windows at one time.
This app is completely ad-free. As the name suggests, X-Plore has more additional features like a built-in PDF viewer, ZIP unpacker, hex viewer, and video player with subtitle attachments, and also has LAN connection, cloud storage as well as root support.
#3. ASTRO FILE MANAGER
The nostalgic app has its own reputation. Of course, this is Astro File Manager for Android. Anyone you can ask is a solid choice for organizing your files. The app developers keep updating this app and adding some additional features like SD card support, file compression, archive extraction support, and internal app management with cloud storage. This application has a unique and attractive high-user interface and ease of use.
#4. ASUS FILE MANAGER
Asus File Manager is made for the Zen user interface with Asus-made smartphones. Asus File Manager is a free application to access but contains ads. Attractive and awesome user interface with ease of use where multiple categories are displayed perfectly. Associated files are easy to retrieve and also have a recycle bin option so you can recover deleted files once again. This file manager app also contains LAN and SMB access, cloud storage, compression, and file extraction and has options to secure your confidential files.
#5. FX FILE EXPLORER
An ordinary file explorer with compromised quality features. FX File Manager's varieties of functions include media and file allocation management, multi-window support, FTP transfer, and encrypted file management.
Additional features like a built-in text editor and archive support for GZip, Bzip2, and 7zip. The best thing about this app is that it has no ads and it will be a better replacement for your old file manager.
#6. ES FILE EXPLORER FILE MANAGER
The most beautiful-looking and well-known file manager application for the android platform is ES File Explorer. This app has a different angle of features where it will cover all the needs of the user.
Some important features for file managers are copy/paste options, a memory space analyzer, and trash to recover available space. Not only that, but ES File Manager also has built-in features for online/cloud storage and also access to the root system. Anyway, this application will really help you in managing files on an Android phone.
#7. MI XPLORER SILVER
This very new and simple file manager is called MiXplorer Silver. Has a lot of features for a file manager application. Features like EPub support, MobiPlacket, and PDF reader as well as file encryption and a bunch of plugins with more functionality like archive and file compression plugins.
#8. TOTAL COMMANDER
Looking for the most useful user-rated file manager application, Total Commander will meet your needs. Total Commander has all the necessary features like folder creation, file control, accessibility, theme change, and an easy-to-use user interface.
Some special plugins like FTP and SFTP clients, WebDAV, and LAN access to share files and gain access to IP addresses. There is also a root explorer access option with multimode and options for managing file orders, bookmarks, etc.
#9. MK FILE EXPLORER
Unlike other apps, MK Explorer is the best file manager app which has an interactive material design with compromise features like delete, hide, and copy/paste features with easy accessibility, Although this app will not support cloud storage offline features like a search tool, ZIP extractor and RAR, a built-in text editor, music and video player with support for different languages ​​is enough to make MK Explorer the right choice of file manager application for Android smartphones.
#10. SOLID EXPLORER
This popular application comes with important features to meet the needs of its users. Solid Explorer also has an attractive UI design, cloud support, root access, FTP, SFTP, and CIFS support.
The choice of a dark theme with archive and compression support as well as chrome cast support makes the application more unique from the other applications mentioned above. This app is available for free, you can also try its full features after paying a low fee.
Read more:
Conclusion:
We will also provide alternative file manager applications that you should try. Here's a list of other applications:
Root Explorer
File Manager
Xiaomi File manager
Explorer++
Cx File Explorer
The above list is the best file manager apps on Android that you are ready to download and install. Please choose one and good luck exploring the application.
Don't forget to bookmark and always visit every day Technowizah.com because you can find here the latest Tech Computer Android games How-to Guide Tips&Tricks Software Review etc, Which we update every day.