7 Ways to Fix Windows Was Unable To Complete The Format – Have you tried to format the flash drive and see the "Windows was unable to complete the format" error? You may feel irritated, as this leaves you with an unusable device.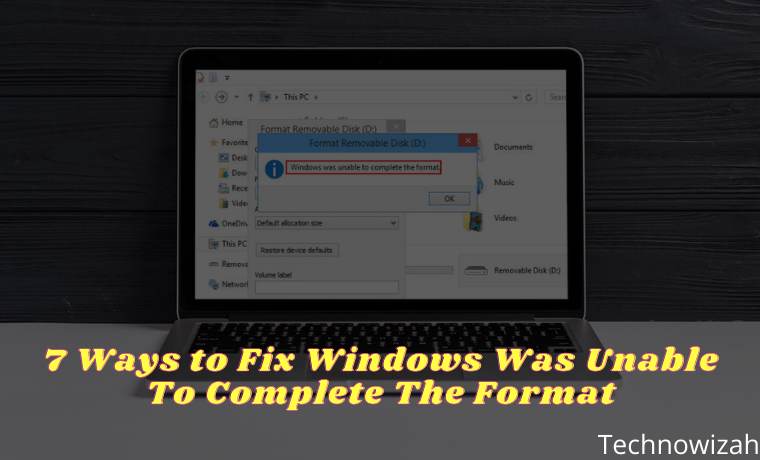 How to Fix Windows Was Unable To Complete The Format 2023
Do you see this error format with a flash, micro SD, SD card, or something similar, don't worry! Because the Admin will show you how to solve Windows was unable to complete the format error.
Read more:
How to Format Pendrive in Windows?
To make sure we're starting on the same page, let's take a quick look at how to format a flash drive in Windows 10. Keep in mind that this process will delete all the files currently on your Pendrive!
Open a File Explorer window and browse to  This PC  to see all the drives connected to your computer. On that page, find your flash drive, right-click and select  Format.
This will bring up the basic Windows format menu. If you are not sure which option to choose press the Restore device defaults button to use the included device. Click  Start to format the flash.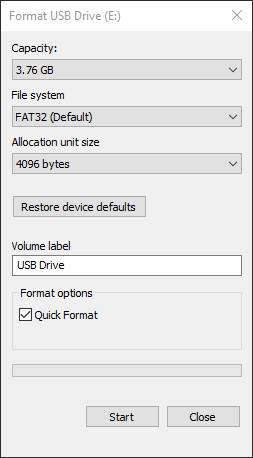 If when you try this several times and keep getting the message "Windows was unable to complete the format", proceed to the steps to fix it.
#1. Try Formatting Through Disk Management
For advanced disk needs, Windows provides the Disk Management tool, which has more options than This PC. So, this should be your first pick when standard formats don't work.
Press  Win + X  or right-click on the Start button to open a list of shortcuts, then click  Disk Management to access them.
You'll see a list of volumes attached to your computer at the top, as well as a visual representation of them at the bottom.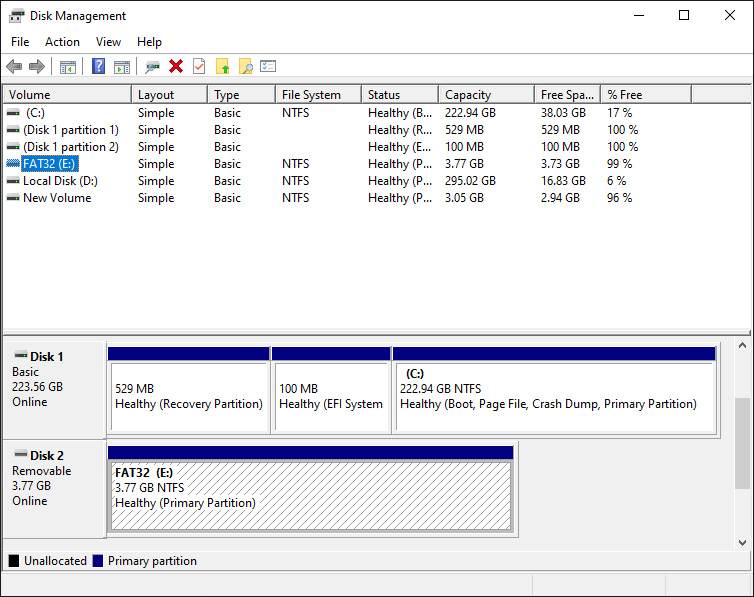 If you see  RAW next to the drive size at the bottom (and under  File System in the top pane), it means Windows doesn't recognize the drive's file system.
In some cases, this indicates that the drive is formatted with a macOS or Linux file system that Windows cannot use.
Right-click on your USB drive (make sure you choose the correct one) and select  Format. You will see an interface similar to the one you used before.
Select the Volume label, specify the File system  (FAT32 is best for smaller devices or devices you plan to use across platforms), and leave the Allocation unit size as  Default.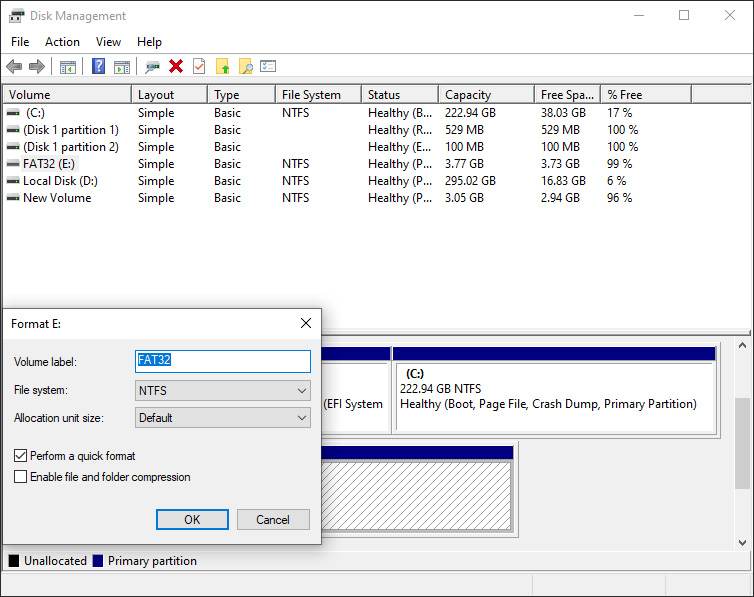 If you leave  Perform a quick format checked, Windows will not check for bad sectors on the disk. We'll cover this in a later troubleshooting step, but you can feel free to uncheck it now and see if Windows finds any issues. Keep in mind that this may take longer to complete.
Delete And Recreate Volume
If this fails, you can try the Delete Volume option in the drive's right-click menu. Deleting a volume will erase everything Windows has assigned to disk, leaving only unallocated space.
Therefore, you need to create a new volume by right-clicking it, selecting  New Simple Volume, and following the steps (which are similar to other formatting methods).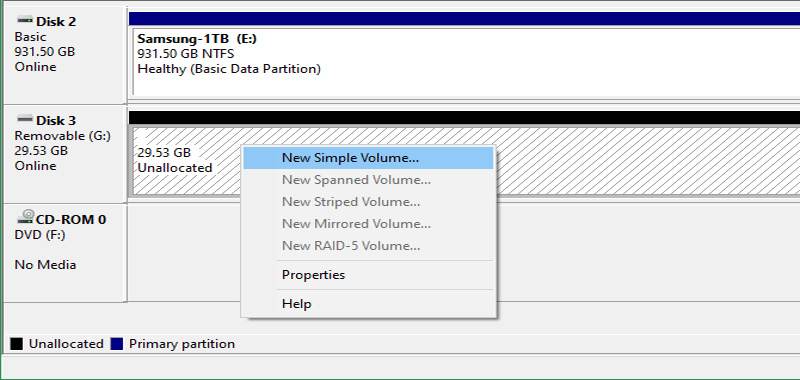 #2. Remove Write Protection On the Drive
Write Protection, as the name suggests, prevents any system from adding new data to the drive.
The most common reason for this is the physical switch on the drive itself, especially with SD cards. Look at your drive and make sure all the sliders or switches are not locked or read-only.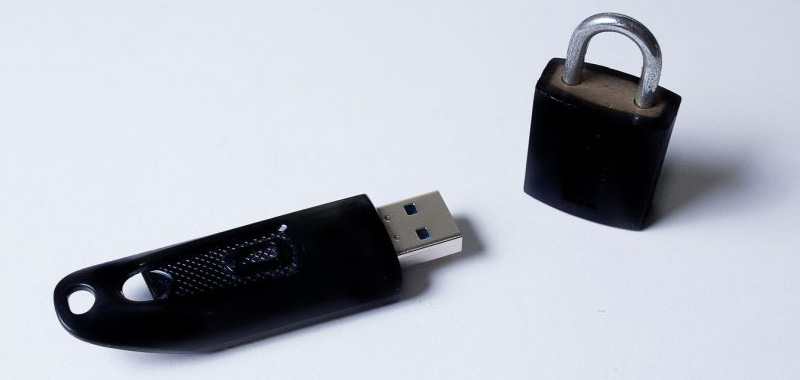 After checking this, you should also remove the write protection software on your drive. To do this, press  Win + R  to open the Run dialog and enter diskpart. Confirm the UAC prompt that appears, then you will see the Command Prompt interface.
Enter the list disk and press  Enter. You will see a list of disks and should be able to identify the USB flash drive by its size. Insert select disk X  to make changes to the proper device.
Once you see confirmation that you have selected the correct disk, enter disk attributes to view the information. If you see  Yes next to  Current Read-only State, then the disk has to write protection.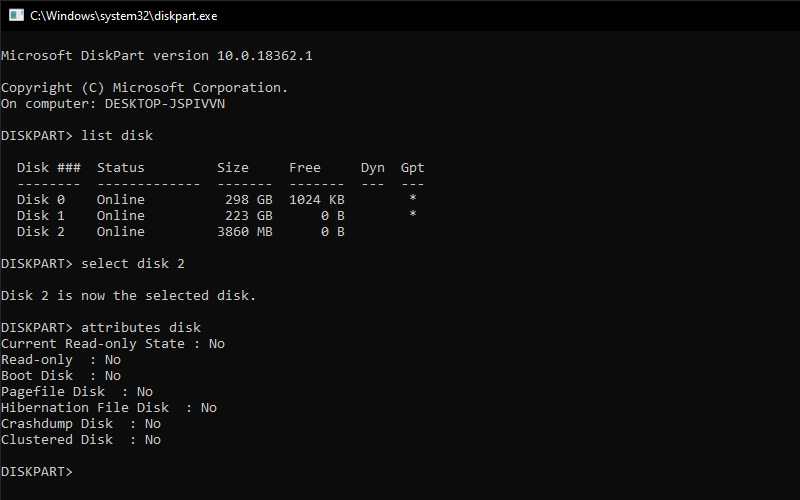 To remove this, enter the disk clear read-only attributes. Windows then displays a message that the attribute was successfully removed, enter the exit command to exit the window. Now that there is no write protection, try formatting your disk again.
#3. Use SD Memory Card Formatter
If you can't format the SD card in Windows, the fix might be using a specific utility instead of the Windows tool.
The SD Association recommends using the  SD Memory Card Formatter,  not the one provided by your operating system. Download the tool if you are specifically having problems with the SD card.
The tool is simple and looks similar to the options you tried above. Make sure you choose the right card in the dropdown menu at the top.
Use  Format Overwrite to erase the current card content for best results and give it a name in the Volume label field.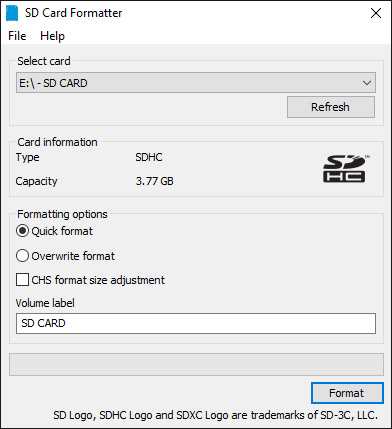 #4. Scan the Drive for Errors
Sometimes, you will encounter a format error because the drive has bad sectors or similar issues. At this point, it's worth checking the drive to see if there's anything wrong with it.
To do this, open  This PC  again. Right-click on the Flashdisk and select  Properties. On the resulting menu, switch to the Tools tab and click the Check button under  Error-checking. Select  Repair drive to run a scan on the drive then waits for it to finish and try again.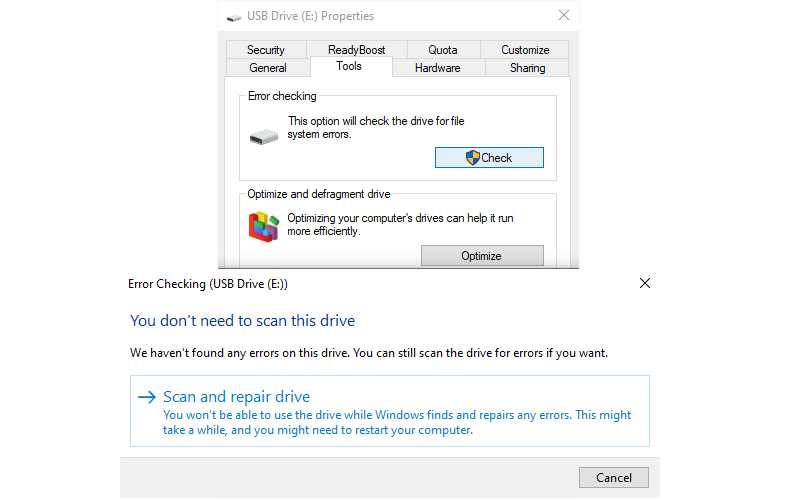 #5. Use the Third-Party Formatting Tool
If you still can't format your disk, a third-party tool can solve your problem. Oftentimes, such tools use a different formatting method than Windows and can bypass any issues Windows has with your disk.
You can download and install third-party formatting tools like Paragon Partition Manager, it's an application that has been around for years and has won several awards.
#6. Scan for Malware
While it's most likely not the cause of your problem, it's worth running a malware scan if you're still unable to format the drive. Some malware can interfere with normal file operating systems, including formatting drives.
The admin recommends running a scan with the free version of  Malwarebytes and seeing if it finds the infection. Then try formatting again.
#7. Try Formatting On Another OS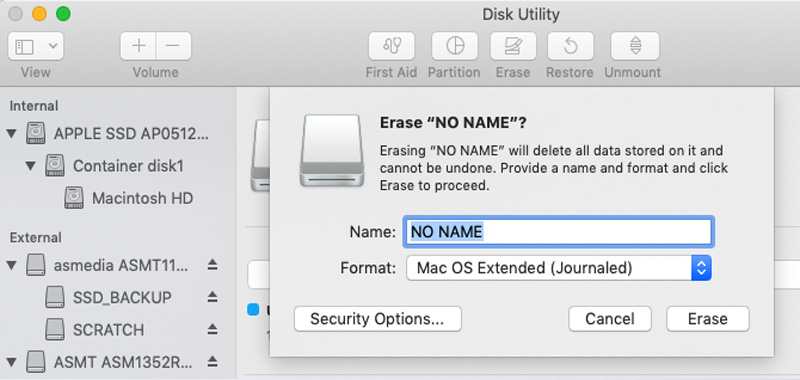 Before you give up on an unformatted drive, there is one more way you can try to solve the problem. If you have access to a machine running macOS or Linux, try using those operating systems to format your external drive.
Even if you have to reformat the drive again to use it with Windows, it's good to know if the problem is with your hardware or Windows.
If your drive formats fine on Mac or Linux, it means that there is some problem with your Windows operating system.
Read more:
Conclusion:
So those are some ways to solve Windows was unable to complete the format error. If you've done all the steps above and still get the format error, it's possible that your drive is dead.
Unfortunately, flash drives and SD cards have a limited number of uses, and cheap or old drives are more prone to damage. This also happens if your drive is physically damaged.
Don't forget to bookmark and always visit every day Technowizah.com because you can find here the latest Tech Computer Android games How-to Guide Tips&Tricks Software Review etc, Which we update every day.