16 Best Free Antivirus for Windows 10 Laptop PC (100% Free) – To speed up Windows 10 so that its performance remains stable we need to keep it clean from viruses, and one of the most effective ways is to install the best antivirus.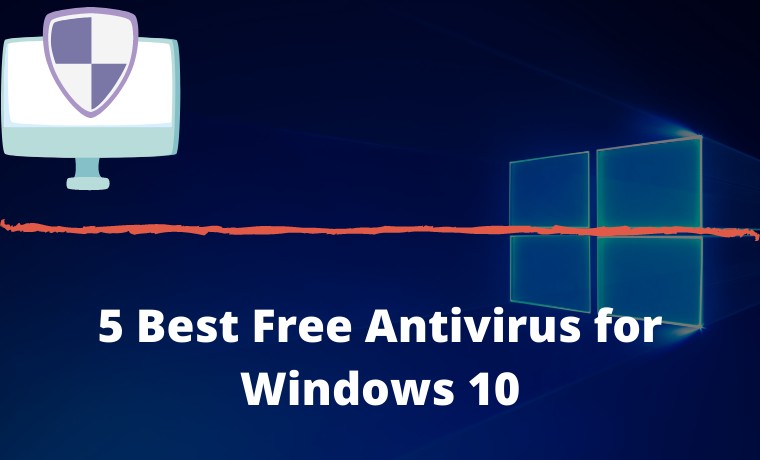 Best Free Antivirus for Windows 10 Laptop PC (100% Free) 2023
As you know, almost all serious computer problems can occur because of a virus infecting the system. Computer performance suddenly becomes heavy, fan sounds that sound very loud, even the computer hangs and blue screens can occur due to viruses.
Read more:
More than that, viruses can also destroy files stored on our computers, some viruses are programmed to infect certain formats and make them corrupt. If the corrupt file is an important file for our work, of course, it will be a disastrous one.
How to prevent it?
One of the ways we can do this is by installing an antivirus application. There are lots of antivirus for Windows 10 that you can use, on this occasion Technowizah will give you some of the best antivirus recommendations for you to choose from.
#1. Windows Security (Windows Defender)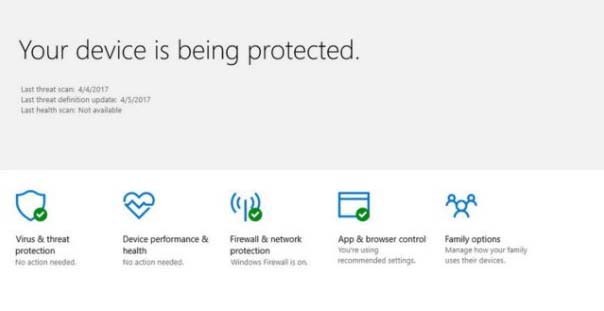 Windows 10 comes with a built-in program that plays a role in maintaining overall system security, the program is called Windows Security (formerly Windows Defender).
Windows Security is the default antivirus Windows 10 which is reliable enough to keep the system clean from viruses and malware. You can use this program to make sure the computer you are using is not exposed to a virus, the important thing is that you always update it regularly so that the existing database is kept updated with new types of viruses that have sprung up.
How to use Windows Security to protect your computer from viruses:
#1. Update Windows
In the first step, you need to do updates. This is so that Windows Security has the latest virus database to protect your computer.
Update as usual by going to Settings> Update & Security> Check for updates.
Wait until the update process is complete, then restart your computer first.
#2. Enable Real-time protection
This feature serves to protect computers in real-time, especially when we are surfing the internet.
For example, when you download a program that contains a virus from the internet, this feature will detect it automatically and give you a warning. Then you can remove the program.
To activate Real-time protection, you can do it by going to Settings> Updates & Security> Windows Security> Virus & threat protection settings> Manage settings> activate the Real-time protection option and all the options below.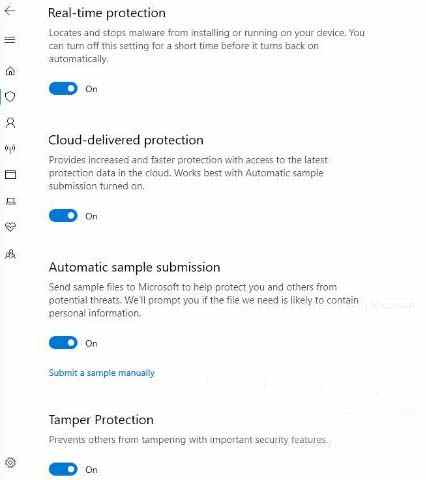 #3. Activate the App and control the browser
To ensure that the files you download from the internet are clean from viruses, the app and browser control features must be activated. This feature is used to check every file we get from the internet, if there is malicious code in it then we will get a warning not to install it on the system.
It's very easy to activate this feature:
Enter the Windows Security settings in the way above
Select App & browser control
Check the Warn option on the Check apps and files option, SmartScreen for Microsoft Edge, and SmartScreen for Microsoft Store apps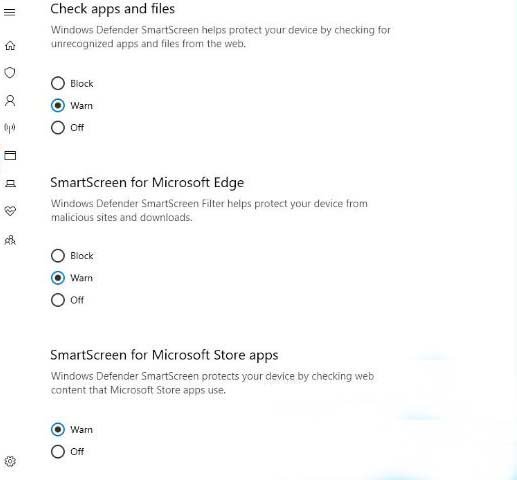 #4. Ensure that all indicators in Windows Security are marked with a green checkmark
The last tip to make Windows Security the best antivirus on Windows 10 is to make sure all features are active and updated. The trick is to make sure each feature has a green checkmark, which means that the feature works normally without any problems. If there is a problem then you will usually get a notification, immediately make corrections when you get a notification like that.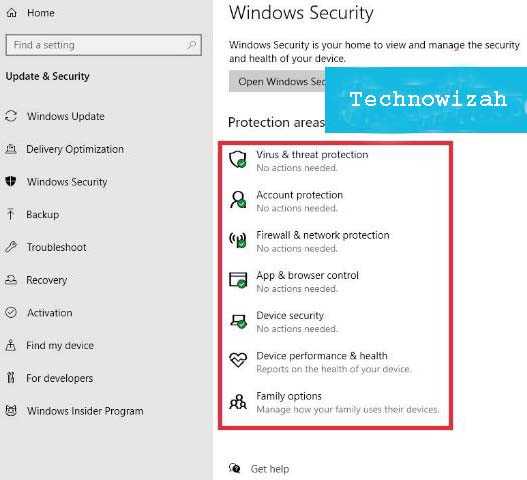 Pros of Windows Security:
Free
Works best on Windows operating systems
Not burdensome to the system
Does not bring up annoying notifications like other antiviruses
Get maintenance directly from Microsoft
Deficiency:
False positives often occur, namely detecting non-virus programs as viruses. It often happens for those of you who like to use cracked software.
Limited control.
#5. Bitdefender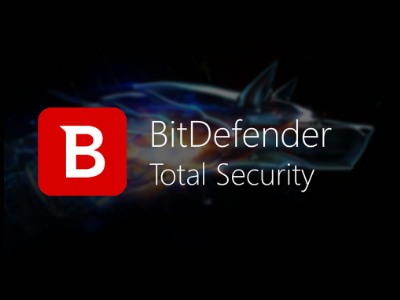 If you feel the need to fortify your computer with an additional antivirus besides Windows Security then the best option is to use Bitdefender.
Bitdefender is one of the best antiviruses for Windows 10 which is suitable for every user to use. This antivirus has a fairly good detection score and is light enough when scanning.
Some of its features will also be very useful to facilitate your work, including the unlimited password manager feature, Wi-Fi scanner, and a secure browser for browsing safely on the internet.
Bitdefender is also very easy to use, once installed it will be in the tray icon and you can access it from there to scan the drive or change settings.
Advantages:
Light
A free version is available
UI interface is easy to use
Deficiency:
There are no options for customization
There is no scheduled quick scan feature
Download Bitdefender here: https://www.bitdefender.com/solutions/free.html
#6. Avast Free Antivirus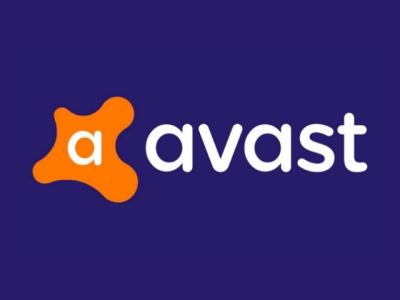 The best antivirus for Windows 10 which is next is Avast. Not many antiviruses provide almost all of their features for free like Avast.
As you know, most of the antivirus software available today is paid software. Even though it provides a free version, there are many limitations that you will feel.
By using Avast you can get complete features, but you don't need to spend to buy the premium version because the free version of Avast is enough to protect our computers to keep them safe from viruses.
Compared to other free antiviruses, Avast offers more features such as a password manager, a Wi-Fi network scanner, and VPN services. We also freely modify the existing interface in the application.
Advantages:
Free
More complete features than other free antiviruses
More flexibility in customizing the functions and interface displays
There is a free VPN feature
Deficiency:
The scanning process takes longer
It Consumes quite a lot of resources
Notifications to upgrade to the paid version often appear and are quite annoying
Download Avast here: https://www.avast.com/
#7. Kaspersky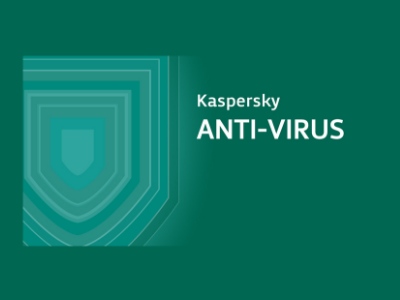 The next best antivirus application for Windows 10 is Kaspersky.
Maybe you know this antivirus as a paid antivirus at a price that is quite expensive, but did you know that Kaspersky also provides a free antivirus version that you can install for free.
Kaspersky Free Antivirus has a UI that is easy to use but has complete customization features. When running scanning, this application also does not consume too much resource so it is light enough to use on each computer.
In this free version, you will get protection features from malware and antivirus as well as the Kaspersky security cloud.
Advantages:
Protection from viruses and malware is pretty solid
Light
Fast scanning process
Deficiency:
Many extra features cannot be used in the free version
Download Kaspersky here: https://usa.kaspersky.com/free-antivirus
#8. AVG Antivirus Free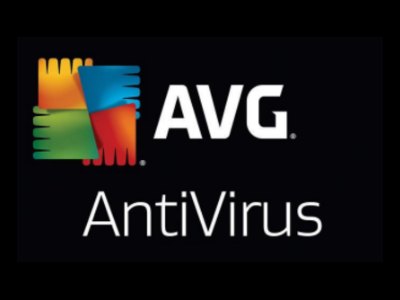 AVG is one antivirus with excellent malware detection capabilities, making it one of the best antiviruses for Windows 10 that you should try.
When doing the scanning, AVG also only consumes a few resources so it doesn't make the computer heavy, you won't even feel a significant change in performance when the antivirus is here.
The features offered in the free version are also quite complete, if only for the need to protect your computer from malware and viruses then AVG Free Antivirus is enough.
Advantages:
Free
Users can customize
Not burdensome to the system
Deficiency:
Annoying notifications for upgrades to paid versions
Download AVG here: https://www.avg.com/en-us/free-antivirus-download
Best Anti-Virus Applications for Your Windows 10PC Laptop
#9. Bitdefender Free Anti Virus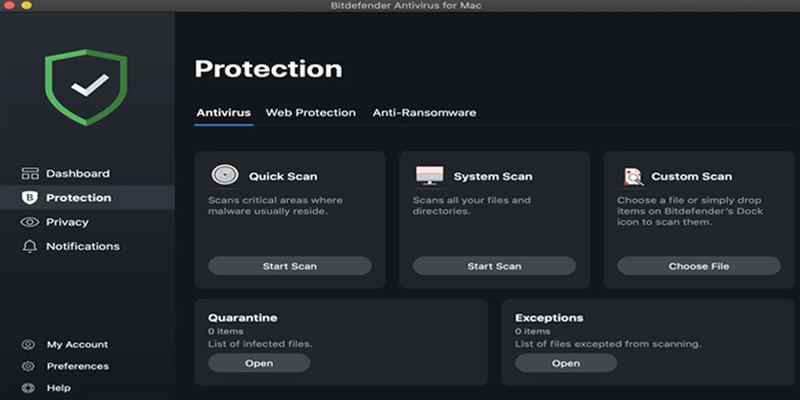 Bitdefender Free Anti Virus – is the best anti-virus application for computers. On Windows, it has the Bitdefender Shield feature which is real-time protection against various cybersecurity threats. It scans its users' files and emails in real time, consuming low system performance.
However, that's not all. Their Advanced Threat Defense uses machine learning to detect indications of behavior such as threats. Suppose the software accesses too much data, makes changes, or uploads background data. In this case, it will be flagged well before the database entry as a new form of malware.
Bitdefender also has an action against various phishing websites. Every website its user visit is thoroughly vetted for indications of phishing, ensuring its user data doesn't end up in the dark web marketplace.
Bitdefender offers the best customer support for customers using the free version. If you run into problems, you can contact their support agents via live chat, phone, email, or community forums.
When it comes to free antivirus, hardly any service has that many options. The main drawback of this service is that the Mac version does not have a free option. It only has a separate Virus Scanner for malware removal.
The iOS app also offers minimal features. The basic version is free forever, but if you want to test the premium one, you can try all versions (including the most expensive ones that include better features for macOS) for free for 30 days.
Advantages:
Excellent malware protection
Restrict scanning if the user is actively using the device
Many customer support options
30-day free trial for all premium versions
Advanced phishing filters
Deficiency:
Free version is not available for macOS or iOS users
Long initial scan
#10. AVG Free Antivirus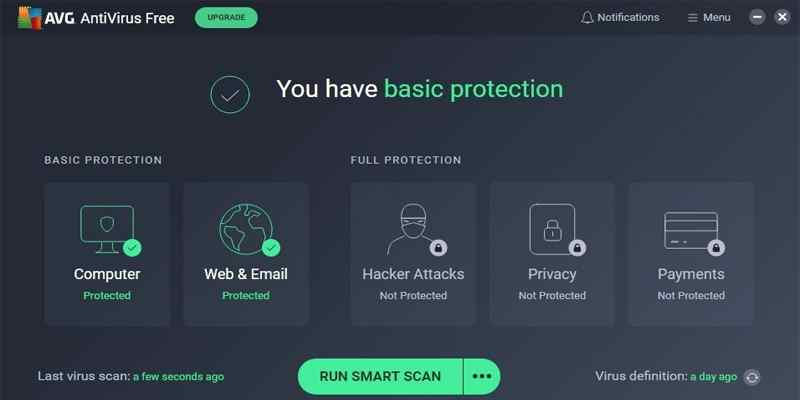 AVG Free Anti Virus – is an antivirus program created by AVG Technologies and included in the list of the best antivirus applications. AVG already has a complete set of security features. So the protection system at AVG is considered complete and sophisticated.
The advantage of AVG is the unique LinkScanner facility that other antiviruses don't have. The benefit of LinkScanner is that it can scan links while browsing cyberspace. LinkScanner works fine on Mozilla Firefox and Internet Explorer. In addition, the advantage of AVG is the availability of the Anti Rootkit feature.
AVG is classified as an antivirus that will not take up a lot of memory in the computer system so it will not interfere with the performance of your PC. Not only AVG also has a web protection feature that protects browsing activities and has real-time security updates that are more secure. This antivirus is free and can also be downloaded if you want to have it.
AVG Free Anti Virus Features:
The virus scanning process is quite fast.
Doesn't take up much PC memory or RAM.
Has a Link Scanner feature.
The Anti-Rootkit feature is available.
Deleted viruses can be recovered because they are only quarantined.
Deficiency:
Often incorrectly identifies exe files as viruses.
Its use is a bit complicated.
#11. Avira Free Security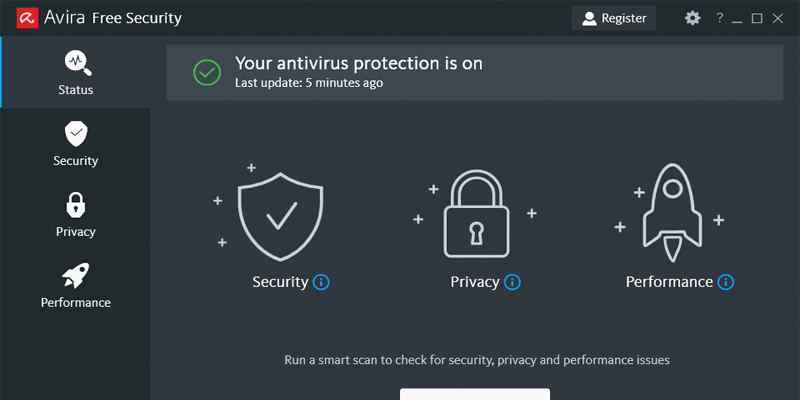 Avira Free Anti Security – is one of the oldest antiviruses and is one of the best anti-virus applications. Avira has been around since 1986 and has a great free version available for PC, Mac, Android, and iOS. So it covers all the basics and provides optimal performance.
As a free user, you can get System, ransomware, and web protection. However, the latter will be available separately via the Browser Safety add-on. Even the free version will detect all known ransomware threats, so you get the full package.
Overall, add-ons like Browser Safety and Safe Shopping contribute to your safer browsing. If you're worried about trackers or someone stealing your data, then Avira can take care of it.
Advantages:
Has a password manager
Supports multiple operating systems
Added protection for the user's browser
Reliable malware removal
Deficiency:
Doesn't have many features
Full system scan is a little slow
#12. Kaspersky Security Cloud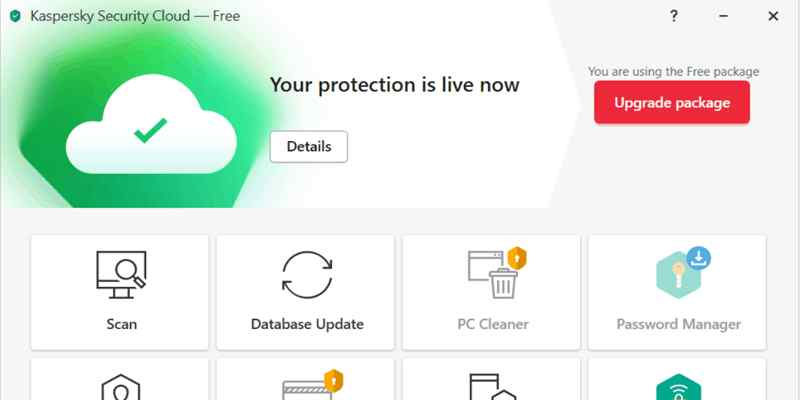 Kaspersky Security Cloud – is an anti-virus from a Russian company and is one of the best anti-virus applications. Kaspersky has one of the longest track records when it comes to free services for malware removal. However, don't expect that Kaspersky Security Cloud has much in common with their premium Kaspersky Anti-Virus.
Users get the usual features like system scanning, but there's an added bonus. There's the System Watcher feature, which uses machine learning to identify previously unknown malware. And there's also the Network Attack Blocker, which alerts its users when it detects a suspicious connection on their network connection.
Not all threats will come in malicious software, sometimes having unpatched applications can be exploited by hackers. To that end, Kaspersky offers a vulnerability scan that analyzes programs that require security patches.
Not only that, but Kaspersky also adds several other useful features. For example, you will find a password manager. In addition, the installer is automatically add-on for Firefox and Chrome. Especially the add-ons link malicious URLs when you surf the web and include an on-screen keyboard if you suspect that the system has been infected with a keylogger.
Advantages:
Ransomware protection
Great mobile app
Using machine learning for malware detection
Good malware lab test scores
Password manager
Deficiency:
Limited iOS functionality
No customer support
#13. TotalAV Free Anti Virus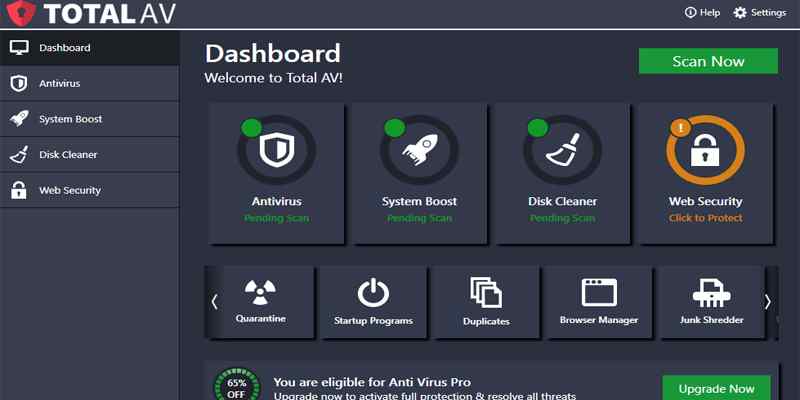 TotalAV Free Anti Virus – this may sound familiar to some, but if you need a free antivirus for personal use, this is one of the best options. This is an increasingly popular and growing service that takes care of the essentials.
Although real-time scanning is only available to paid users, TotalAV provides a comprehensive Smart Scan. This is more than just checking for malware. This tool also searches startup programs, finds junk and duplicate files clogging up your system, and even evaluates browser security.
To compensate for the lack of real-time protection, they offer a Safe Site extension for Chrome, Firefox, and Edge browsers. It blocks known malicious URLs, which should prevent malware from appearing on your device.
Independent malware labs are widely praised for this service. AV-TEST certifies it as a superior product and gives it a maximum score in the performance category. So, its users can rest assured that they are getting the best performance.
With the free version, users can even try the paid version. After installing the free version, users can try the Pro version for free. This unlocks all the features users need in an antivirus, including real-time, ransomware protection, and many other extras.
Advantages:
Smart scan
Safe site extension
Pro version free trial
Good lab test scores
Deficiency:
No real-time protection
Lock many features
#14. Sophos Home Free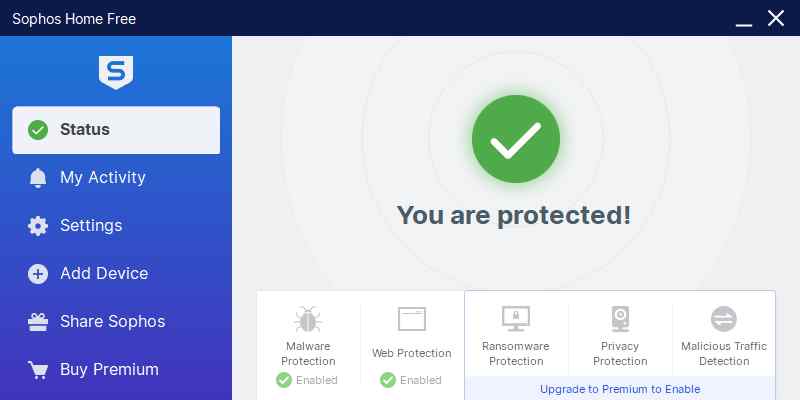 Sophos Home Free – maybe you have never heard of this antivirus because they mostly cater to businesses. Sophos Home Free has two main features, Malware Protection and Web Protection. You won't get any tools to fight ransomware or real-time monitoring, so you should be extra careful when downloading suspicious email attachments.
Sophos Malware Protection relies on scanning. Unfortunately, there's no room for customization here, a full scan is the only option. This means that if you want to quickly scan a few key places in your storage, you will have to wait for the full scan to complete.
Web Protection focuses on preventing access to suspicious URLs, including phishing sites. When you try to access an obscure web page, you get a High-Risk Website Blocked warning. In the case when the website is not blocked, but the downloaded file contains malicious code, Download Protection will start. It evaluates files based on data shared from other computers, and the reputation of the website being hosted, and displays appropriate warnings.
Not only Sophos also provides a Parental Controls tab. There, you can customize the type of content you want to block. Considering that you can manage your antivirus remotely from a second device, this is a good choice for parents. It includes warnings about filters being triggered by some content and will work with most modern browsers.
Overall, Sophos Home has a basic package that can really be a useful addition to family safety. Suppose you are the person at home who manages other people's devices. In this case, Sophos Home can make these tasks a lot easier. And it won't cost you at all.
Advantages:
Parental supervision
Remote management capability
Lightweight antivirus software
Deficiency:
Lock many features
Weak internet security measures
No customization for scan options
#15. Panda-Free Antivirus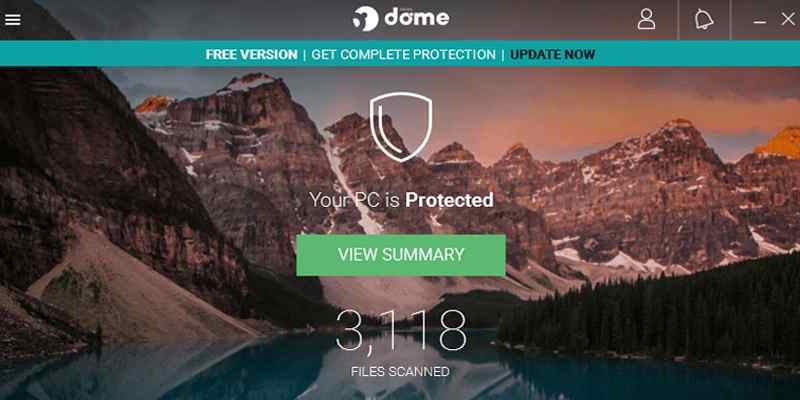 Panda Free Antivirus – is the best anti-virus application that has a more modern UI. However, despite their unusual taste for color palettes, background images, and odd name choices, this is one of the most reliable free antivirus options you'll find.
Panda-free antivirus offers real-time malware protection, you can schedule periodic system scans and block automatic malware execution from USB devices. You can also create a partition on your USB drive for extreme cases when the PC won't boot due to malware.
If you are an Android user, you also get real-time scanning not only for the internal storage but for the SD memory card as well. However, one of the most useful features is Privacy Auditor. One of the most prominent ways Android apps get malware is in the form of cryptic apps that steal your data because of the permissions it grants.
This feature checks which apps have access to which features so you can remove apps requesting access where they don't need it. There are also other useful features like battery optimization, and device tracking to help you find your lost phone.
Advantages:
modern UI
VPN capabilities
Good protection against malware
Sales tracker
Protection against infected USB drives
Deficiency:
Limited support for macOS and iOS
Frequent false positives
#16. Malwarebytes Free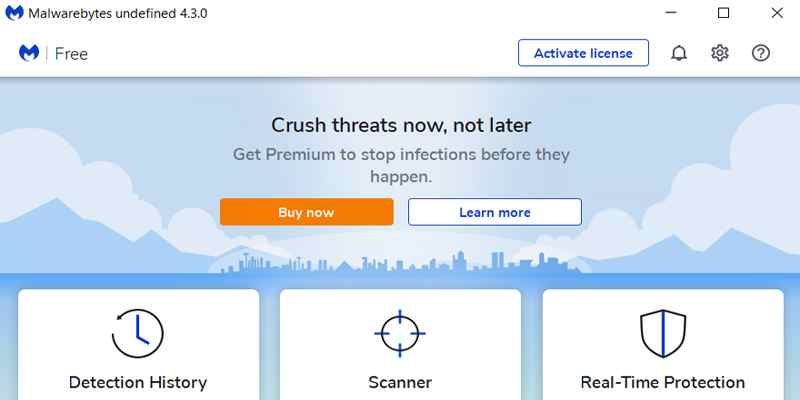 Malwarebytes Free – is one of the best and most free anti-virus applications to protect users' devices. If you just need an anti-virus to clean your PC once in a while, Malwarebytes is an excellent tool.
However, users usually use Malwarebytes as an additional antivirus, as it can remove threats that other scanners don't detect. For example, the program checks the system boot record using a rootkit scanner so that it operates even in the deepest layers of your system.
Malwarebytes Free is a lightweight solution by design that uses few system resources and sacrifices extra features for efficiency. So, suppose you have an older or lower machine. By using Malwarebytes you will get a much lower startup impact compared to other options.
The main problem is that it lacks web protection features. It blocks malicious URLs from the web, but this does not apply to email attachments. So, malicious files that you got through other sources will find no resistance and will end up on your system. This is a concern, so you should use some real-time protection measures like the default Windows Security.
You can install Malwarebytes on Windows, macOS, ChromeOS, Android, and iOS devices. As is often the case, the iOS version is a laughing stock because it only provides protection against malicious URLs.
Advantages:
One of the lightest options
Works well with weaker devices
Detect malware hidden in deep layers
Good malware lab results
Deficiency:
No real-time protection capability
No additional features
Antivirus App FAQ
Is it Safe to Use Free Antivirus?
If you stick with a respectable antivirus service provider, there's nothing wrong with using the free version. Usually, it will be a bit limited when compared to the paid version, but you will feel safe using it.
Is It Worth Buying Paid Antivirus?
If you want the best experience, it makes sense to pay for a subscription. You will usually get more online protection features. And you'll get better customer support if something goes wrong.
What's the Best Free Antivirus in 2022?
As of today, the best free antivirus is Bitdefender. It uses machine learning to detect suspicious app behavior, offers customer support even for users on the free version, and protects its users from phishing threats.
Read more:
Conclusion:
So those were some of the best anti-virus apps right now. Admin hopes that one of these free antiviruses can help improve security which of course can eliminate the biggest risk from the threat of viruses or malware on your laptop and computer.
Don't forget to bookmark and always visit every day Technowizah.com because you can find here the latest Tech Computer Android games How-to Guide Tips&Tricks Software Review etc, Which we update every day.