10 Google Chrome Extensions To Open Blocked Sites – Are you looking for a google chrome extension to open blocked sites? If so, just take a look at our list of the 10 best free Chrome VPN extensions that won't let you down.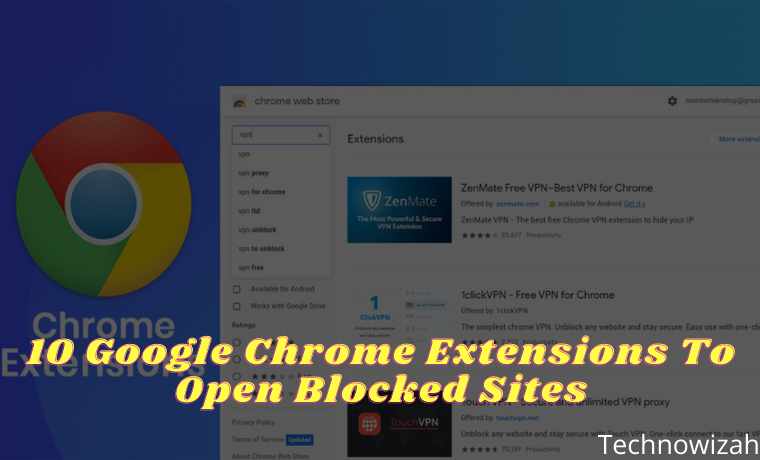 10 Google Chrome Extensions To Open Blocked Sites 2023
Many people desperately need a VPN Chrome extension to access blocked content or hide their IP or change their IP address. However, it is not easy to find a reliable Chrome VPN extension. Hence, in this article, we are going to list the best Virtual Private Network (VPN) extensions for Chrome browsers.
Read more:
#1. VeePN
With 2500+ servers and around 50 server locations, VeePN is considered one of the best free VPN Chrome extensions in 2020. Not only does VeePN allow fast browsing and streaming with Chrome, but its no-logging policy with military-grade encryption will impress you. . Compared to other free VPN extensions, this one doesn't limit you with limited bandwidth and traffic.
Whether you want to protect the data you are browsing from hackers or want to unblock geologically restricted sites, this can be a very reliable extension. The integration is friendly too, and you can install it on Chrome with one click.
Visit:- Extension
#2. Setup VPN
If you are looking for a completely free VPN extension for your chrome browser with unlimited speed, bandwidth, and 100% free servers, then Setup VPN could be the best choice. More than 1 million users have installed this extension on the chrome browser and using it is very easy.
Therefore, whether you are an IT expert or a beginner, you can use this free VPN comfortably because it does not require any technical skills to run VPN Setup. Better to use it with WebRTC Leak Shield.
Visit:- Extension
#3. HOLA VPN
HOLA VPN is another easy-to-use chrome extension that you can get with one click. It is considered one of the fast VPNs when it comes to unblocking websites or content. With over 189 million people worldwide, HOLA is considered to have been ratified as an excellent freemium VPN available in both app and web formats.
Visit:- Extension
#4. Hotspot Shield
Maybe many of you have heard of this VPN or have used it, but if you still don't know about Hotspot Shield, then you are recommended to use this chrome VPN because it is also free with amazing features. Yes, this VPN not only serves you as a VPN but also offers an ad blocker service.
What's more, Hotspot Shield is completely free to download for PC or browser to keep your information private, avoid censorship, get a high level of security, and get access to your favorite content on the web. However, the premium version is also available with enhanced features.
Visit:- Extension
#5. DotVPN
DotVPN is another excellent chrome VPN extension that can be implemented in both free and paid formats. According to users, it provides almost 80% of its features in the free version, and to explore the remaining 20% ​​of its functions, you need to be premium.
It does not allow Chrome users to access blocked sites, content, and videos but also serves as a very reliable tool to protect its clients from attacks by snoopers and hackers.
Visit:- Extension
#6. ZenMate VPN
Even though ZenMate VPN is also available in the paid version but it is an amazing experience to use its free version with lots of quality features. Especially, if you are a beginner, then ZenMate can be a great free VPN extension for your chrome browser.
By using the free version of ZenMate, you can use United States, Germany, Hong Kong, and Romania proxies that stand out above the competition. On the other hand, the premium version of ZenMate is also very attractive if you want a VPN on a budget. With the paid version of ZenMate, you can access your favorite content with unlimited servers and worldwide speed.
Visit:- Extension
#7. Touch VPN
Do you want to break through geo-restrictions or want to protect your data from hacker attacks? If yes, then Touch VPN could be a strong and reliable choice for you. With this one-click VPN proxy extension, you can really explore the world with secure service and unlimited bandwidth. Thankfully, it doesn't ask for any credit card details or require registration to get its free trial. Overall, Touch VPN is a free chrome VPN extension that you must have on your browser.
Visit:- Extension
#8. RusVPN
With over 338 VPN servers, RusVPN offers its services on 5 continents of the world. Though it provides various paid products to users its free Chrome VPN extension is completely free for Chrome users. The main reasons behind ranking the first position among free VPN extensions are their decent speed, reliable online browsing security, and easy-to-switch location options.
So, it addresses a common complaint from free VPN users that it slows down the whole system. Yes, to fix this speed issue, Iron Media launched a fast and free VPN proxy under the name RusVPN. This is a powerful VPN extension, especially for users who want to browse Netflix, BBC iPlayer, and other sites with complete security.
Visit:- Extension
#9. Betternet
Betternet is a popular free VPN proxy for chrome users. People prefer to install the Betternet extension on their chrome browser as it doesn't ask for any log details, credit card information, or registration.
You just need to install this extension with one click and can enjoy free chrome VPN service for life. The absence of ads is also Betternet's competitive advantage that sets it apart from other VPN proxies.
Visit:- Extension
#10. TunnelBear
TunnelBear is also a popular VPN service with limited but useful features for its free version. It hides IP, unblocks censorship, and provides Chrome users with safe browsing. However, with premium services, you can get more explosive features.
Visit:- Extension
Read more:
Conclusion:
Not so crazy about Google Chrome extensions? You can opt for website unblockers for school and work instead. These tools allow access to geo-restricted sites or blocked sites due to content deemed inappropriate for the workplace or school.
This is the explanation of where some google chrome extensions open blocked sites. Actually, Google doesn't offer VPN to its browser users. But luckily the Chrome Web Store allows these third-party extensions and proxies to be added to your browser for quick and easy use.
Don't forget to bookmark and always visit every day Technowizah.com because you can find here the latest Tech Computer Android games How-to Guide Tips&Tricks Software Review etc, Which we update every day.