How to Download QFIL Latest Version on Android – Most Android smartphone tablets come with a Qualcomm chipset, and if you want to flash your device then you need a tool to load a flash image file that helps you flash your Qualcomm device if you are looking for a tool QFIL which is also known as Qualcomm flash image for your device then this is the right page.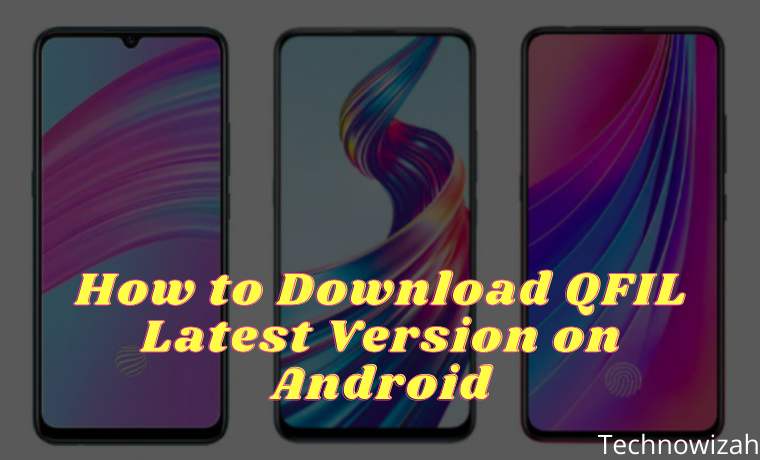 How to Download QFIL Latest Version on Android 2023
today we will share a little knowledge to help you download QFil the latest version is version 2.0.2.3, which is the latest QFIL edition that supports the latest Qualcomm devices.
Read more:
Along with the links for download and installation, how to use and Download QFIL, and helps you with some of the most important things you should keep in mind before proceeding.
Important thing
If you are not aware of Qualcomm Flash Image Loader, let me tell you that it is an application developed for your Windows device.
QFIL supports Windows XP Vista, Windows 7, Windows 8, and Windows 10.
QFIL can help you flash stock firmware as well as custom recoveries like TWRP, CWM, and many more.
Not to mention, it's very simple and easy to remember even for beginners. We've also included details and features in addition to the system requirements for downloading and installing it as further assistance.
What is Qualcomm Flash Image Loader
Qualcomm Flash Image Loader also known as QFiL, is designed for Android customization on devices with custom stock flash from all Qualcomm Soc powers.
Where this software is used to operate on Windows systems, and you don't need to have complicated technical knowledge to use it.
Meanwhile, the process of using it is relatively easy to flash the stock firmware on your Qualcomm device. As we mentioned, this tool supports all major Windows platforms, including Windows Vista to Windows 10.
In simple words, the Qualcomm flash image loader is an application that helps you connect your Android smartphone or tablet to a PC or do more customization based on your wishes, which includes flashing stock ROM.
What are the features of Qualcomm Flash Image Loader?
There are many features that Qualcomm Flash Image Loader offers, but we only mention a few important things that you need to know. QFIL brings core-functional features which you can consider the main features of this tool.
Portable application
The first thing to know is that QFIL is a portable application, whereas a portable application refers to the simplicity of installing it on a computer.
Where you don't need to know many important technical details before you flash your device. What you have to do is download QFIL the latest supported by your device and go ahead and extract the Qualcomm Image Loader File.
Even installing it is quite easy. All you have to do is download and right-click on the .exe file and select Run As Administrator to open and install it, and after that, you are ready to start the flashing process with QFIL.
Flashing Stock Firmware
The feature that most of the Qualcomm flash image loader users use is that it allows users to flash the firmware on all Qualcomm Soc smartphones.
Quite easy and practical to use
QFIL is not a very large file to download, it helps you load the correct firmware file into the QFil application. In the end, it works fine on Qualcomm devices. Apart from that, you just need to select the correct stock ROM and select the MBN file in the stock ROM folder to select Load XMI and flash it.
Recovery flash
If you feel frustrated with your stock ROM that has been installed on your device, but has a problem with junk files or for other reasons, then you need to flash a custom recovery or stock recovery using this QFIL.
Where you only need to use the correct recovery image file with the .img extension, and you can install the popular TWRP or CWM recovery using QFiL tools.
Logfile to check for errors
If you have a problem with your device. So this tool is useful for finding errors or bugs on the device.
There are many developers who use this tool to find out the default key file for the user and to check the error log when installing the stock firmware.
Download QFIL all of the latest versions
This is a list of all versions of the QFIL tool that you can download from the old version to the newest version.
How to flash Qualcomm with QFIL
Here is a guide on how to flash the stock firmware using Qualcomm Flash Image Loader (QFIL Tool) on any Qualcomm chipset-based device.
Note: Use this tutorial only if the stock firmware of your Qualcomm device is a .mbn file or hex file format. If your Qualcomm device firmware is not a .mbn file or hex file format then this guide will not work for you.
For this guide, you will need:
You must have a Windows computer/laptop.
Qualcomm USB Driver.
QFIL Flash Tool.
Stock Firmware of your Qualcomm device.
USB cable to connect your device with a computer/laptop.
Step 1.  Download and extract QFIL on your computer, then click on QFIL.exe to open QFIL.
Step 2.  After QFIL has opened, you will see a screen like this.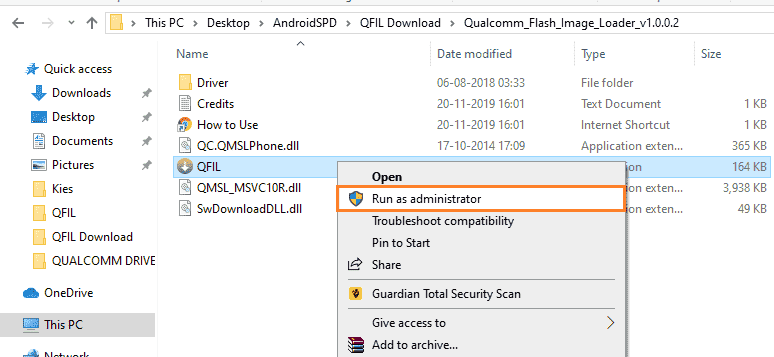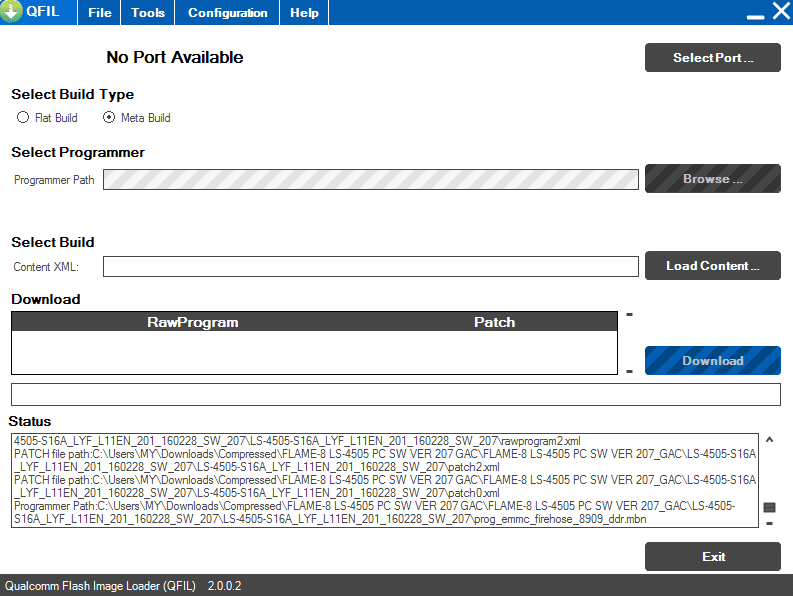 Step 3 .: You have to turn off your Android handset using the Power Off button.
Step 4.  After your Android handset turns off, now press and press the Volume Up button and connect your Android handset to the computer using a USB data cable.

Step 5. After your mobile device is connected successfully, you will be able to see "Qualcomm HS-USB QDLoader 9008" in the QFil tool. Next, Under Select Build Type, check Flat Build.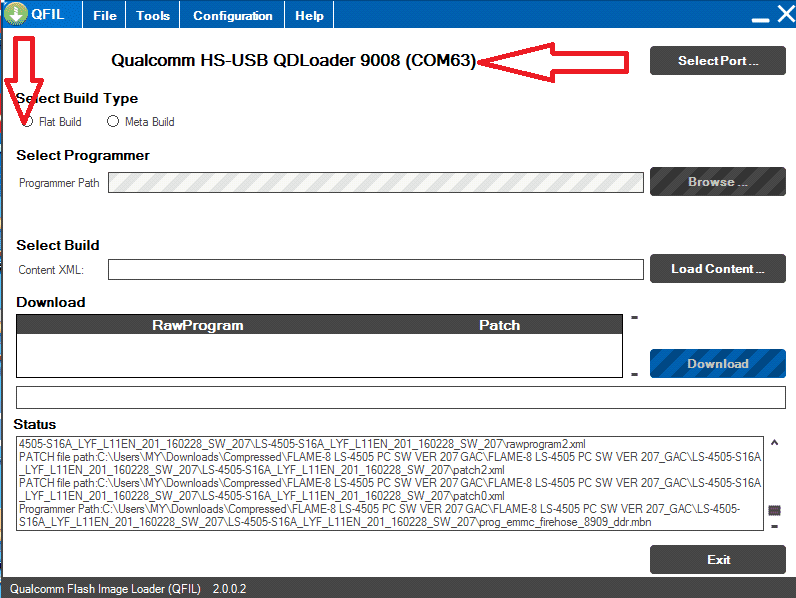 Step 6. Now click the Browse button in QFIL to get the firmware file, namely  .mbn. And from here follow the instructions on the screen.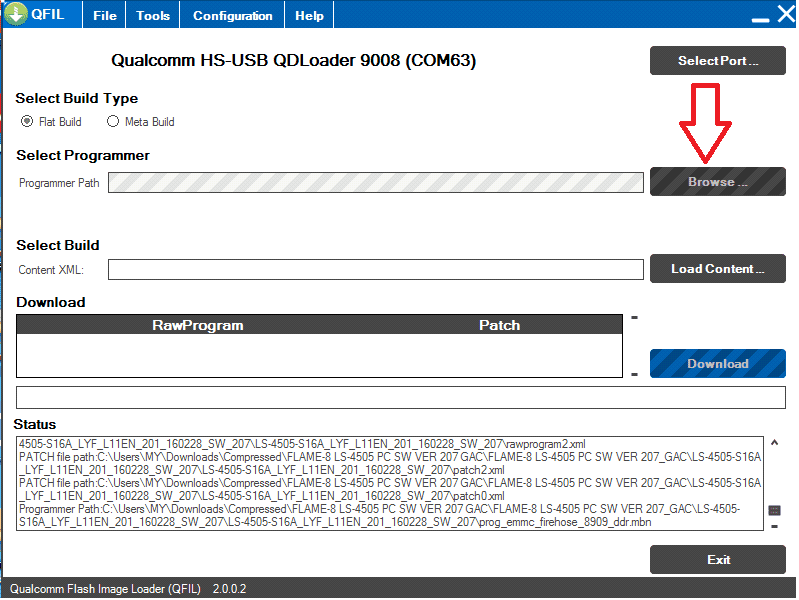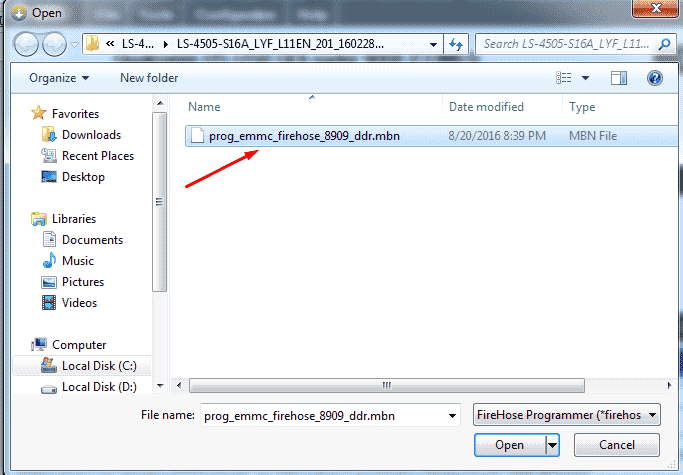 Step 7. Click Load XML.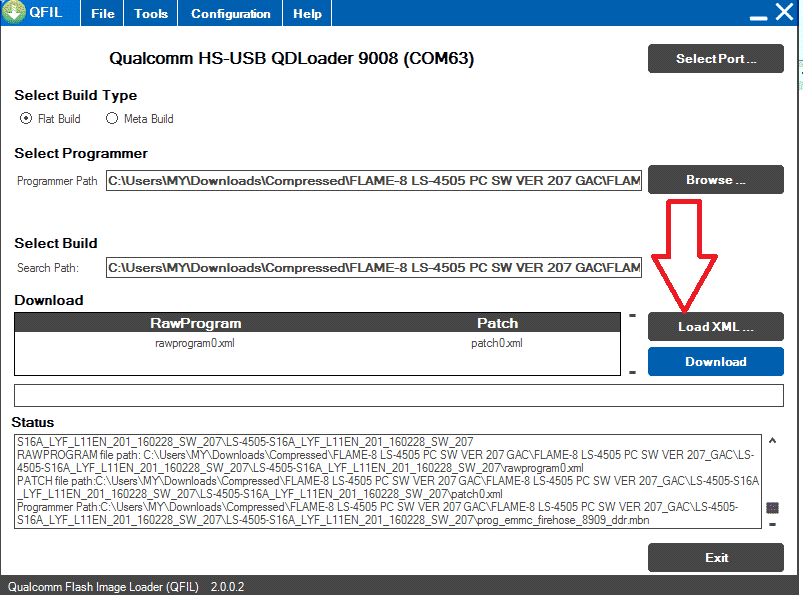 Step 8. After clicking the "Load XML" button a pop-up window will open, select the rawprogram0.xml file in this window and click Open.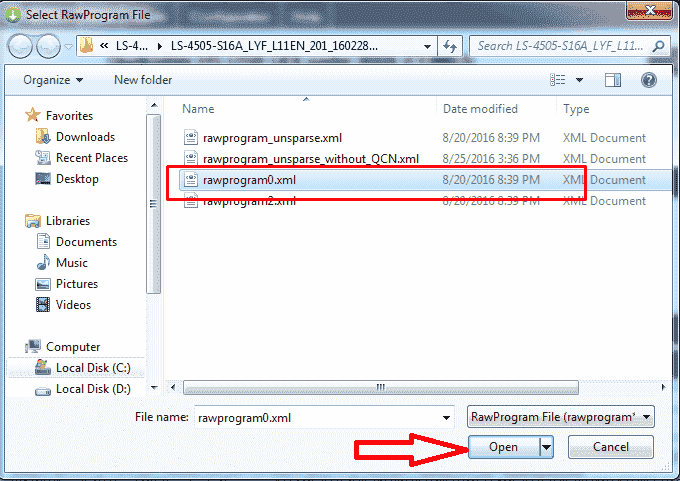 Step 9. Another pop-up window will automatically open again, select the patch0.xml file in this window then click Open.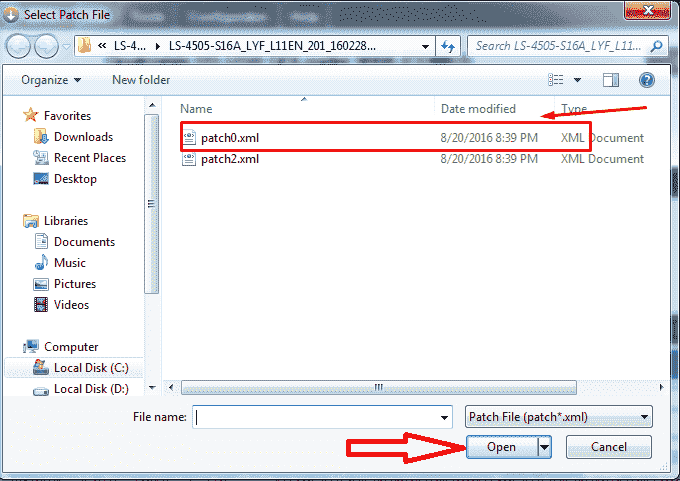 Step 10. Next, press the Download button to start flashing the firmware on your Qualcomm Android device.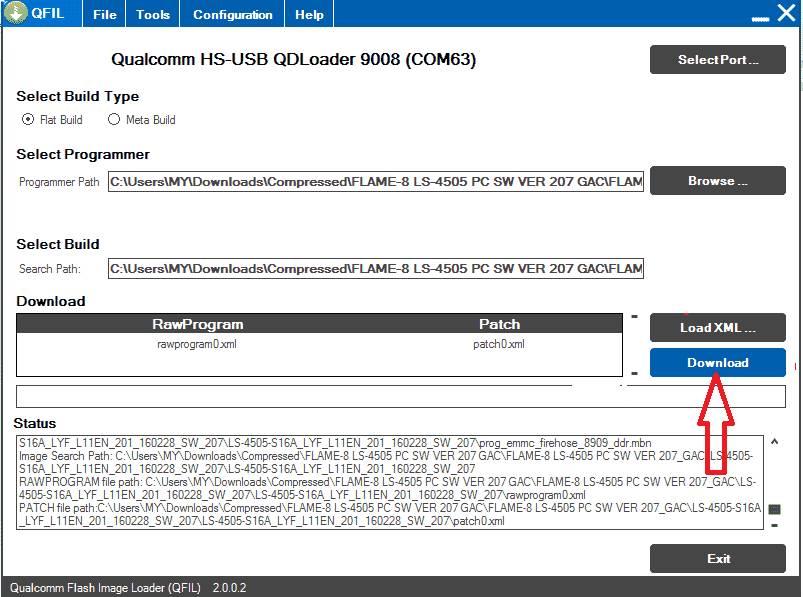 Step 11. After pressing the Download button, the flashing process will start on your Qualcomm device. And you can see a progress bar that will run. Wait for the download dialog box to finish.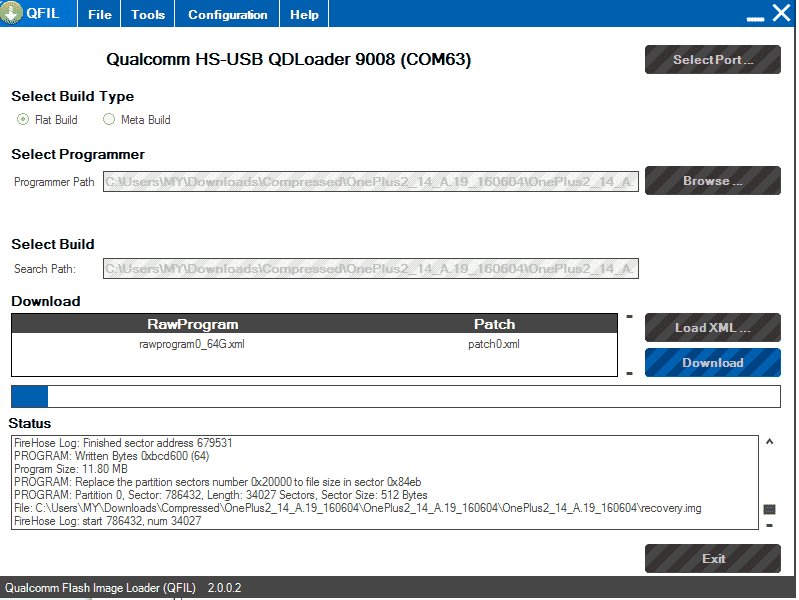 Step 12. After the flashing process is complete, you will see the message Download Succeed or Finish Download in the Qfil tool. This means that you have successfully flashed your Qualcomm device using Qfil. Now unplug your device from the computer and wait a while as it will take 5-10 minutes after the first boot.
Additional information
Help: If you're getting an error flashing your device with QFIL and want help, please leave a comment below. We will help you solve your problem.
Perform a Backup: It is important to back up your device data before using the Qfil flash tool as the flashing process will erase all data from your device.
Qualcomm USB Drivers: If you are looking for USB drivers for your mobile device.
OS Compatibility: Qfil Tool will not support Linux or Mac operating systems; This QFIL will work on all versions of Windows (x86 or x64 bit).
Credits: The QFIL Tool is created and distributed by Qualcomm Mobility LLC. thanks to them for building and distributing the tool to us.
Read more:
Conclusion:
Don't forget to bookmark and always visit every day Technowizah.com because you can find here the latest Tech Computer Android games How-to Guide Tips&Tricks Software Review etc, Which we update every day.