8 Easy Steps To Root Android With KingRoot – KingRoot was developed by a group of developers who are members of KingRoot Studio. This group of developers has always been interested in the system underlying Android devices.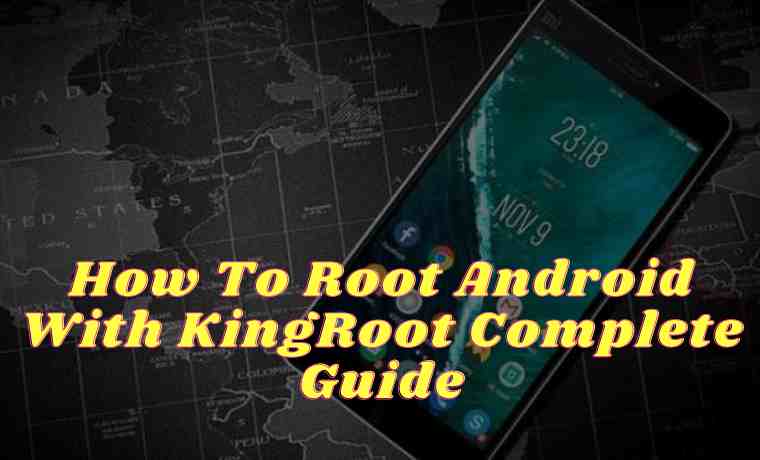 How To Root Android With KingRoot Complete Guide 2023
They began to explore optimization techniques for the Android system. Among their findings and developments the most notable is, KingRoot, which is one of the best apps to root Android phones easily.
Read more:
The initial release of KingRoot APK supports root for Android 2.0 – 5. x. Then the tool is updated to root every new Android version.
In this article, we will cover how to root Android with KingRoot, and we will do it both with and without a computer.
What is Android root? and how to root android
Rooting is the process of giving the user the privilege or superuser (superuser) who has almost unlimited rights and abilities to control the Android operating system on the HP and manage all kinds of software or software for personal needs.
In the past, rooting Android was a very complicated process. But now with KingRoot APK, rooting is much easier than before.
KingRoot is the simplest and easier rooting tool ever developed for Android phones and tablets.
This is an application from the land of bamboo curtains and it is also available in English. You can download KingRoot APK for Android free from trusted sources or from the developer's official website.
What should you do before rooting?
Backup or Back up your device data
Actually, there is no rooting application that can work 100% successfully, for you should have an umbrella before it rains, so I suggest that you use an Android backup application to transfer your Android data to another safe location on your PC or cloud or another device, as a backup. , just in case.
Fully charge the Android phone battery/charge
Rooting takes energy so you have to charge your phone to at least 60% first.
Choose a reliable root tool
There are various Android root tools on the Internet, you should choose a trustworthy program to help you root your Android phone safely and easily.
In this post, we recommend KingRoot. KingRoot is a free and easy-to-use software to root almost any device from Android version 2.x -> 5.0.
Then how to root Android with KingRoot?
KingRoot has two versions, a Windows PC version, and an Android APK version. Here we will show you a detailed step-by-step guide to root an Android phone with the KingRoot computer version and Android apk.
Root the Android phone with KingRoot on the computer
KingRoot has one drawback which is that the PC version only shows Chinese in the interface, so you should follow this guide carefully.
#1. Install KingRoot on PC
Download and install KingRoot for PC onto your computer. After successful installation, double-click to run this software.
#2. USB debugging
On your Phone, debug USB mode by tapping "Settings"> "Developer Options"> sliding "USB debugging" to "ON", which will allow you to manage your phone without being bothered by computer notifications.
If your phone has enabled USB Debugging Mode, then you can skip this step, and go straight to step 3.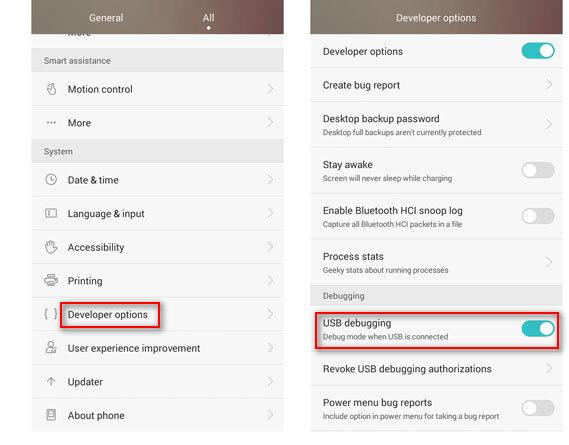 #3. Connect the phone to the computer
Connect your phone to the computer with a USB cable, and the KingRoot software will detect your phone directly.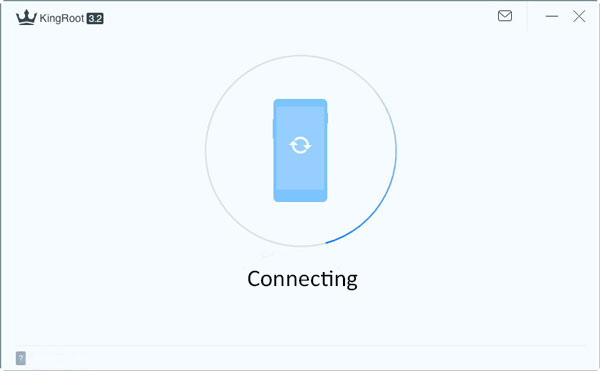 #4. Root the phone with KingRoot on the computer
After connecting your phone, click "Try To Root" to start rooting your phone. After rooting your phone, there is one reminder on the interface informing you that you have rooted your phone.
After rooting, you can use another recovery tool to recover deleted files from SD card or Android internal storage.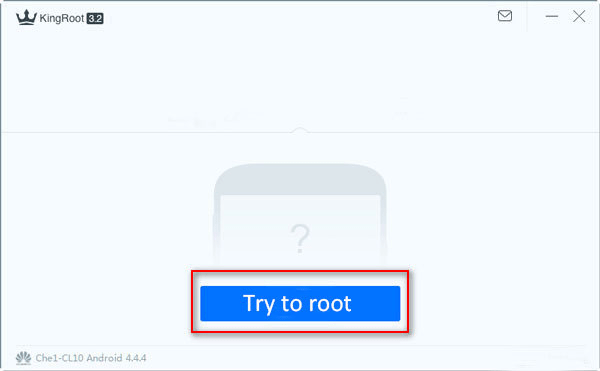 Root the phone with KingRoot without a computer
#1. Download KingRoot to PC
You can search www.kingroot.net on your phone's browser to download KingRoot. Or you can download it directly from my page here.
Download KingRoot APK for Android

KingRoot is available for free for Android devices. So, there are a few things that need to be considered before you download KingRoot APK from any source.

Check for the latest version of KingRoot APK before downloading.
Check which version is compatible for your Android handset.
Once you have downloaded the KingRoot APK, install it by providing the necessary permissions.
After successful installation, you can root the smartphone.
You must remember that the download links provided on this webpage are genuine. We tested it live before posting it for others to access.
#2. Install KingRoot APK
After successfully downloading, you need to find the APK file on your Android phone, of course in the File Manager -> Download folder, and press to install it.
If you get an "install blocked" notification, then your Android will display an option to enable "Unknown Sources" in "On", then you will be able to install KingRoot.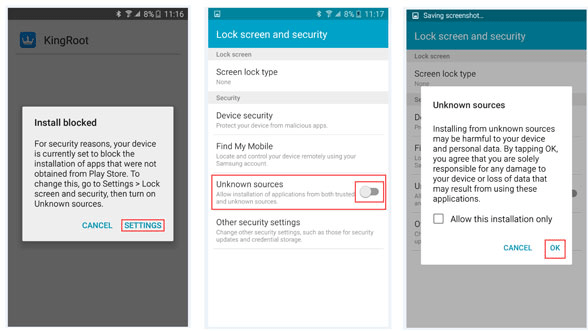 #3. Open the Kingroot application
After successful installation, press "OPEN" to open this application.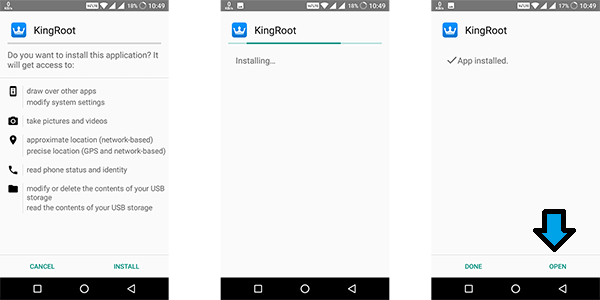 #4. Start Root Android with KingRoot
Tap or tap "Try It"> "Get Now" to start rooting your Android phone. You will find the root process in the presentation to complete.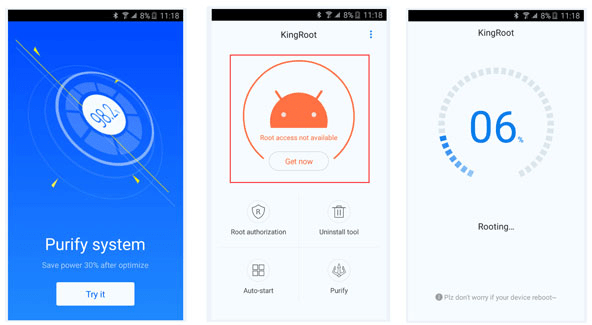 Or in other KingRoot versions, the button is Try Root.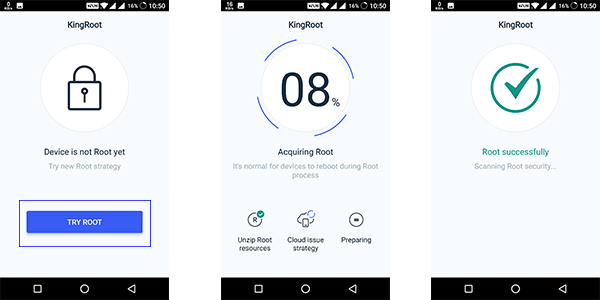 If you are not sure whether your phone has been successfully rooted or not. You can try to remove the preinstalled factory apps that you don't need.
Or you can also head to Google Play Store to download RootChecker to check if Root has been successful.
How to uninstall Kingroot Apk
If you already have KingRoot APK installed, you might have a question, can we uninstall the KingRoot application or unroot our phone?
Yes, we can easily do this by following one of the methods mentioned below:
Using SuperSU
Install the SuperSU app from the Play Store.
Launch it, and open the Settings panel.
Select the Unroot option from the menu.
The device returns to its previous state after rebooting. You can also confirm root access again by installing the Root Checker app from the Google play store.
Using the KingUser APP
Launch the KingUser application from the applications folder.
Click Settings >> Root Authorization setting >> Remove root permissions >> select Clear.
This app will display an In Progress message and revoke root/root access permissions. You can confirm root access again by installing the Root Checker app from the Google Play Store.
FAQ about KingRoot
Is the KingRoot application free?
KingRoot is completely free to download and use on compatible Android devices.
Is it safe to use the KingRoot application?
Yes, this application is very safe and it is recommended that it be reliable, it is one of the one-click root applications available today.
Can KingRoot "brick" our HP?
No, KingRoot will not damage your Android device. That's the reason why this app is preferred among the old-style rooting processes.
What manufacturer's Android and HP versions do KingRoot devices support?
KingRoot supports various Android devices from various manufacturers such as Samsung, Oppo, Motorola, Lenovo, Sony, OnePlus, HTC, Xiaomi, LG, etc.
Can we unroot using the KingRoot tool?
Yes, you can unroot using the KingRoot tool. You can check the Unrooting section above in the article for the process.
Can we uninstall KingRoot APK from the device?
Yes, you can uninstall KingRoot APK from Android devices as easily as we usually do with other apps.
Root Android with KingRoot is one of the easiest ways offered to us as end-users who do not have the technical skills to mod and code the Android system.
And so far KingRoot has earned a good reputation as a root application that is diligently updated and developed, supports fairly new versions of Android, and includes quite a number of manufacturers of phones and tablets based on the Android operating system.
Read more:
Conclusion:
This is the explanation of 8 easy steps to root android with kingroot, Hopefully, this article is of use to you. If you have questions, don't hesitate to raise them in the comments area and I will answer them as best as possible.
Don't forget to bookmark and always visit
Technowizah.com
every day because you can find here the latest Tech Computer Android games How-to Guide Tips&Tricks Software Review etc, Which we update every day.