17 Best Photo Editors Applications Free For Linux – In this article, we will share with you some of the best photo editing apps available on various Linux distributions. These seventeen software lists are not the only photo editors available but include the best and most commonly used by Linux users.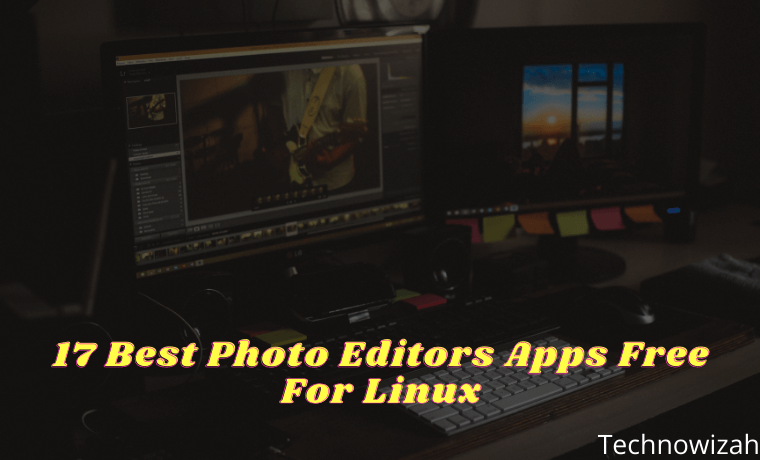 Best Photo Editors Applications Free For Linux 2023
#1. GIMP
The GNU image manipulation program (GIMP) is an open-source photo editing tool that has features such as:
image composition
photo retouch
image writing
GIMP is highly customizable and can be installed via third-party plugins and its users are graphic designers, photographers, and graphic illustrators.
#2. Photoshop WINE
Many users who have migrated from Windows to Linux may have used this software. Photoshop is one of the most popular photo editing tools available. Although you can't install it directly on Linux, you can use WINE to install it and use it on many Linux distributions.
Read more:
WINE helps Linux users to use some of their favorite Windows programs on Linux and Photoshop is just one of them.
#3. Inkscape
Is an illustration editor that has everything you need to create professional-quality computer art. You can use it to create diagrams and illustrations, technical drawings, web graphics, clip art, icons, and logos. There is excellent support for gradients, layers, alpha transparencies, and text flow control.
The software also has an extensive filter library that allows you to apply realistic effects and extensions with bitmaps and barcodes among other things.
Most common vector formats are supported, including PDF, Adobe Illustrator, and AutoCAD files, and have to support the SVG web graphics standard.
#4. Krita
A creative Linux photo editing application for raster images. Unlike other graphic design programs. It has a pluggable engine, some support resources like Gimp files, others offer an advanced simulation of real, color mixing, and image deformation.
In addition, Krita has full support for graphics tablets, including features such as pressure, tilt, and speed, making it a great choice for artists.
There are easy-to-use tools for drawing lines, ellipses, rectangles, and hand tools supported by a useable "drawing assistant" that help you draw shapes that still have a hands-free feel to them.
#5. ShowFOTO
ShowFOTO is a standalone image editor under the digiKam project. It's free and comes with all the standard photo editing functionalities like transformations, adding effects, filtering, metadata editing, and much more.
This app is light and not feature-rich though, a good image editing app is one that doesn't require any other software to run.
#6. RawTherapee
RawTherapee is a free, open-source photo editor for optimizing digital images. It's feature-rich and powerful when you need quality digital images from RAW image files. RAW files can be modified and then saved in a compressed format as well.
It has many features as listed on the project homepage including:
various cameras supported
exposure control
parallel editing
color adjustment
option of using the secondary screen
metadata editing and more
#7. Fotoxx
Fotoxx is also a free and open-source photo editing and collection management tool. It is aimed at dedicated photographers who need simple, fast, and easy tools for photo editing.
It offers photo collection management and an easy way to navigate the collection directory and its subdirectories using the thumbnail browser.
It has the following features:
use a simple click to change the photo
the ability to improve photos in many ways
artistic photo transformation like animation
access to work with meta-data and more
#8. AfterShot Pro
AfterShot Pro is a powerful, fast, highly flexible, and pluggable photo workflow and management software. It offers RAW processing functionality and advanced non-destructive photo editing.
You can save images in folders and use the meta-data tool to search for images by keywords, tags, even camera settings, and more. It's up to 30% faster under the new 64-bit performance.
#9. Darktable
Darktable is a free and open-source photography workflow software and RAW file, developer. It is a virtual light and darkroom table for photographers that helps them manage digital negatives in a database.
#10. Pinta
Pinta is also an excellent photo-editing application that functions similarly to Windows Paint.NET. Think of it as a Linux version of Windows Paint. This app is simple and easy to use which allows users to do quick photo editing.
#11. F-spot
It is a free and open-source photo editing and management software, featured for the Gnome desktop environment. F-spot allows users to easily edit, modify, save, organize, find, and share images.
It has the following user features:
Photo editor with rich color adjustment function
Tag icon editor
export image to the web
make a photo CD CD
#12. UFRaw
UFRaw which stands for "Unidentified Flying Raw" is software that reads and manipulates RAW image files from various types of digital cameras. You can use it standalone as standalone software or as a GIMP plug-in.
UFRaw uses Dave Coffin's raw conversion utility, DCRaw to read raw images, and its color management workflow is based on Little CMS. This allows the user to apply an ICC color profile to the image being edited.
#13. Gallery GTKRaw
GTKRawGallery is a free and open-source workflow-oriented photo editing and retouching software. It also works with raw color 16-bit depth camera images using tools like Exiftool, Dcraw, and Imagemagick.
This allows the user to do the following:
image browser and photo album manager
image modification tool for 16-bit/channel post-processing
Batch Processor to speed up workflow and batch conversion with different styles available
quick image tagging
Color management
print support
Advanced Metadata Editor
dropbox uploader
Facebook, Flickr, and Picasa Web Album Publishers
#14. LightZone
LightZone is also a free and open-source photo editing software for photographers that offers processing and editing of RAW files.
It offers powerful, highly flexible, and customizable tools that users can build in a stack. The tool stack can be turned on or off, re-adjusted, and rearranged to suit the needs of users in different sessions.
#15. Pixeluvo
Pixeluvo is also a powerful layer-based image editing software that offers its users RAW image processing, color correction tools, different image enhancement filters, and much more.
It has the following features:
fix perspective distortion
Add a sketch to your photo
change the impression of an image with Quick Color filters
add text or captions to your images
removes JPEG compression noise and artifacts
improve image details
add tilt-shift effect to pictures
clone tool
text tool
warp tool
filter brushes and more
#16. Photivo
It is also an open-source free photo-editing application for Linux users. Its feature-rich can also offer processing of RAW files and bitmaps under 16-bit processing in a non-destructive manner. It is known to have some of the best powerful and flexible photo editing algorithms available.
It has the following features:
Internal 16-bit processing with LCMS2 Warna color management
work with RAW and bitmap files
Gimp workflow integration for import and export
adaptive saturation.
film grain simulation
cross processing
black and white conversion.
#17. DigiKam
It is a great open-source software and photo editor for dedicated photographers on KDE, it offers easy-to-use functions to enhance usability.
It has the following features:
directory for tutorials on how to use it
facial recognition support
easy import and export of photos to various formats
Conclusion:
This is the explanation of the 17 best photo editors applications free For Linux, Thank you for finding and reading this useful article. If you are interested in articles about other technologies, please read them only on the Technowizah.com website.
Don't forget to bookmark and always visit every day Technowizah.com because you can find here the latest Tech Computer Android games How-to Guide Tips&Tricks Software Review etc, Which we update every day.