6 Ways to Fix System Thread Exception Not Handled in Windows 10 – A SYSTEM THREAD EXCEPTION NOT HANDLED is a common error in Windows 10 due to out-of-date or unsuitable drivers.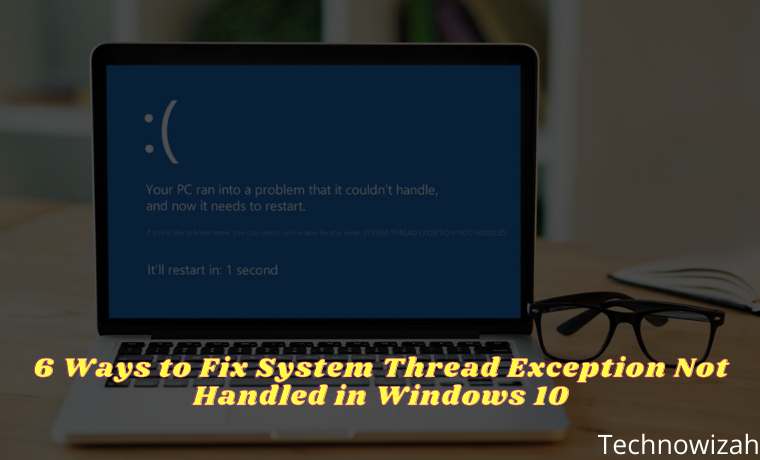 How to Fix System Thread Exception Not Handled in Windows 10 [2023]
Usually, some drivers can cause problems, and sometimes your computer may not detect them. That's why the first step users should take when dealing with these errors is to find the driver that's causing this problem. Here are some ways to solve system thread exceptions not handled in Windows 10.
Read more:
#1. Boot Into Safe Mode
The first step users should take before trying to fix this problem is to boot their computer into Safe Mode. There are several ways to do this:
Boot Into Safe Mode Via Settings
Click the Start button, then select   Settings.
Navigate to Update & Security then click  Recovery.
Under  Advanced startup,   click  Restart now.
When your PC restarts, the Choose an option screen will appear.
From here go to  Troubleshoot > Advanced options > Startup Settings. Then click   Restart
When your PC reboots, press  F5  to boot your computer in  Safe Mode with Networking.
Boot Into Safe Mode Via the Sign-In Screen
Just hold down  Shift and select the Power button followed by  Restart.
Follow steps 4, 5, and 6 from the section above.
Boot Into Safe Mode Via Blank Screen
If you can't use the sign-in screen, follow these steps.
Hold down the power button on your device for 10 seconds to turn it off.
Press the power button again to boot it up.
When the manufacturer logo on your PC appears, press the power button again for 10 seconds.
Press the power button to start your device.
If done correctly, your computer will boot into the Windows Recovery Environment.
Follow steps 4, 5, and 6 from the first section.
#2. Finding the Driver That's Causing The Problem
Since the error is most likely caused by a malfunctioning driver, you can use the Windows Log to find out the source of the problem. To do so, simply follow the steps below:
Press Windows Key + R  and in the  Run dialog box, type eventvwr.
Navigate to the Windows Logs menu then expand it, then select  System.
Look for the log named  system_thread_exception_not_handled  and click on it to find out which driver is causing the problem.
Usually, the driver that often causes problems is the display driver or network driver because these are known to often cause BSOD.
#3. Rollback Or Update the Driver
Depending on which driver is causing the system thread exception not to handle the error, you may need to update or reinstall the related driver.
If the driver hasn't been updated for a long time, updating the driver will most likely fix the problem. If your drivers have recently been updated, maybe rolling back drivers or reinstalling updates is something you should try.
How to Update Drivers in Windows 10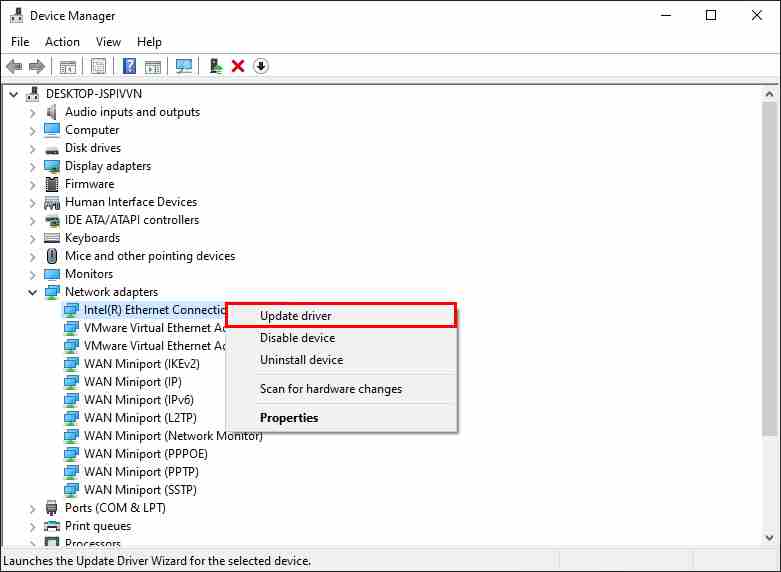 Press  Windows Key + R  and type devmgmt.MSC  to open  Device Manager.
Navigate to the related device and expand the menu. For example, if the error is caused by the display driver, you should expand the Display adapters option.
Right-click on the driver and click Update driver.
In the dialog box that opens, click  Search automatically for updated driver software.
Windows will then automatically search for the latest drivers and then install them.
How to Rollback Driver In Windows 10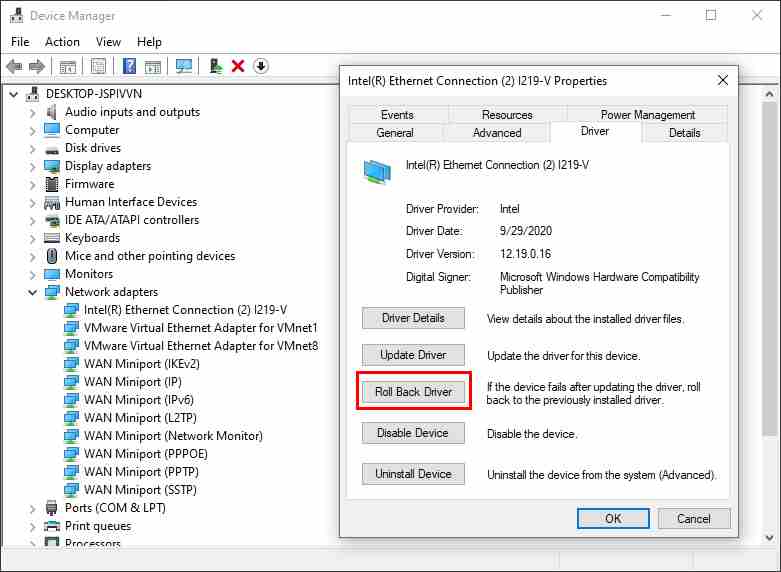 Open  Device Manager and navigate to the driver in question.
Expand the menu and right-click on the driver.
Click  Properties.
Under the Driver tab, click  Roll Back Driver.
Windows will automatically roll back to the last available driver version.
#4. Rename Damaged Files File
After retrieving the filename associated with the system thread exception not handled the error, the user must rename the file. Doing this will cause Windows to make a fresh copy and reinstall it. Driver files are located in  C:\Windows\System32\drivers. Follow these steps to rename the file: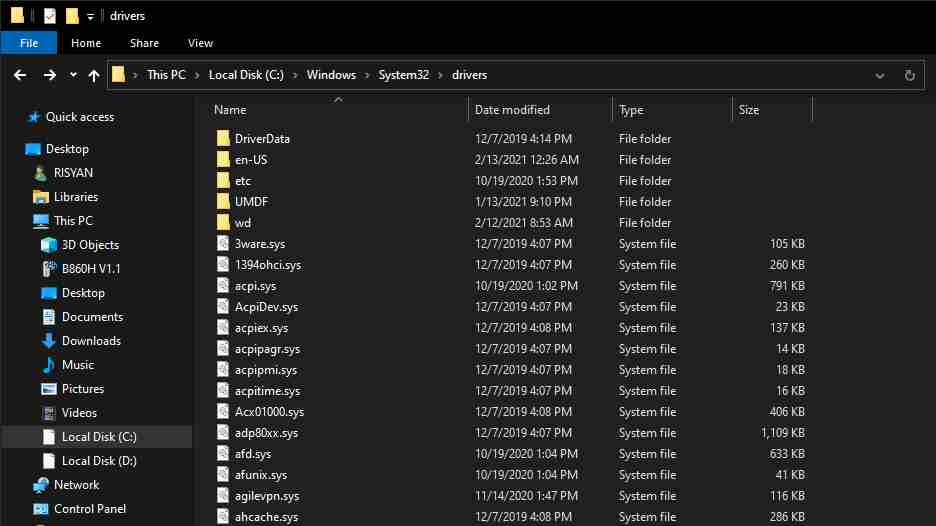 Open  File Explorer and go to  C:\Windows\System32\drivers.
Look for the affected driver.
Click on it and press  F2.
Replace the filename extension with  .old.
Press Enter and restart your computer.
#5. Use SFC And DISM To Repair System Files
SFC and DISM are two powerful tools available to every Windows user. In combination, they can find and fix almost any system-related error. They are also quite easy to use.
How to Use DISM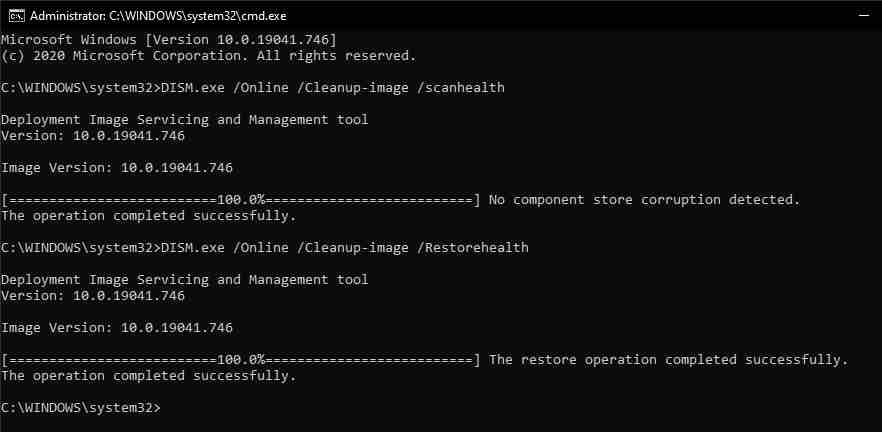 Run  Command Prompt as Administrator.
In the console, type  DISM /Online /Cleanup-Image /ScanHealth and press Enter.
Wait for Windows to finish scanning. Then type  D ISM /Online /Cleanup-image /RestoreHealth.
Windows will fix any problems found during the scan.
How to Use SFC

In the Start menu search bar, type cmd then right-click on  Command Prompt and run as administrator.
In the console, enter sfc /scannow.
Wait a few minutes as Windows will take some time to scan and replace corrupted system files.
#6. Use System Restore To Restore the PC
If the problem is still not resolved, you should use System Restore as a last resort. System Restore is a feature that restores Windows to a previous state. These restore points are created periodically and when installing new software. To do this, follow the steps below: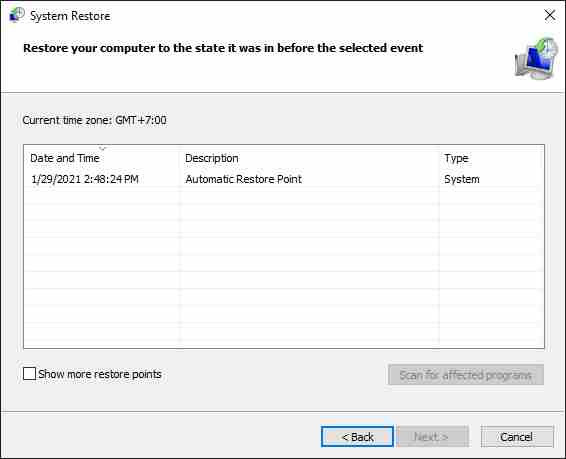 In the Start menu search bar, type  Recovery and click to open it.
Click  Open System Restore.
Click  Next and select a restore point from the list.
Click  Finish.
Read more:
Conclusion:
So those are some ways to solve SYSTEM THREAD exceptions NOT HANDLED in Windows 10. The tips listed above will fix glitches caused by Blue Screen Of Death (BSOD) such as system_thread_exception_not_handled.
Don't forget to bookmark and always visit every day Technowizah.com because you can find here the latest Tech Computer Android games How-to Guide Tips&Tricks Software Review etc, Which we update every day.