Top 10 free online typing speed test websites – Free online typing test websites are a great way to find out how fast and accurate you can type. Online typing websites are also for free typing lessons, warm-ups before a test, typing speed tests, or free online typing games.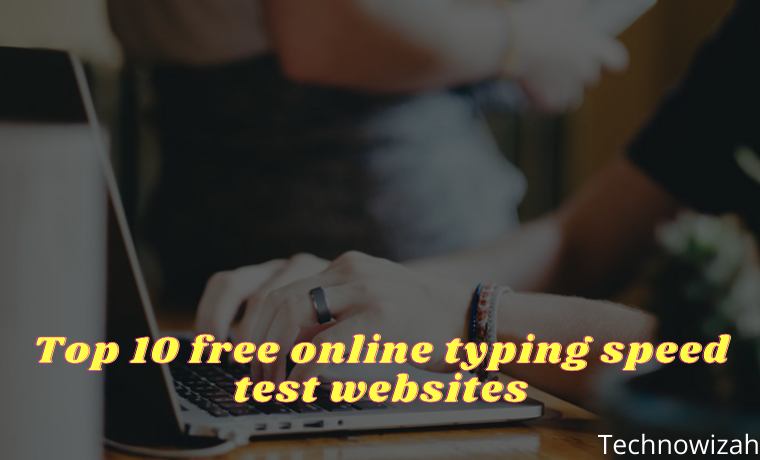 Top 10 free online typing speed test websites 2023
Your typing speed results will be displayed on WPM numbers ( Words Per Minute or Words Per Minute), some will display the number of characters per minute (CPM), and the percentage of typing accuracy.
Read more:
Each typing test website has a different way of working, some provide dozens of different blocks of text, some provide random words to ensure accuracy, and some use a racing format.
Therefore you need to read the instructions and know the duration of the test clearly before starting the typing test.
Free Typing Speed ​​and Accuracy Tests on These Websites
Tip: You can get the most accurate score on a typing test by warming up beforehand, and choosing a long block of text for the typing test.
#1. FreeTypingGame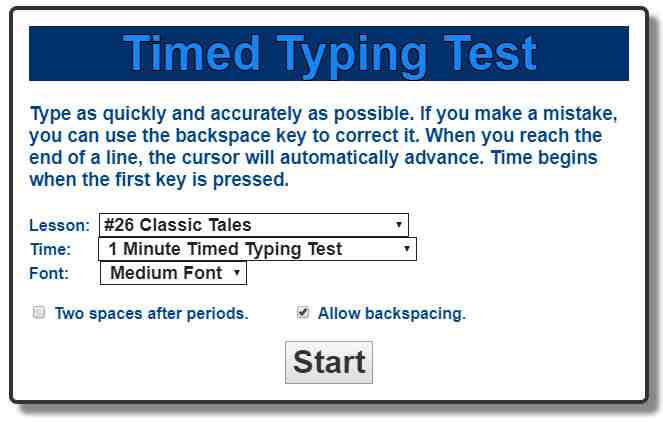 The free typing speed test on FreeTypingGame has 40 different blocks of text to choose from, ranging from easy to difficult, with a duration of 1-5 minutes. So even novice typists can get accurate results at current levels.
An example of an easier test is a test that only asks you to type the alphabet on the home row keys, while some of the more difficult typing tests are a test of typing words in German and French.
Errors are marked in red. Only the remaining time and WPM info are displayed during the test. Once done, you are given the option to submit your score to the scoreboard.
#2. TypingTest.com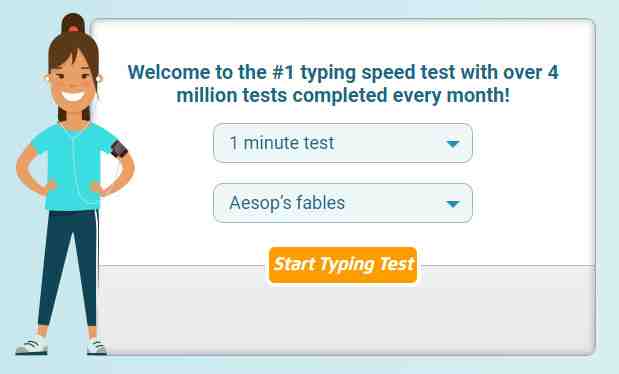 TypingTest.com has an attractive interface, making it a favorite typing test website for many. The screen is easy to see, and the ads are unobtrusive. The remaining time, current speed, and number of errors can be seen quickly.
Apart from English, this free typing test is available in eight other languages. You can choose to time the test from 1 to 5 minutes, and there are several different sample texts available when you take the test.
After completing the typing speed test, TypingTest.com also shows a comparison of your results with other average typists.
#3. 10FastFingers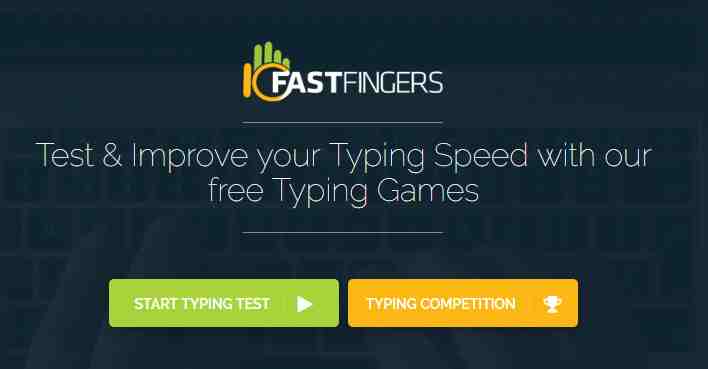 The free online typing test on the 10FastFingers website will most likely give you the most accurate reading. Because for the test, 10FastFingers uses random words, not clear strings of sentences.
This typing test uses 200 different words and tests you for one minute. After completing these 10 tests, you can even take the 1,000-word typing test on 10FastFingers.
At the end of the test, you can see the WPM info, the number of true versus false keystrokes, and the number of true and false words. Also, see your ranking among the other 10FastFingers users over the last 24 hours.
You can compete with other people in 10FastFingers by joining random games that are in progress or by creating your own game.
#4. TypingTester.Org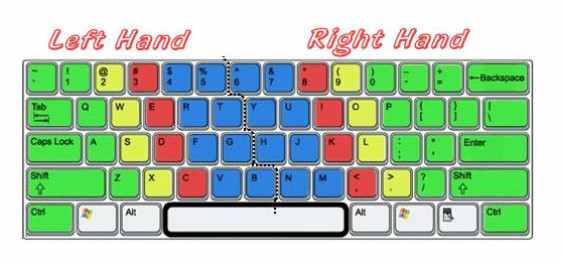 TypingTester.org helps you calculate your typing speed test by telling you the number of words per minute (WPM), the number of characters per minute (CPM), the total number of characters typed, and the percentage accuracy of your typing results.
The total words typed in one test can be around 1,500 words from the supported languages ​​(eg 1,500 words in Indonesian). TypingTester.Org supports more than 40 languages.
There is also a feature to convert the Latin alphabet to the alphabet of other languages, for example, the word 'two' from English can be typed in the Arabic alphabet.
#5. Speed ​​Typing Online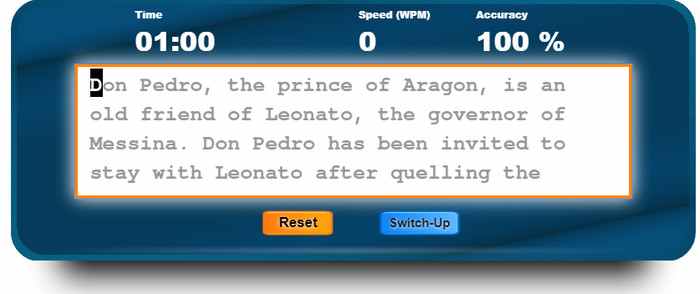 This free online typing test on the Speed ​​Typing Online website gives you different things to write, or you can enter your own custom text if you want to test your speed on something unique.
Two of my favorite things about this special typing test are that you can see the text you're about to type, and even though typos are highlighted in red, you can continue typing, or step back if you want to edit.
Typing speed test time can be changed from 30 seconds to 1, 2, 5, 10, or 20 minutes. Even the keyboard layout can be changed as desired. So that it is easier for you to take the typing test.
#6. TypeRacer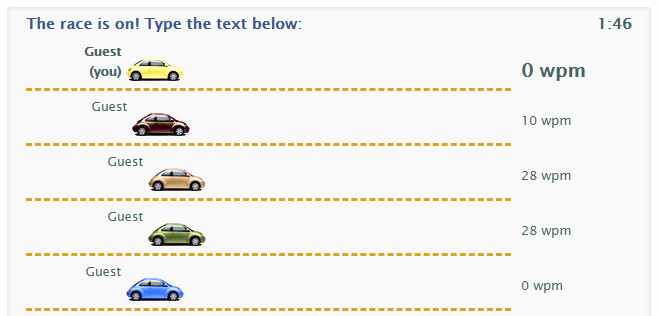 TypeRacer is a fun website to take online typing tests, as you race against other typists while tracking your WPM.
You can race people randomly selected by the system or invite people you know to participate in private typing races.
When the race is over, you will get info on the total speed and percentage of accuracy. The website will also tell you how long it will take you to complete the test.
#7. typrX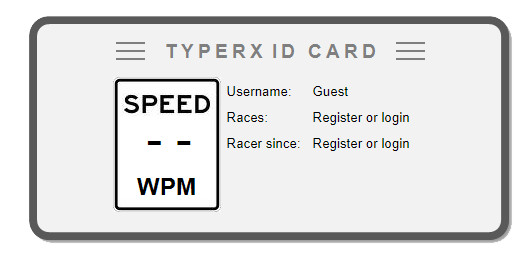 The free typing test on typrX is also presented in a race format. But you can choose to train alone or create private races so you can compete with your own friends.
When you take a typing test, your WPM as well as your remaining time is displayed above the test column. You can also compare test results on the typrX website.
Because on the typrX website page you can see a list of today's best typing scores from everyone who took the test on typrX, as well as the last 10 results of your own typing speed test.
#8. Power Typing

This website supports more than 50 languages. There are also more than 10 blocks of text that you can choose from when you take the free online typing test on the PowerTyping website.
The PowerTyping website is a live typing speed test tool that will show you your speed, reading accuracy, errors per minute, and some other statistics when you finish the test.
#9. Key Hero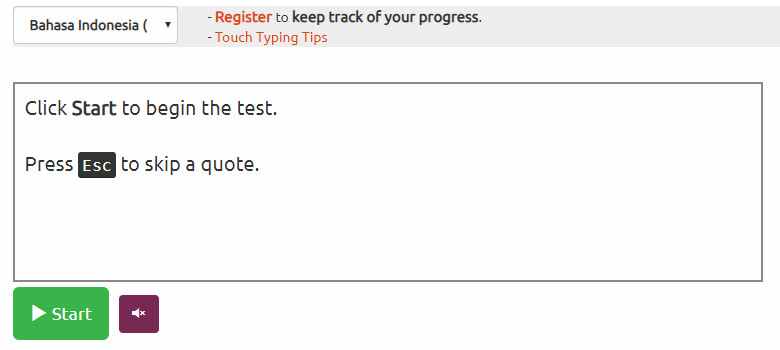 The website supports more than a dozen languages, but you can't choose what text to type, because the blocks of text are randomly assigned. Speed ​​and accuracy are calculated when you take a free typing test on Key Hero.
You can sign up for a free account if you want to keep track of your past scores. That is also if you have taken the test several times on the Key Hero website.
Another drawback of the typing test in Key Hero is that you are forced to go back and correct errors before continuing with other tests. So if you don't want to go back, you have to type everything right. Can you?
#10. ThePracticeTest.com

ThePractiseTest.com has a simple and colorless page interface, so it's easy to concentrate. But the speed of review of test results is very slow.
When I type as fast as I can, the notification always appears: "You are typing so fast, slow down and concentrate on your typing accuracy." (You are typing too fast, slow down and concentrate on your typing accuracy."
Conclusion:
After that, the results of my typing review were not clear. Anyway failed. Typing speed test, but not too fast? Maybe the ThePracticeTest.com website can't handle typing too fast?
How fast can your fingers type in one minute? Ready to take the test?
Don't forget to bookmark and always visit Technowizah.com every day because you can find here the latest Tech Computer Android games How-to Guide Tips&Tricks Software Review etc, Which we update every day.