How To Change YouTube Display To Black on PC Windows – Are you tired of YouTube's bright display? If so, you will definitely want to know how to turn YouTube display black on a PC.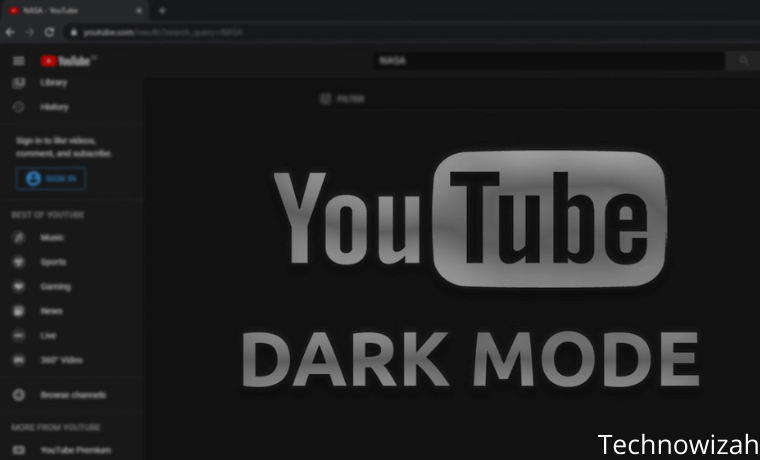 How To Change YouTube Display To Black on PC Windows 10
Changing the appearance of YouTube to black or dark can help you to reduce eye strain and glare while watching videos. For how to change the appearance of YouTube to black on PC, you can use a few simple steps as described below.
Read more:
What is Dark Mode?
The dark mode is an additional mode that can be used to display mostly dark surfaces in the UI. The design reduces the light emitted by the device screen while maintaining the minimum color contrast ratio required for legibility.
The advantage of Dark Mode is that it improves visual ergonomics by reducing eye strain, facilitating the screen to adjust to current light conditions, and providing comfortable use at night or in dark environments. In addition, it saves battery power, thus allowing the device to be used for a longer time without charging.
Benefits of Using Dark Mode
Dark Mode has only become popular in the last 3-5 years as companies started rolling out this mode to make night users and those with bright screens benefit. For those of you who like dark mode. Here are the benefits of using it:
Better Text Readability
Better Contrast
Reduce Eye Fatigue
A little Flicker (if there is a problem)
Lack of Blue Light
Less Prone to Trigger Photophobia
Can Save Electricity In Small Amounts
But that does not mean dark mode does not have a negative side, Research from S Brown from the University of Cambridge reveals the benefits and negative sides of using dark mode.
How To Change YouTube Display To Black On PC Laptop Windows 10
If you're accessing YouTube from a computer, it doesn't matter what operating system you're using. Just follow the steps below to turn YouTube display black on PC once you are logged in to your YouTube account: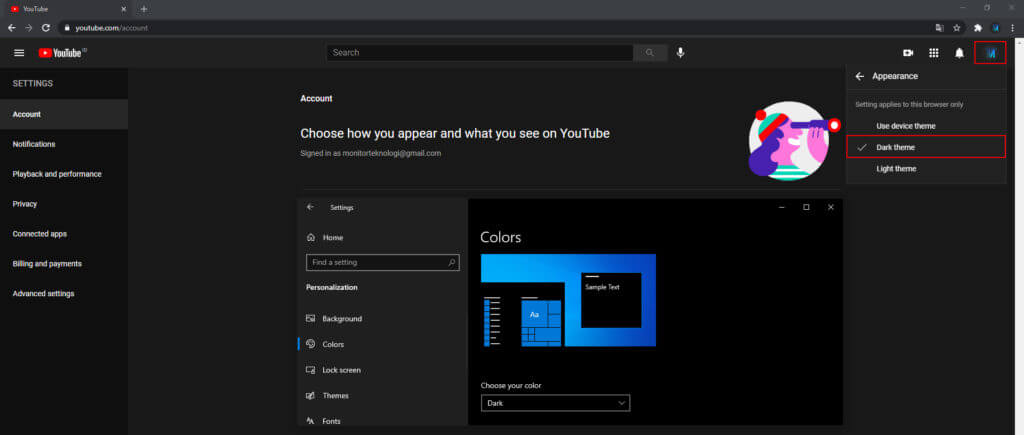 Click on your YouTube profile picture.
Click  Appearance.
Select  Dark Theme or  Use Device Theme  (if your device has Dark Mode enabled).
After activating dark mode, there are a few things to note. First, when you change this setting, it only affects your current browser. So if you switch to another browser for some reason, you also have to activate the dark mode setting in that browser.
If you select the Use Device Theme setting, YouTube will change its appearance when your system does so. So, if you guys want to swap themes, YouTube responds simultaneously. This can be done manually on your system or via custom appearance settings.
If you are running Windows,  Use Device Theme also allows more control over the appearance of custom colors. For example, you can keep your Windows system in light mode but run apps in dark mode. As a result, YouTube will remain in dark mode.
Read more:
Conclusion:
So that's how to change the YouTube display to black on PC. YouTube makes it easy for users to activate dark mode on any device they use. Plus, with the option to make YouTube recognize your device's theme, it's easier to use dark mode whenever you need it.
Don't forget to bookmark and always visit Technowizah.com every day because you can find here the latest Tech Computer Android games How-to Guide Tips&Tricks Software Review etc, Which we update every day.