6 Steps To Connect Two Laptops with a LAN Cable – One of the purposes of this method is to share or transfer files easily. The use of LAN cables as a means of transfer is quite popular and widely used. Because the speed of sending data when using LAN is much faster.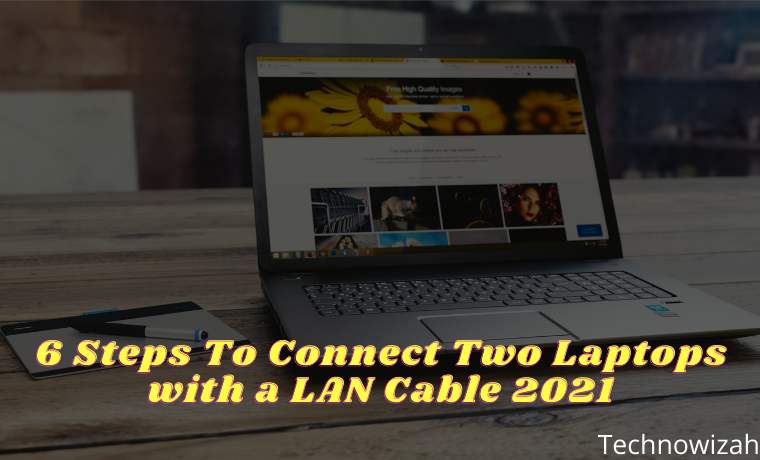 How to Connect Two Laptops with a LAN Cable 2023
However, before using this method, it is necessary to connect 2 computers or laptops with a LAN cable. There are several settings that you have to do.
Read more:
Connecting is also not easy, because sometimes problems often occur. But you don't need to worry, because here we have provided easy steps along with pictures to make it easy to understand.
If you follow it correctly, then it is guaranteed to successfully connect 2 laptops with a LAN cable. Immediately read this article to the end.
Connect two Laptops with a Windows 10 LAN Cable
Connection and data transfer are one of the most important uses of computers. Many technologies have emerged to meet the needs of users.
One effective method is through the use of an Ethernet or LAN cable. The question that arises through this method is which cable to use (straight cable or crossover) and how to do it?
Choosing Between Straight or Crossover Cables
First of all, you need to know in advance which cable to use. To find out which cable to use, you must first determine which device you want to connect.
Whether to use a device of the same type (say two computers) or a device of a different type (a computer to a network switch or an Ethernet hub).
When two similar devices are to be used to share files, one will output temporary data and the other will accept it as input.
For crossover cables connect the transmitting signal at one end to the receiving signal at the other end. This makes crossover cables ideal for Ethernet connections between the same system, such as two computers/laptops.
Connecting Two Windows PCs with a LAN Cable
Here are easy steps to connect two Windows PCs/Laptops with a LAN cable:
Go to the Change Adapter Settings page
To enter the page, click on Control Panel >> Network and Internet >> Network and Sharing Center >> Change Adapter Settings
Calling Ethernet
Click on "Change Adapter Settings", it will show different connections. Select the appropriate connection for your LAN. The connection in question is generally "Ethernet".
Right-click on the connection and select "Properties." The local area connection properties window will appear.
Set IP address
-Under the network tab select " Internet protocol version 4 (TCP/IPv4) " then click "Properties".
-In the Properties window, set the IP address and subnet mask of the first computer to:
IP – 192.168.0.1
Subnet Mask – 225.225.225.0
-Repeat all the above steps for the second computer, and set the IP address and Subnet Mask as follows:
IP – 192.168 .0.2
Subnet Mask – 225.225.225.0
Connecting the two computers/laptops
The next step is to connect the crossover cable to the network ports of the two computers. Both ends of the network cable look the same, so it doesn't matter which one you use first. The network port looks like the image below. (Note that most modern laptop computers are not equipped with a LAN port).
Creating a WORKGROUP
Right-click on "This PC" and select "Properties." Click on "Change settings >> Change" This will open a window with the name of the workgroup. The value for the workgroup name must be the same for both PCs. By default, the workgroup name is WORKGROUP, but you can change it to your own name. Look at the following picture.
Start connecting the two computers
Right-click on the drive you want to share. Scroll to the " Give access to " option and click " Advanced Sharing ". Under the sharing tab, click on the "Advanced Sharing" button.
Later it will enter the Advanced Sharing window, please check the "Share this folder", and click "Apply >> OK".
At this stage, you will successfully connect two Windows computers to share your drive on both.
How to Share Files or Data Using a LAN Cable
If you have completed the previous steps, you can now share files easily between the two connected computers. Here are the steps:
Right-click a file from Computer A (HP Admin)
To share a specific folder or file from Computer A (ADMIN-HP) with Computer B, just right-click the desired folder or file on Computer A, scroll to the "Give access to" option, and click "Specific People"
Select "Everyone" from the file-sharing window. Next, click "Add" and click "Share."

Opening Network Panel
Open the Network Panel on Computer B, and you will see the name of any computer that is part of the network. In this case, Computer A is ADMIN-HP. Double-click it, and all the shared files will be shown. At this point, you can use normal copy and paste to move the desired content.
In the case of copying files from Computer B to Computer A, perform the same steps, but this time the steps previously performed on Computer A were performed on Computer B and vice versa.
It's easy, isn't it?
FAQ
What is LAN?
LAN is used to connect active systems, as well as to connect workstations and PCs that are used as clients. Active and standby systems are connected using a LAN adapter on the same LAN.
Can 2 computers be connected with a LAN cable?
Yes, you can connect the two computers with a LAN cable. You can use any LAN cable, crossover cable, or ethernet cable.
What happens if you connect two computers with a LAN cable?
If you only want to share your internet connection and not files, the two computers don't need to be part of the same workgroup.
All you need to do is connect the two computers with an Ethernet crossover cable and then turn on Internet connection sharing on the computer that already has an Internet connection.
By connecting these two computers, they can share the same LAN network, including file transfers.
Read more:
Conclusion:
Well, that's how to easily connect two laptops with a Windows 10 LAN cable, By connecting two computers or laptops, you can easily share files between computers that are connected to each other on the same network.
Don't forget to bookmark and always visit every day Technowizah.com because you can find here the latest Tech Computer Android games How-to Guide Tips&Tricks Software Review etc., Which we update every day.