What Is The difference between WiFi and MiFi – We know there are several technologies that have terms that seem similar. One of them is MiFi and WiFi. I know the difference is only in "M" and "W", but these two terms have different meanings. If you're curious to know the difference between WiFi and MiFi, you've come to the right place.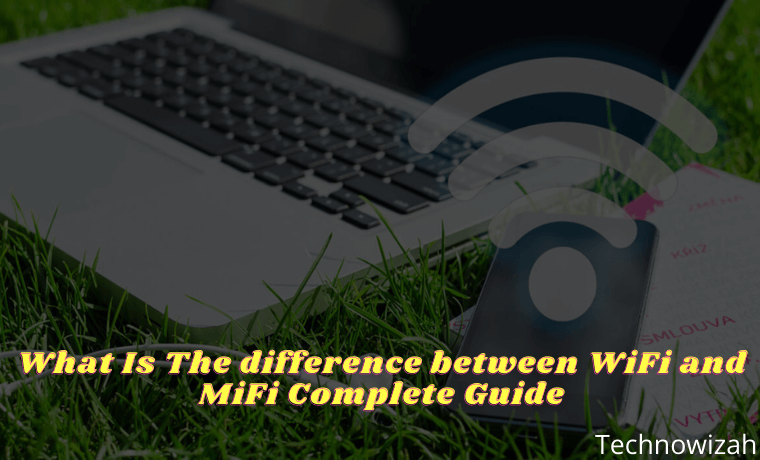 difference between WiFi and MiFi Complete Guide 2023
Wifi has become a very popular standard in today's world and is used in many public locations as well as at home. Both the device and the standard are well known. Let us know the difference between WiFi and MiFi.
Read more:
What is Wi-Fi?
WiFi is a wireless networking standard that devices use to communicate with each other without any cables being connected. If your device has or is compatible with WiFi, it means that it can interact wirelessly with other WiFi-compatible devices.
Keep in mind, that WiFi is not an app. This means it can't be downloaded like you guys download apps. Devices like Android or iPhone are equipped with WiFi features so they can interact with other WiFi-compatible devices wirelessly.
There are many advantages that come with a wireless network like WiFi. It is relatively inexpensive and easy to set up. Information can be transferred easily over the air, and no cables are required to make the connection.
WiFi works with the use of radio waves such as cell phone radios and television sets. WiFi is most similar to radio communication in two directions.
If a wireless network is accessible in a certain area, it is known as a  wifi hotspot. This is usually the name used to refer to public WiFi connections which are mostly free but will sometimes cost money.
However, WiFi is a very useful feature especially when we are traveling and need an internet connection to access information and resources.
Private Hotspots can also be created using a network connection with a mobile device. To establish a WiFi connection, a wireless transmitter that can be plugged externally into a card slot or USB port on a PC must be provided with the computer. Currently, a wireless adapter is pre-installed in most devices.
This wireless adapter has the ability to automatically detect networks in close proximity. Users will be able to select and connect with available networks with or without a password.
A home wireless network is also convenient because users can move devices from one place to another without the need for cables. Wireless networks also have the ability to connect multiple devices without the need for cables.
What is MiFi?
The term MiFi was coined in 2009 by Novatel Wireless, which launched the first MiFi router to the market that year. Some say that MiFi stands for My WiFi, but this is unofficial.
MiFi is a battery-powered portable internet device that allows multiple mobile device users to share a 3G, 4G, or 5G mobile broadband internet connection by creating a mobile hotspot.
Simply put, MiFi is a portable modem or router capable of providing internet access through a process called tethering.
In other words, MiFi is a portable, battery-powered portable 3G, 4G, or 5G router.
It should be noted that today's smartphones are capable of generating hotspots, but the hotspot feature on smartphones must be turned on when needed, and 3G and 4G data cannot coexist with voice calls which will interfere with functionality.
But this can all be made easier with MiFi, a special tool for creating an ad-hoc WLAN network you can take with you anywhere. It also gives you the possibility of connecting multiple devices to a wireless router. This way, you can access the internet without looking for public WiFi and exposing yourself to risks.
Difference between WiFi and MiFi
The main difference between WiFi and MiFi is that MiFi is a portable battery-powered internet device featuring WiFi capabilities, whereas WiFi is basically a wireless networking standard. MiFi devices are usually connected to a cellular network and are capable of supplying internet connectivity to about ten devices simultaneously.
In fact, the only difference between 3G, 4G, 5G, and WiFi is just the router. However, MiFi can support WiFi standards and cellular data technologies including 3G, 4G, 5G or LTE. This means MiFi devices are capable of retrieving mobile data from data providers such as telecommunications.
MiFi devices have two components: a modem and a WiFi router. The modem component supports 3G, 4G, or LTE and provides an internet connection to WiFi-enabled devices such as iPhones, iPad, Macs, or Windows PC. On the other hand, the work of the components of a WiFi router is to provide WiFi connectivity.
Read more:
Conclusion:
So that's the difference between WiFi and MiFi. Simply put, WiFi is a wireless networking standard. While MiFi is an internet device that supports standard WiFi. K
Don't forget to bookmark and always visit every day Technowizah.com because you can find here the latest Tech Computer Android games How-to Guide Tips&Tricks Software Review etc, Which we update every day.