Best Ways to Fix Error 0x800F081F in Windows 10 PC – Although Microsoft has made significant improvements over the last few years, unfortunately, Windows still tends to have occasional error codes. IN This post we will share with you how to fix the 0x800F081F error in Windows 10.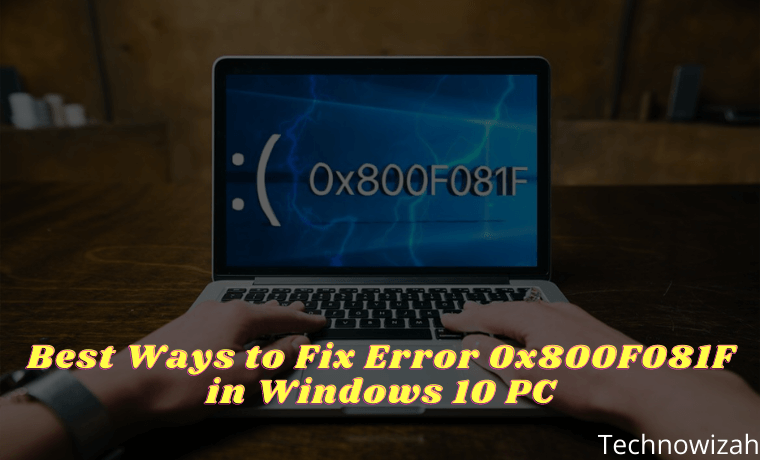 What Causes Error 0x800F081F?
Error code 0x800F081F is one of four possible error codes that all point to the same underlying problem. The other three are error code 0x800F0906, error code 0x800F0907, and error code 0x800F0922.
Read more:
Microsoft .NET Framework 3.5 incompatibility causes all code errors. Typically, they will occur when you activate the .NET Framework using the installation wizard, Deployment Image Servicing and Management (DISM) tool, or Windows PowerShell commands.
You will only see the code on Windows 10, Windows Server 2016, Windows Server version 1709, Windows 8.1, Windows Server 2012 R2, Windows 8, and Windows Server 2012. On those operating systems, Microsoft .NET Framework 3.5 is a "Feature on Demand" (meaning it is not enabled by default).
When you enable this feature, Windows update tries to fetch the .NET binary along with other required files. If your computer is not configured properly, you may see those codes.
0x800F081F: Windows cannot find the .NET source files for the installation to continue.
0x800F0906: Windows cannot download .NET source files, cannot connect to the internet, or cannot install roles, role services, or features.
0x800F0907: Either the DISM tool failed, or your network policy settings are preventing Windows from connecting to the web.
0x800F0922: Processing of .NET advanced installers or generic commands failed.
How to Fix Error 0x800F081F, 0x800F0906, 0x800F0907, or 0x800F0922 in Windows 10
Fortunately, the way to fix the first three errors is the same. There are two approaches you can try. For error 0x800F0922, you should immediately switch to method two.
#1: Configure Your Group Policy
It's possible that your Group Policy is affecting Windows' ability to enable installation.
To get started, press  Windows + R  to bring up the Run dialog. Next, type gpedit.msc and press  Enter. This command will open the Group Policy Editor window.
Once the editor is on your screen, use the left pane to navigate to Computer Configuration > Administrative Templates > System.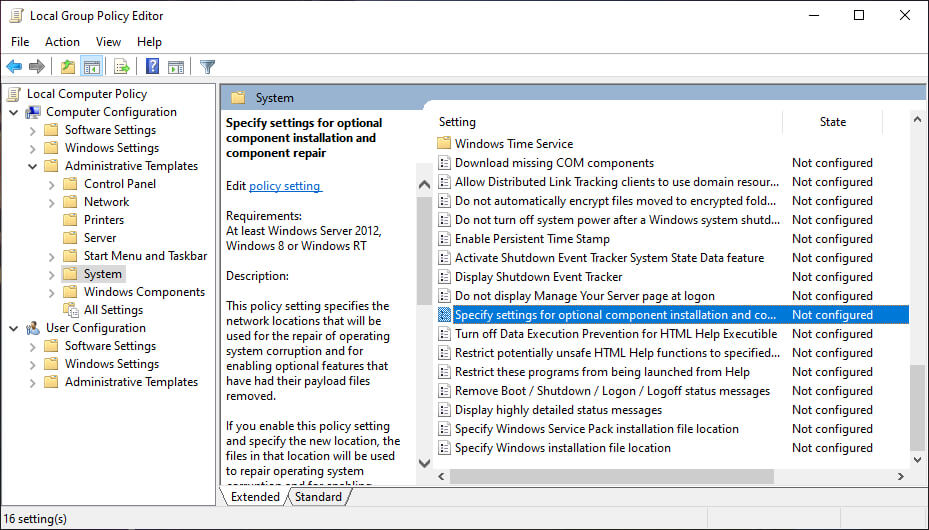 Move your attention to the right panel. Scroll down until you find the entry labeled Specify settings for optional component installation and component repair. You'll find it under the folder you see at the top of the list.
Double link on the entry to open the Settings window. Finally, in the upper left corner, mark the checkbox next to Enabled and click  OK.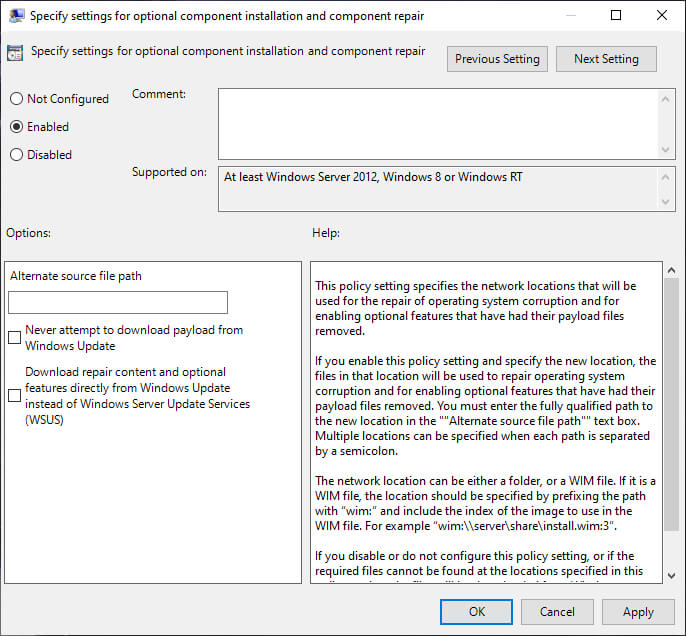 #2: Enable .NET Framework Using DISM Command
Note:  This is the only method that will fix error code 0x800F0922.
The second approach requires you to use the DISM command to activate the .NET Framework. Don't worry, it's not as complicated as it sounds.
Before starting the main process, you must first make sure you have an ISO image of Windows 10. The ISO version must be exactly the same as your current operating system.
You can create an ISO image using Microsoft's official Media Creation Tool, which you can download from the Microsoft website.
Once the download is complete, run the tool and click on Create installation media for another PC. On the next screen, select your language and system architecture, then select the ISO file to start the creation process. Burn the ISO file to DVD before proceeding.
To get started, you'll need to mount the ISO image you just created earlier. Open File Explorer and double-click on the file. It should be installed automatically. Alternatively, you can right-click on the file and select Mount from the context menu. If the process is successful, you will see the ISO in the virtual drive in the left pane of the window. Take note of the drive letter.
Note: To unmount the image, right-click on the virtual drive on This PC and select Eject.

Once the image is mounted, open the Start menu and type cmd. Then right-click on Command Prompt and select  Run as administrator.
At the command line, type dism /online /enable-feature /featurename:NetFx3 /All /Source:[Drive]:\sources\sxs /LimitAccess. Replace [Drive] with the drive letter you noted earlier, then press Enter when you're ready.
#Try Reinstalling Microsoft .NET Framework 3.5
Once you've successfully navigated through the instructions, it's time to install the .NET Framework 3.5 and see that error code 0x800F081F (or one of the related error codes) has disappeared.
Open the Settings app and go to Apps > Apps and Features. Scroll down to Related Settings and click on Programs and Features. Next, in the new window, click Turn Windows features on or off in the top left corner.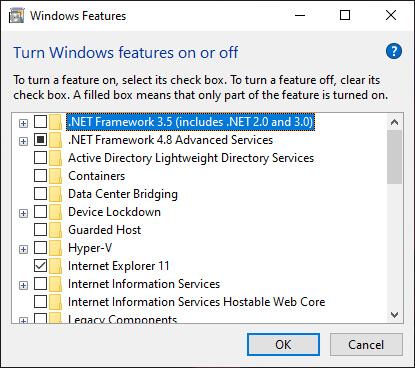 Finally, mark the checkbox next to it. NET Framework 3.5 (including .NET 2.0 and 3.0)  and click  OK. The installation process will take a few minutes, depending on your connection speed.
So to fix or resolve error 0x800F0922 on Windows 10:
Open the Group Policy Editor.
Go to Computer Configuration > Administrative Templates > System.
Double-click on Specify settings for optional component installation and component repair.
Select Enable.
If that doesn't work, follow these instructions instead.
Create and mount a Windows 10 ISO image.
Open Command Prompt as administrator.
Type dism /online /enable-feature /featurename:NetFx3 /All /Source:[Drive]:\sources\sxs /LimitAccess  (replacing [Drive] with the appropriate letter).
Press Enter
Read more:
Conclusion:
That's an article on how to Overcome Error 0x800F081F on Windows 10, Wait for other interesting articles, and don't forget to share this article with your friends. Thank you.
Don't forget to bookmark and always visit every day Technowizah.com because you can find here the latest Tech Computer Android games How-to Guide Tips&Tricks Software Review etc, Which we update every day.