10 Ways to Fix Network Adapter Not Detected In Windows – Without a network adapter, you will not be able to connect to the internet. Learn how to fix an undetected or missing network adapter so you can get back online again.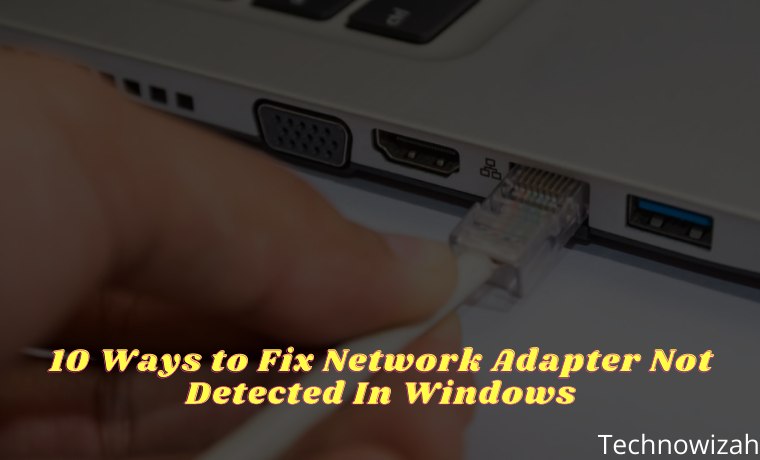 10 Ways to Fix Network Adapter Not Detected In Windows 10 PC 2023
The network adapter is an important part of a computer because it sends and receives data to and from other devices on a wireless or wired network. Sometimes, the network adapter disappears from the Device Manager or the Windows operating system tells you that it is missing.
Read more:
When this happens, you will no longer be able to connect to the internet. To help you fix it, we have put together a few solutions that you can try to fix an undetected or missing network adapter.
#1. Restart And Check Connection
Try some quick fixes like restarting your PC or laptop and check if you can now find the missing network adapter. If you have already connected the Ethernet cable, you will also need to unplug it and plug it back in.
#2. Show Hidden Drivers In Windows
The network adapter may be missing simply because the Device Manager does not display it. Here's how to make the network adapter visible:

Right-click  Start > Device Manager.
Open the View menu and click  Show hidden devices.
Expand the list of  Network adapters and check if the adapter is now visible.
If the adapter is still missing, click  Action  > Scan for hardware changes.
#3. Remove the Battery From the Laptop
If you're on a PC, or your laptop doesn't have a removable battery, skip this solution. While removing the battery you are forcing the motherboard to reset its settings which might be enough to fix this issue.
If your laptop comes with a removable battery, turn it off and remove the battery for a few seconds. Then, plug it back in and turn on the laptop again.
#4. Turn off Antivirus and VPN
If you are using a VPN on your device, try turning it off or even uninstalling it. Then, restart your laptop or PC and check if there is any difference. Do not forget, also turn off the antivirus or check for available updates.
#5. Run Network Adapter Troubleshooter
Windows 10 provides a useful list of troubleshooters so it's no surprise that you can fix some network adapter problems using one of these tools. Follow these steps to run the Network Adapter troubleshooter: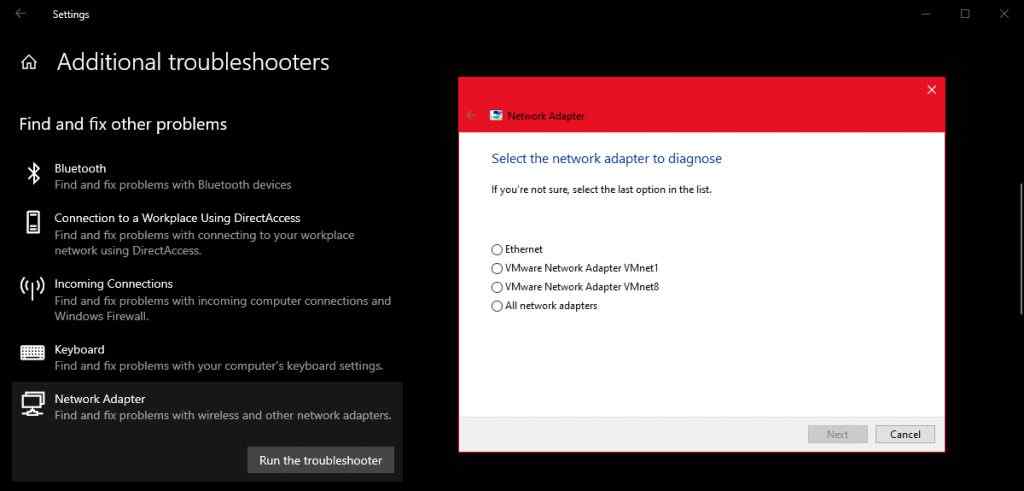 Right-click  Start and select  Settings, or use the keyboard shortcut  Win + I.
Go to  Update & Security > Troubleshoot > Additional troubleshooters .
Under  Find and fix other problems, select  Network Adapter > Run the troubleshooter.
Follow the instructions shown.
#6. Use Network Reset Tool
If the troubleshooter doesn't solve the problem, you can try using the Network Reset Tool. This will make all network settings back to their default settings without disturbing your data. Follow these steps to reset your network: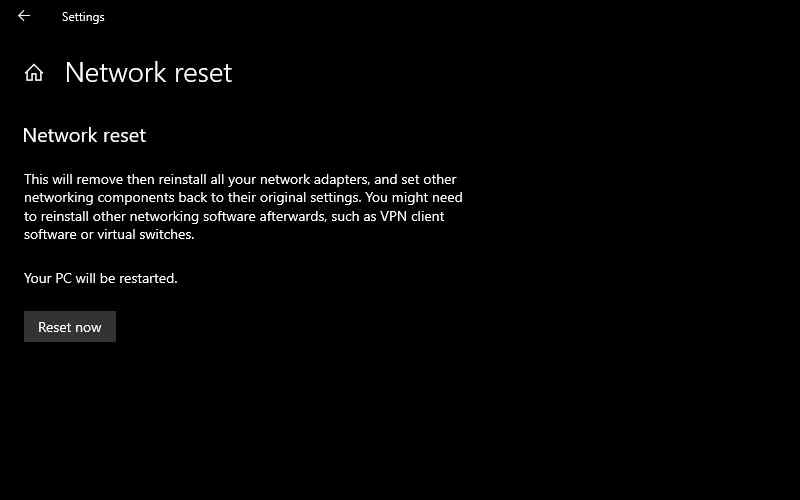 Go to  Settings, then go to  Network & Internet.
Select  Status and scroll down to  Network reset.
Select  Reset now.
#7. Check Power Management Settings
If you are using a laptop, Windows 10 will turn off some of its features when the battery is low or when battery saver mode is activated. Follow these steps to check the Power  Management settings  :
Right-click  Start > Device manager.
Expand the list of  Network adapters
Right-click your network adapter and select  Properties.
Go to the Power  Management tab.
Uncheck  Allow the computer to turn off this device to save power.
Click  Apply > OK to save changes.
#8. Reset Winsock Settings
Winsock is the programming interface and supporting programs that define how Windows network software uses its network services. If something goes wrong with the Winsocks file, it can cause the network adapter to disappear from Windows 10. Here's how to reset Winsock data:

In the  Start menu search bar, look for the command prompt and select  Run as administrator.
Inside the Command Prompt window, type netsh winsock reset. Then, press  Enter.
Restart your PC or laptop to save changes.
#9. Clean Network Devices
If the previous method didn't work, you can follow these steps to clean network devices using the command prompt:

Press  Win + R  to open the Run window.
Inside the Run window, type cmd and press  Ctrl + Shift + Enter to run Command Prompt as administrator.
In the Command Prompt, type netcfg -d.
Restart the device and check if you can now find the network adapter.
#10. Check Windows Background Services
Your network driver may be missing because the background service stopped working properly. Follow these steps to manage it manually: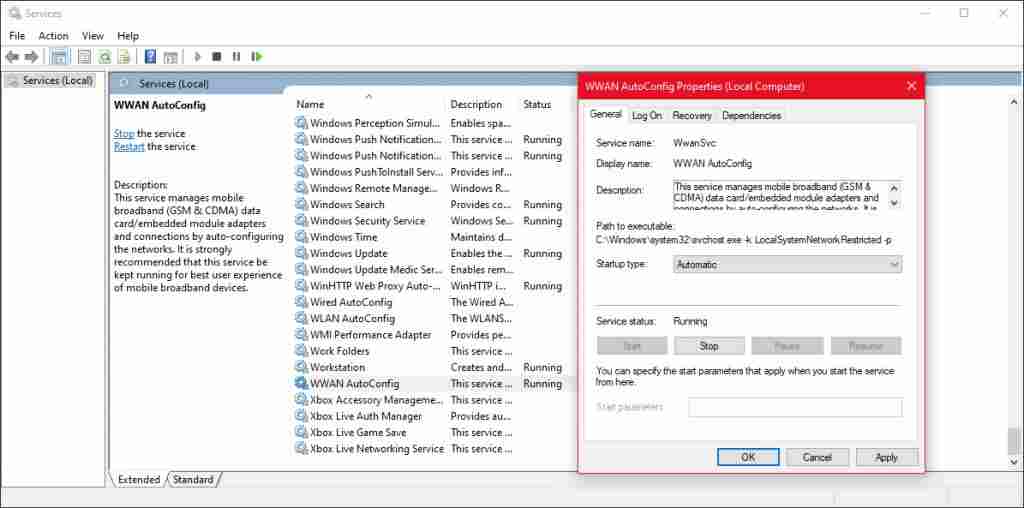 In the  Start menu search bar, search for services and select the most suitable one.
In the Services menu, locate and open  WWAN AutoConfig.
Check if the Service status is Running. If not, click  Start to run it.
Set the  Startup type to  Automatic.
Click  Apply > OK  to save changes.
Restart your device and check if the missing driver is now available.
Read more:
Conclusion:
So that's how to fix the network adapter that is not detected or missing. There are many solutions available. As we discussed, you can try turning off your VPN or antivirus and Windows 10 also has some troubleshooting tools you can use.
Don't forget to bookmark and always visit every day Technowizah.com because you can find here the latest Tech Computer Android games How-to Guide Tips&Tricks Software Review etc, Which we update every day.