What is XAPK? How to Install XAPK File on Android – Do you want to install XAPK on an Android cellphone but don't know how? No need to worry, here you will find out how to install XAPK on Android easily, quickly, and completely.
What is XAPK? And How to Install XAPK File on Android 2023
As is well known, in general, the format of an Android application file is APK. But it turns out that there is still another format that is often used for the installation of android applications, namely XAPK.
Read more:
XAPK is usually found when we search for an application or Android game on the internet. This is because the game or application we want is not available on Google Playstore.
With the XAPK file on the internet, you can install applications and games that are not actually on the Google Playstore easily and for free.
What is XAPK?
Before we go to the discussion regarding how to install XAPK, it helps you know what XAPK is and how it works so that you can understand XAPK.
XAPK is a combined file of an Android application or game installer in the APK format along with the OBB file.
OBB is a collection of supporting files or additional data that the application needs to run. That's the reason why XAPK is always bigger than typical APK files.
This is intended to make it easier for Android users to install applications or games because when you install XAPK, the OBB file will be installed automatically.
How to install XAPK File on an Android phone
Although basically XAPK is intended to be able to install applications automatically without moving the OBB file, you can also open XAPK to retrieve the OBB file if you need one.
You can decide which method you want to use. Do you want to install XAPK automatically or install XAPK manually?
XAPK installer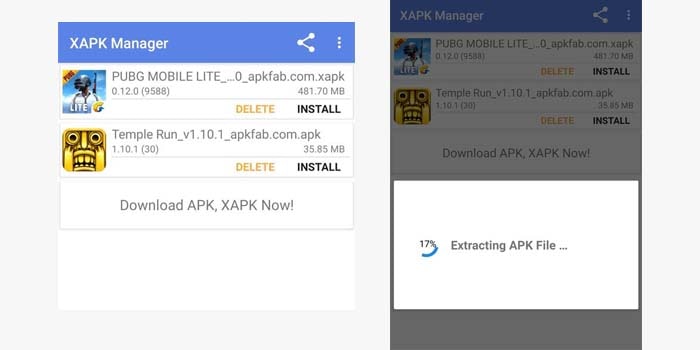 XAPK Installer is an application that can install XAPK files on Android phones automatically. Even though this application is small and quite light, the XAPK installer is able to install XAPK on an Android phone very quickly.
How to install XAPK on an Android phone automatically:
Download the XAPK Installer application here.
Then install the application on your Android phone.
Run the application then grant the required permissions.
Then this application starts detecting XAPK on cell phones automatically.
Tap the Install option on the XAPK file you want.
Then the XAPK installation will begin.
When finished, then XAPK is installed.
Done.
With the steps for installing XAPK above, the OBB file is installed automatically. So, now you can run the game or application. Very easy, right?
Manual way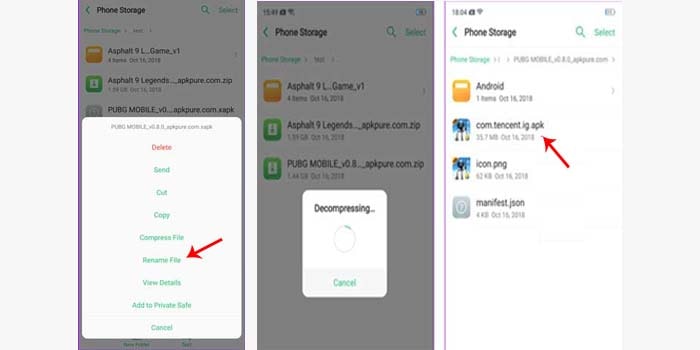 The manual method is often used when someone wants to unload the contents of an XAPK file. The reason is, this will make the XAPK file separate into an APK file and its OBB folder.
How to install XAPK manually:
Search for XAPK files through the file manager application.
Rename or change the XAPK file format to ZIP.
Then extract the file using the ZARCHIVER application.
Go to the extracted folder.
Then you will find the APK file and the OBB folder.
Install the APK, for example, the APK from the PUBG game.
After that move the OBB folder to the / Android / OBB / folder.
Done, you've successfully installed manual XAPK.
Make sure you move the OBB folder to the appropriate folder. The reason is, if the OBB is not placed in the right place, then you have to download the supporting files or additional data.
Why XAPK Cannot Be Installed
Even though installing XAPK is relatively easy, some people still experience some problems. Here are some problems and reviews to solve them:
Installation Failed
This type of error is generally caused by not having enabled the installation from unknown sources. To enable this option, you must go to the Security feature on the Android Mobile Settings menu.
Corrupt XAPK file
A corrupted XAPK file will not work, and even installing it will fail. This is because the internet network is less stable when downloading XAPK files so XAPK files are damaged.
Memory Full
XAPK files generally have a size that is quite large because there is already an OBB folder or additional data required. So before you install XAPK on an Android cellphone, make sure the storage still has enough space.
Disclaimer: All forms of download files on the Technowizah.com site are for educational purposes only.
DMCA: Technowizah.com complies with 17 U.S.C. * 512 and the Digital Millennium Copyright Act (DMCA). It is our policy to respond to any infringement notices and take appropriate action. If your copyrighted material has been posted on the site and you want this material removed, Contact us.
Read more:
Conclusion:
Those are some ways how to install XAPK on an Android phone, Hopefully, with the information above, you can install XAPK files on Android phones smoothly and without any or problems.
Don't forget to bookmark and always visit Technowizah.com every day because here you can find the latest technology update such as Blogging Computer Android games Tips&Tricks Social Media Software Reviews etc.