14 Best WordPress SEO Plugins You Should Install – Optimizing your website for search engines can help your site rank higher in search results and significantly grow your business. In this article, we will share the best WordPress SEO plugins and tools that you should use.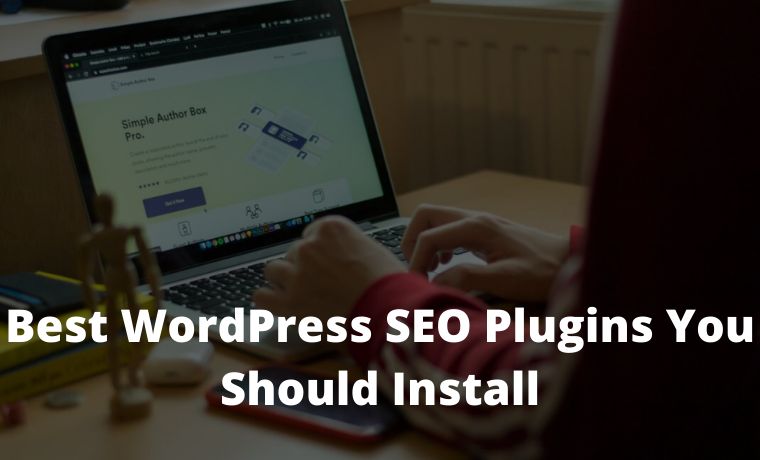 Things You Should Know About the Best WordPress SEO Plugins 2023
When reading SEO tips or searching for "best free WordPress SEO plugins," you'll come across articles featuring several dozen SEO tools.
Read more:
This can be very confusing for both beginners and non-tech users alike. The truth is you don't need dozens of top SEO tools to get higher search rankings.
While most blog posts will share the most popular SEO plugins, it's very important that you understand how to use each of these tools.
For example, you don't want to use more than one WordPress SEO plugin on your website. We'll mention All in One SEO, Yoast SEO, SEOPress, and Rank Math. You only need to select one plugin to avoid plugin conflicts.
We'll mention SEMRush, Ahrefs, and a few other powerful tools, but you don't need them all when you first start out as they share a similar feature set. Having said that, let's take a look at a selection of the best WordPress SEO plugins.
#1. All in One SEO for WordPress (AIOSEO)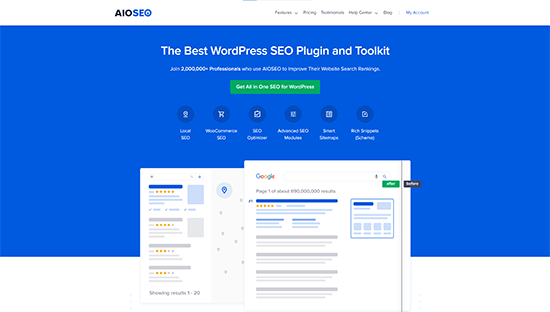 All-in-One SEO for WordPress (AIOSEO)  is the best WordPress SEO plugin on the market. Used by more than 2+ million users, this is the most comprehensive SEO toolkit that helps you improve your search rankings without learning complex SEO.
It comes with the easiest setting which automatically helps you choose the best SEO settings for your business. AIOSEO shows analytics on the TruSEO page with actionable checklists to optimize your posts.
The on-page SEO checklist includes a smart meta tag generator, you can use dynamic values ​​(current year, month, day, custom fields, author info, and more) in your SEO title and description. This means that you don't need to update posts just to change the SEO title.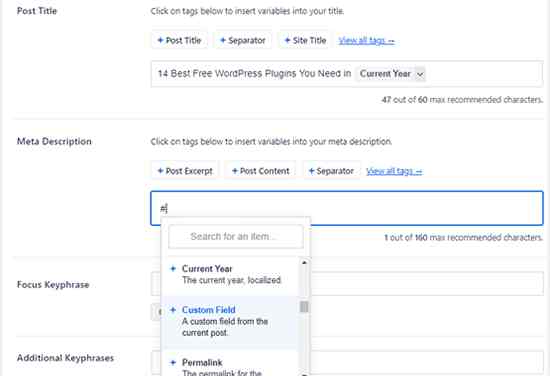 AIOSEO is also equipped with Rich snippet schema markup, smart XML sitemaps (advanced controls), SEO health check, and other useful features to increase your search engine visibility.
There's a built-in social media integration for adding Open Graph metadata. With this, you can choose which image or thumbnail you want to show when your page is shared on social media sites like Facebook, Twitter, Pinterest, etc.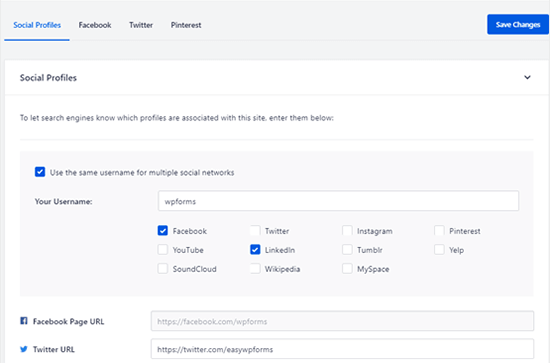 AIOSEO also comes with built-in WooCommerce SEO tools for eCommerce sites. Features like dynamic optimization, product page optimization, product image SEO, and other handy features to bring more organic traffic to your online store.
For more SEO-savvy users, includes complete control of RSS feeds, Robots.txt editor, local SEO, Google News sitemaps, video SEO, and more.
For business owners, this plugin comes with an SEO user role, so you can manage access to important SEO features without giving up control over your website.
Overall, All in One SEO (AIOSEO) is the most beginner-friendly and comprehensive WordPress SEO plugin on the market. This plugin eliminates the need to install multiple plugins while multitasking on your website and works perfectly for any business, eCommerce, blog, news, and other websites.
#2. SEMrush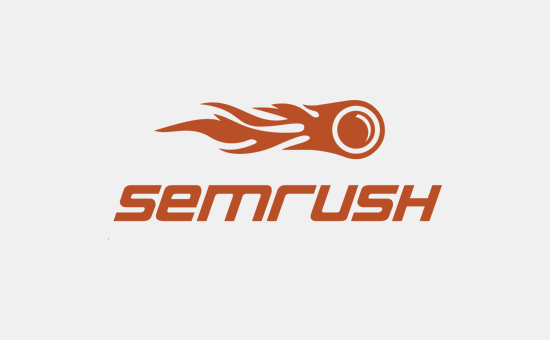 SEMRush is the best all-in-one SEO tool on the market. It is used by SEO professionals, marketers, bloggers, and business people of all levels, and provides a comprehensive set of tools to increase your traffic.
You can use it to find organic keywords and search terms that you can easily rank for. It also allows you to do competitive research and see which keywords your competitors are ranking for, and how you can beat them.
The SEMRush SEO Writing Assistant tool helps you improve your website content to beat the top 10 results for your targeted keywords. SEMRush is integrated with WordPress and can help you write more SEO-friendly content.
#3. Google Search Console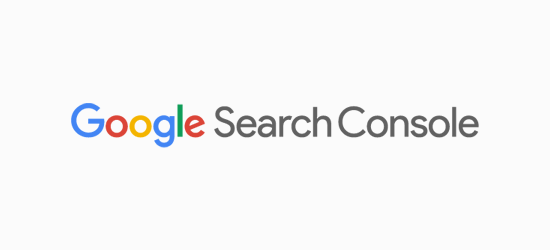 Google Search Console is a free tool offered by Google to help website owners monitor and maintain their site's position in Google search results.
This tool notifies you when Google is unable to crawl and index pages on your website. You also get useful tips on how to fix these crawl errors.
Most importantly, it shows which keywords your website is ranking for, link text, average position, impressions, and much more. You can use this data to find keywords that can be used to optimize your content. You can also use this keyword data to get new blog post ideas.
#4. Yoast SEO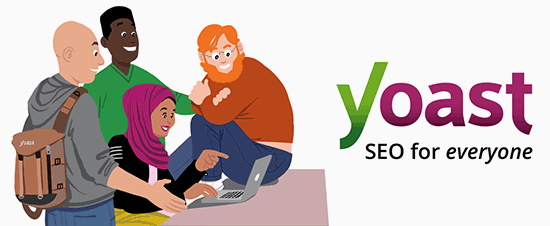 Yoast SEO  is a popular WordPress SEO plugin that allows you to optimize your WordPress site for search engines.
This plugin allows you to add SEO titles and descriptions to all posts and pages on your website. You can also use it to add Open Graph metadata and social media images to your articles.
Yoast SEO automatically generates XML sitemaps for all of your website content which makes it easier for search engines to crawl the website. Apart from that, it helps you import your SEO data if you have used other SEO plugins.
#5. Google Keyword Planner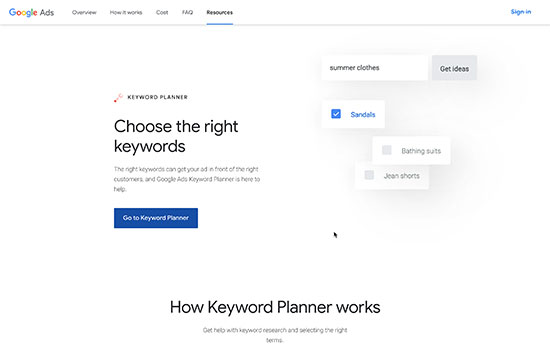 Google Keyword Planner helps you to generate keyword ideas from Google itself. No tool has more insight into what people are looking for than the monster search engine Google. This tool is free to offer to Google advertisers and anyone can use it. Its main purpose is to show advertisers the keywords they can bid on for their ad campaign.
It also helps advertisers choose the right keywords by showing them the estimated search volume, number of results, and difficulty level.
As a content marketer or blogger, you can use this data to find keywords with high search volume, high advertiser interest, and more importantly keywords that can outperform other sites.
#6. Ahrefs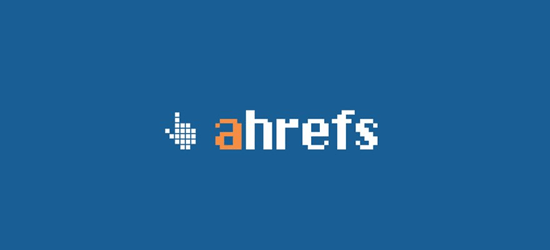 Ahrefs is an all-in-one SEO tool for marketers, bloggers, and business people. Ahrefs is a popular alternative to SEMRush and offers many similar tools and features.
This tool allows you to do keyword research, competition analysis, backlink research, monitor keyword rankings, and offer a detailed content analysis tool that helps you improve content while targeting specific keywords.
Although there are many features that overlap, Ahrefs is very good at backlink analysis. Ahrefs helps to better identify duplicate content and cannibalize keywords which helps improve your site ranking.
#7. SEOPress

SEOPress is a simple WordPress SEO plugin that includes all the features you would expect from an SEO plugin such as meta titles, descriptions, graphics support, image, and content XML sitemaps, redirects, and more.
It comes with straightforward settings for beginners and advanced controls for more experienced users. SEOPress is comparable to other top WordPress SEO plugins on the market in terms of features and options.
Note:  SEOPress is a WordPress SEO plugin. Remember, you only need one WordPress SEO plugin on your site.
#8. Rank Math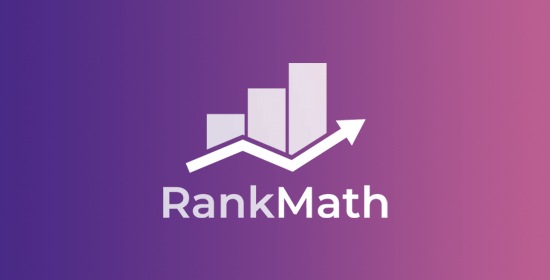 Rank Math is a fast-growing user-friendly WordPress SEO plugin that allows you to optimize your website for search engines and social media. It comes with a setup wizard and allows you to import data from other SEO plugins.
You can use it to easily add meta titles, descriptions, and Open Graph metadata to your blog posts. The plugin also allows you to create XML sitemaps, connect to Google Search Console, and control access to plugin features based on user roles.
Note:  Rank Math is a Yoast SEO alternative. Remember, you only need one WordPress SEO plugin on your site.
#9. Schema Pro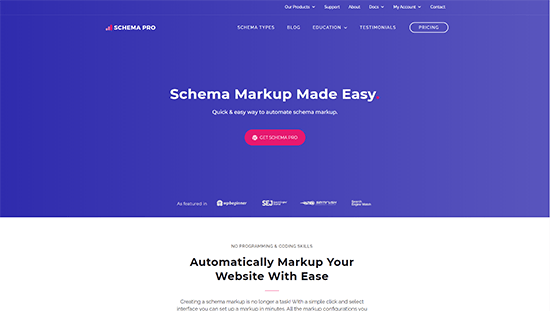 Schema Pro allows you to add Rich Snippets to your website which makes it stand out in search results.
Rich Snippets allow you to make your website stand out in search results by showing a star rating under reviews, prices under products, images or videos alongside descriptions, and so on.
Top WordPress SEO plugins, such as All in One SEO (AIOSEO) already add structured Rich Snippets data to your website. However, if you need a wider variety of schemas or want to extend the functionality of your existing WordPress SEO plugin, then Schema Pro is the way to go.
Schema Pro also allows you to work with existing WordPress SEO plugins by mapping plugin data to the Schema Pro fields.
#10. KeywordTool.io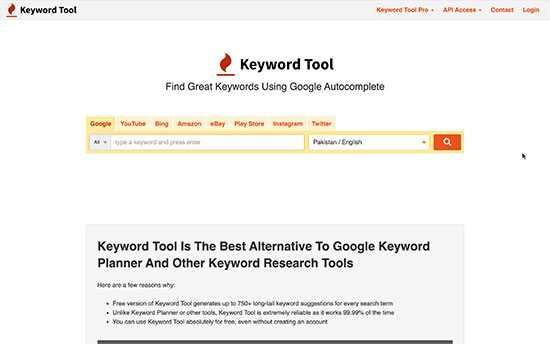 KeywordTool.io  is one of the best free keyword research tools available today. It allows you to only generate keyword ideas by typing in keywords. These keyword suggestions are collected from Google's auto-suggest tool. It also shows keyword suggestions from Bing, YouTube, Amazon, and more.
These keyword suggestions are a treasure trove of information. You can also get search volume, cost per click, and other data for each keyword by upgrading to their paid plan.
#11. Redirection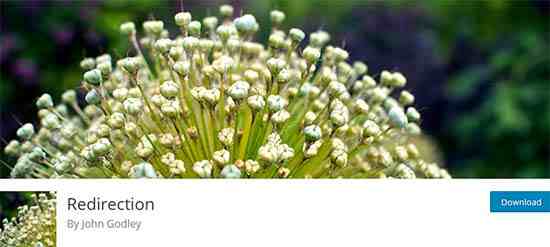 Redirection helps you set up SEO-friendly redirects in WordPress. This is one of the most useful WordPress plugins that help you easily fix 404 errors in WordPress by setting up redirects.
Broken links can affect the SEO of your site and create a bad experience for users. If you have been running the blog for some time, you should check your site from time to time for broken links and fix them immediately.
There are many ways to easily find broken links in WordPress. Once you find a broken link, you may need to fix it by redirecting users to the correct link or removing the wrong link.
#12. SEOquake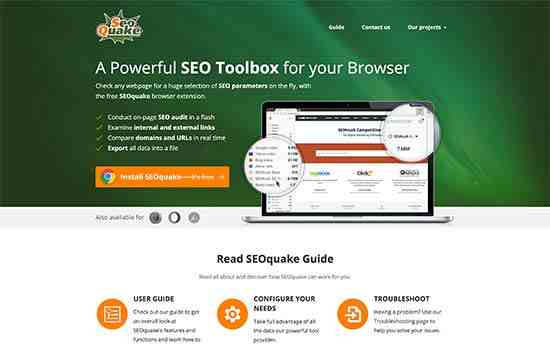 SEOQuake is a useful SEO tool for website owners, available as a browser add-on for Google Chrome, Mozilla Firefox, Opera, and Safari web browsers.
This tool provides SEO-related information for any website. This data includes page health, age, last update, Alexa rank, and many other parameters. SEOQuake is one of the most downloaded browser add-ons by SEO professionals.
In addition, the SEOquake toolbar can display all search results for the same data when you type a keyword. This information can be very useful if you are measuring the competition for different keywords. You can even download search results in CSV format and prepare your own excel search datasheet.
#13. WP Rocket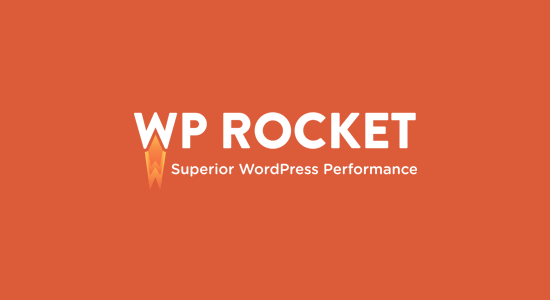 Site speed is a major factor in search rankings. That's why you need to monitor your website speed & performance to make sure it doesn't impact your SEO.
The easiest way to increase your website speed is to turn on caching. WP Rocket is the best WordPress caching plugin on the market, which allows you to set up caching without needing to set up any technical stuff.
#14. MonsterInsights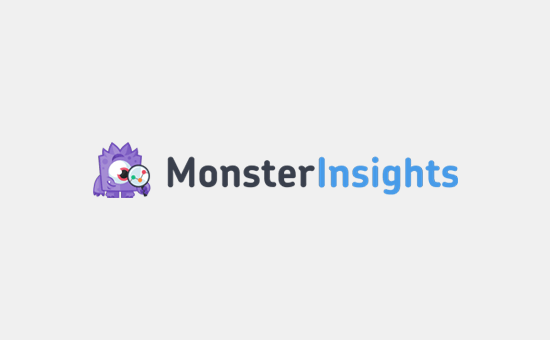 MonsterInsights is a Google Analytics plugin for WordPress, which allows you to install Google Analytics on WordPress and display readable reports within your WordPress dashboard.
MonsterInsights tells you where your users are from, your top content, what users are doing on your website, and much more. It also allows you to track your eCommerce SEO by seeing which products are popular and where you have lost customers.
Read more:
Conclusion:
This is an explanation of the 14 best WordPress SEO plugins you Should install, Actually there are many other best WordPress SEO plugins that you can use to increase the ranking of your website. Maybe at first, SEO will look difficult to implement on the website that you manage, but with the right plugin, it will be resolved easily.
Don't forget to bookmark and always visit every day Technowizah.com because you can find here the latest Tech Computer Android games How-to Guide Tips&Tricks Software Review etc, Which we update every day.