How to Restore Legend Mobile Account: [Quick Guide] – If you are looking for a guide on how to restore legends' mobile accounts, then you are in the right place. Mobile Legends is one game that has a lot of fans. How restoring the following legendary mobile account will help users get their accounts back.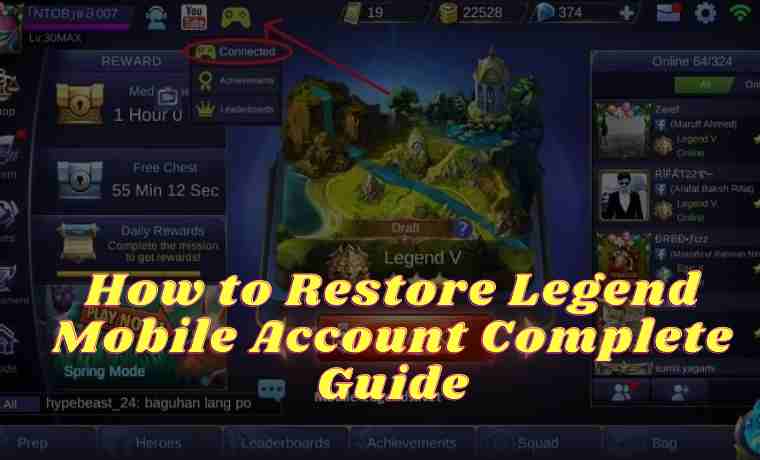 How to Restore Legend Mobile Account Complete Guide 2023
The problem of losing an account will certainly be very detrimental, especially if the player has reached Mythical Glory.
Read more:
Mobile Legend itself has quite a lot of pro gamers, even though there are esports teams formed specifically for Mobile Legend games such as RRQ, EVOS, and others.
Large competitions are routinely held every season such as the Mobile Legend Primary League or MPL. For users who have lost their accounts, see the following article to the end.
How to restore a lost legend mobile account can be done with several methods that are easy to follow and try. Here we present a variety of methods that can be used to restore a fallen mobile account that is not bound.
#1. Returns a Legend Mobile Account with a Temporary Account
The first way to restore a Mobile Legend account is through a Temporary Account. Users must have a Temporary Account to follow this step. The way
1. Login
Users need to log in using a Temporary Account on a Legend Mobile account using a screenshot from the QR Code Temporary Account.
2. Enter TP Password
Then enter the password from the temporary account. If successful, the user will enter the lost Mobile Legend account.
#2. Return the Legend Mobile Account with the Related Login Platform
How to restore the second account can be done if the user associates a Mobile Legend account with related platforms such as Facebook, Google Play Games, Moonton accounts, or VK.
Simply log in using one of the social platforms above and your lost Mobile Legend account will automatically be re-connected.
#3. Return a Legend Mobile Account by Contacting Customer Service
If the user does not associate one of the platforms mentioned above with a Mobile Legend account, the user can directly contact Customer Service.
1. Select Account Issues
The trick is to tap the Customer Service icon on the main page. Then select "account problem" and click "account return"
2. Fill in the Form
Next, select " I forgot to link the Game account to the social platform before changing the game ID ". After that, fill out the form provided there.
Fill in the data specifically so that the developer can help the user to recover the lost account.
#4. Restore Legend Mobile Account Via Email
Users can also submit an account return via email to Legend Mobile Customer Service. The way
1. Open Gmail
First, open Gmail, and try to use an email account that is connected to a Mobile Legend account. Then type the recipient's destination, [email protected].
2. Ask for Help
Then in the email subject enter the phrase "My mobile legends account has been hacked, please help me to retrieve it" or another sentence that explains that the user lost the account or the account was hijacked.
3. Write Complaints with Details
Fill in the email message with details about the user's lost Mobile Legend account. It is intended that the developer believes that the account belongs to the user. Account details need to be conveyed starting from ID, the number of heroes, nickname, last tier, server, and other information related to the user's account.
4. Wait for the Response
If you have written down the missing account details, please send it. Then wait for a reply from the Mobile Legends team. Developers may need time to process user complaints.
Now that's some way to restore the Mobile Legend account. There are many causes that result in an account being lost or hacked. For one thing, users fake phishing logins on the web.
Usually, due to the lure of free heroes or skins, users do not realize that they have entered Mobile Legend account information such as username and password.
Therefore, do not just click on suspicious links that give the lure of free skin or others. Moreover, to provide account information.
Read more:
Conclusion:
This is the explanation of How to Restore Legend Mobile Account. Lastly, we would like to remind bangs to share this article with all the social accounts mediums so your friends can also get back their legend mobile account.
Don't forget to bookmark and always visit every day Technowizah.com because you can find here the latest Tech Computer Android games How-to Guide Tips&Tricks Software Review etc, Which we update every day.