How to Share Steam Games To Another Account – If you happen to play a cool game on Steam, chances are that a friend or relative will usually ask you to let him play the game. You can simply use the Steam Family Sharing feature for various games on Steam with them.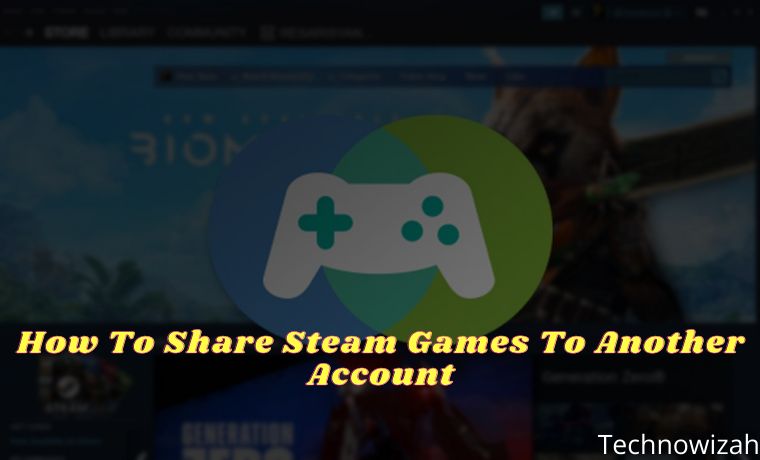 How To Share Steam Games To Another Account 2023
In this article, the admin will discuss how to share Steam games with other accounts. With the features we mentioned above, your friends' accounts can have access to your Stream Library and can play the same games in your Library from their devices.
Read more:
Your friends or relatives don't need to spend money to buy the same game that you have. The family library sharing feature will make it easier for them to play some games without having to pay.
But there is a caveat. If you play a certain game at this time, they cannot access the game. They can only play through family sharing only after you (the original purchaser/owner of the Game) have finished playing.
If you try to access the game while your friends are playing, they will be notified to buy the game or stop playing it immediately. So they won't be able to play any game from the shared library if the original buyer tries to play the game.
Before we explain this feature further, let's first show how to share Steam games to other accounts.
Step 1 – Enable Steam Guard Security
Before you share the game with close friends or relatives, you must first ensure that the Steam Guard Security feature is enabled. You can check if this feature is enabled by following these steps:
Login to your Steam account. Go to Steam > Settings. Once inside the Settings window, select the " Account " tab then find and click the " Manage Steam Guard Account Security " section. Then make sure you activate it. See the image below.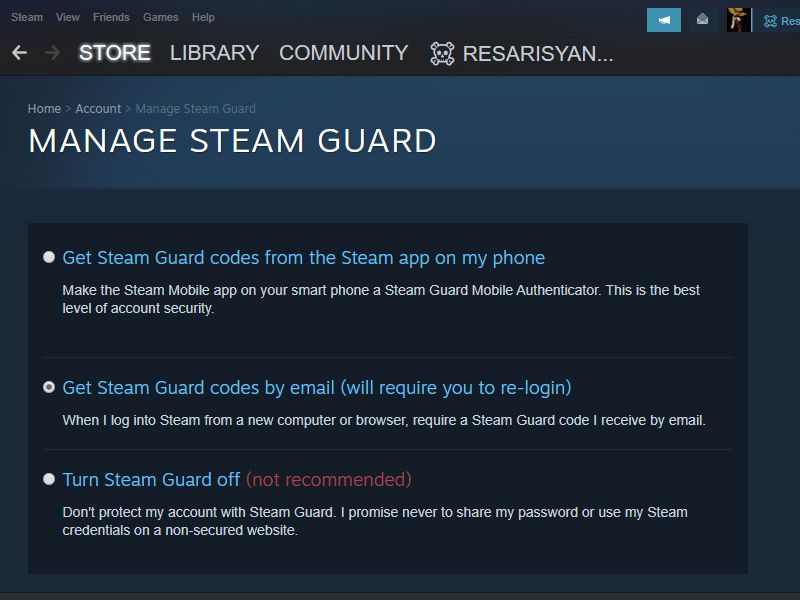 Step 2 – Authorize PC For Steam Family Sharing
After Steam Guard is activated, the next step is to authorize your family member's account. This step is required to allow game sharing. Follow the steps below to do this:
Go to the Steam > Settings section, and select the " Family " tab. Once inside the Family tab, look for the " Family Library Sharing " section. Under this section, you will see a checkbox labeled " Authorize Library Sharing on This Computer ", select it. At this stage, you will see a list of users who can be allowed to share the game. Select the user you want to share on that computer. After you select the user, click OK.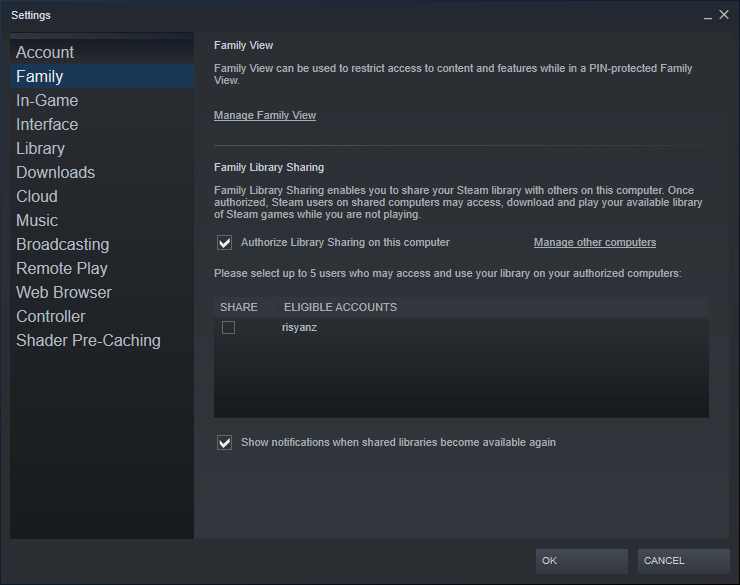 These steps are required by users who want to play games that have been shared. Make sure the person requesting the game is logged into their Steam account and has Steam Guard enabled, just like the steps above.
Once done, if the authorization process works, they will see a list of games in their library that have been added to the Steam sharing account. Select a new game and click " Play ". They will be greeted with a pop-up window that will look something like this: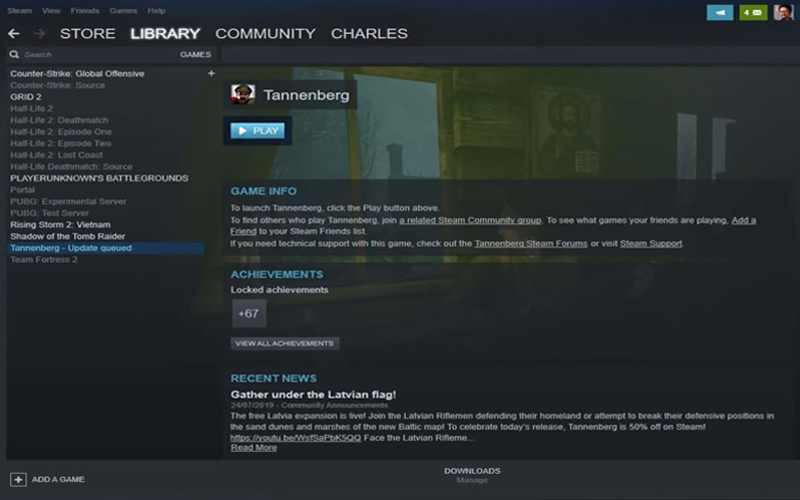 Steam will then ask them to " Request Access " or " Buy the game ". In this scenario, make sure they select Request Access.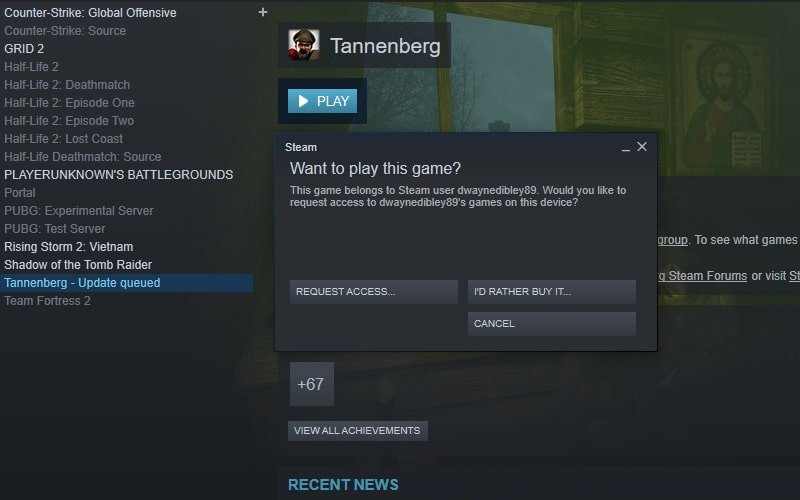 Once they request access, steam will ask them to confirm the PC name and send the request. Confirm the PC name and click " Send Request ".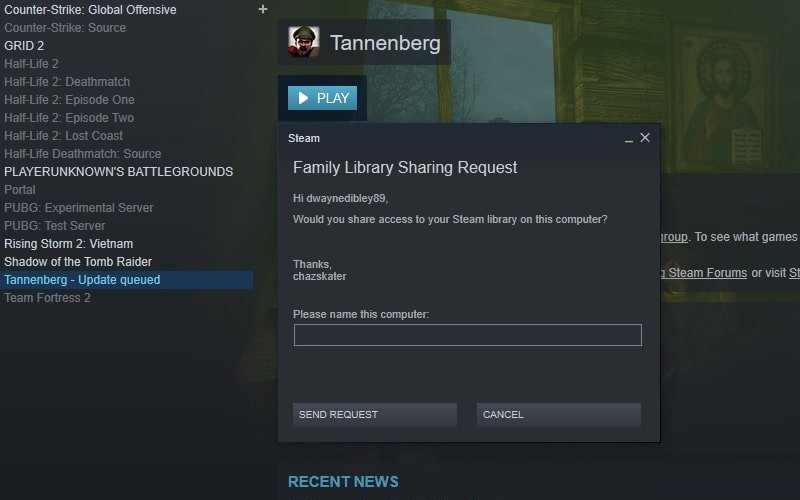 By clicking Send Request, they will automatically send an email to the Steam sharing account asking for your permission to play the game. As a sharer, you must accept the request via email. Once accepted, you have given their permission to use and share the game, the process is complete.
Benefits of Steam Family Sharing
There are many very striking benefits of the Steam family sharing feature. The most obvious is having the ability to share the game with friends or relatives without having to buy the game yourself. You can also share up to a maximum of 10 devices at a time. It's also a great way to reuse some of your old, deprecated games.
Steam Family Sharing Feature Limits
You need to know that the Steam family sharing feature itself has several limitations. First, you can only share up to five different computers and ten users. That is the maximum number of users allowed by Steam. Second, and more importantly, only one person can play the shared game at a time. So, you can't play shared games at the same time.
Read more:
Conclusion:
So that's how to share Steam games with other accounts using the Family Sharing feature. Now, your friends or relatives can enjoy the same game as you without paying for it. Hope this guide helped you understand the process of how to share games on Steam.
Don't forget to bookmark and always visit every day Technowizah.com because you can find here the latest Tech Computer Android games How-to Guide Tips&Tricks Software Review etc, Which we update every day.