15 Best PSP Emulators for Android iPhone Windows PC Laptop – Gaming companies have produced games specifically for the Playstation, which are most often not available for Android.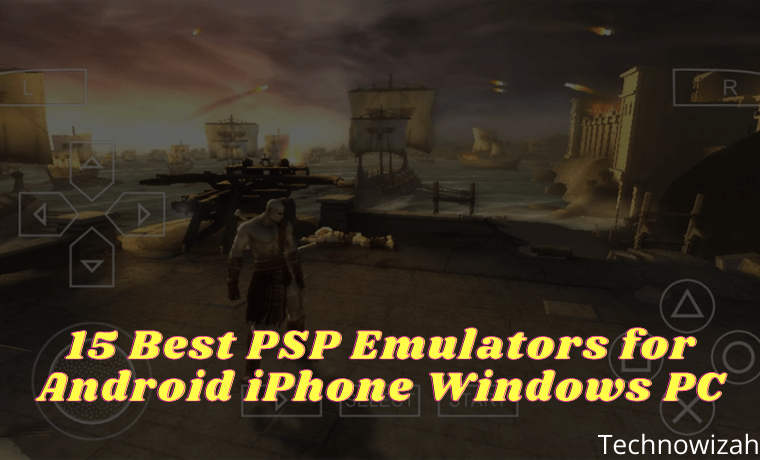 15 Best PSP Emulators for Android iPhone Windows PC 2023
But now, you can enjoy PSP games on your Android phone, PC, or windows. The new technology in the gaming area has introduced me to a new application, which refers to the PSP emulator.
Read more:
You can easily run your favorite PSP games by using this best PSP Emulator 2021 on Android, PC, and windows.
What is PSP Emulator?
PSP emulator is to make your device platform transcribed to PlayStation for certain games or programs. That's the job of the PSP Emulator, which allows you to enjoy PlayStation portable games on your Android device. Not only Android, but the PSP emulator also works on PC and iPhone to play PSP games smoothly.
Before PSP Emulators were innovated, emulation tasks were handled by JPCSP, which refers to Java-based PSP Emulators with strong compatibility. But many buggy problems are found in this mimic program.
Also, it's hard to run PSP games using it. That's the reason the PSP Emulator has launched with a fresh start without any serious issues. Even using this technology is so easy that anyone can use it with just their Android or PC to run PSP games.
List of Best PSP Emulators for Android iPhone Windows 10 PC Laptop
Here, you will find the 15 Best PSP emulators 2022 for Android, PC, Windows & iPhone. I have chosen this emulator based on its compatibility to run the game smoothly on your device.
Most of the time, PSP games demand high specs devices, especially ROMs. So, I tried to make a list of emulators that will be able to run the game more smoothly and graphically. So, take a look at 15 emulators to pick the best one for you.
#1. PPSSPP – PSP Emulator
The best PPSSPP emulator for Android, PC, Windows & iPhone 2022. To run all the interesting PSP games on your Android device, getting an emulator like this is quite difficult.
Easy to use with a hassle-free process. Also, it is free to download and use. But to get the premium version, you can use PPSSPP Gold.
Important Features
You can play PSP games that support the capabilities of your Android device.
This app is totally free.
You can convert your mobile game into ISO and CSO files using this app.
Using this app, you can save PSP games in your storage like an SD card.
Running PSP games using this application is very very easy and fast.
#2. PSPlay PSP Emulator
If are you looking for the best PlayStation PSP Emulator for Android, PC, and laptops in 2023, then give PSPlay Emulator a try.
It is available on Playstore, and you can install and use it for free. Again, there are many useful features of this app. Apart from that, it is very easy to use on your updated Android device. I've added the specs for you.
Important Features
This app is better to ensure the best performance.
It increases the rendering capacity automatically.
It gives full control over the screen.
It provides a strong network system to support your gameplay.
Allows you to use hardware controllers supported by your device.
Playstore
#3. PSP Rocket Emulator
Emul World Limited has presented one of the Best PSP Emulators for Android 2022. It is Rocket PSP Emulator. It's free, and you can use it to run your favorite PSP games.
Even for many of its users, it's good to have the same feeling on PlayStation PC games. However, you can keep an eye on the features of this app before making a decision.
Important Features
Advanced technology is used to ensure the best performance.
Lets you run PlayStation games without time and network issues.
It runs well on both low-end and high-end devices.
It includes ISO, CSO, and cool ROM formats.
It includes beautiful themes and sound effects.
Playstore
#4. DamonPS2 Pro
For those who don't like to compromise and want to enjoy a full-function emulator, DamonPS2 Pro PSP Emulator, is for them. To get all that, you have to pay a small amount of your money because this is not a free app.
But it's also true that it works better than other free apps. The features included in this app may not be present in many of the familiar and best PSP Emulators for Android.
Important Features
This is the fastest PSP Emulator in the world.
It can run 90% of the total PSP games such as war games,  racing games, and so on.
It is free from any kind of ads.
You can try it as a free trial for a few days.
You can use every cheat code and gamepad.
You can also use a PSP memory card to store your favorite games.
Playstore
#5. PSP Emulator Pro
Let's meet another best & Lightest PSP Emulator for Android, which will always be your friend to provide a way to run your favorite PSP games. This is PSP Emulator Pro.
This application, with the most advanced technology, will allow you to enjoy almost all PSP games with a great system and network speed. If you are interested, you can take a look at the important features from the list below.
Important Features
Lets you play PSP games at very high resolution and speed.
It runs well on any updated smartphone and tablet.
This ensures a very high definition of game graphics.
Very few great games can't run if your phone's specs are lower than its interface.
All the essential features you need to have a great PSP gaming experience.
Playstore
#6. Rapid PSP Emulator
Now you can get or source PSP games from anywhere and play flawlessly on your mobile with Rapid PSP Emulator. It's very possible to use, and best of all, it doesn't clash with the game's source files.
You don't have to buy a PlayStation portable to run Sony's premium titles. You can play almost all PSP games on your mobile device anytime from anywhere. It provides beautiful graphic rendering and comes with a simple interface for better accessibility.
Important Features
It supports many variations of game controller input and works with most 3rd party controllers.
You will rarely encounter compatibility issues with this app.
It delivers high-quality sound and stunning in-game graphics performance.
It supports all kinds of file formats and offers platform-based support.
It doesn't natively include PSP ROMs, ISOs, and more, so you'll have to download games manually for console devices.
Playstore
#7. PSP Emulator – Ultra Emulator for PSP
You can play PlayStation portable platform games on your mobile device, just like playing on PSP with PSP Emulator – Ultra Emulator for PSP.
It is one of the open-source applications with fantastic graphics performance. It supports almost all games but depends on your host device. The system interface of this emulator is easy to use with many useful features.
Important Features
It offers HD gaming performance and enhanced textures depending on the device configuration.
It lets you have the gameplay experience of a real PSP device.
It supports online gaming sessions and a lag-free gaming experience.
You can easily save and load your in-game progress.
It supports multiplayer options using Bluetooth connectivity and also supports dedicated game controllers for convenience.
Playstore
#8. PSP Emulator for Mobile Pro Version
If you want the perfect PSP-like gaming experience on your mobile device, check out PSP Emulator for Mobile Pro Version. It is free to use on Android devices and provides high-definition graphics.
You can adjust the graphics quality of the game if you wish. This emulator supports different ROMs for wide accessibility. It works with most external storage, such as sd cards on your phone and USB storage.
Important Features
You can control how you play and change the screen size of your DS in various modes.
It offers smart storage options and a fast game-loading speed.
This emulator offers excellent compatibility with a large number of titles.
You can play with any Android-supported game controller without any problem.
It does not consume much battery life and includes a battery-saving feature.
The sound and graphics quality of the games is comparable to the original device.
#9. PPSSPP Gold
Are you looking for a premium PSP gameplay experience on an Android device? Then PPSSPP Gold will be your perfect friend. It is an emulator with high compatibility and fewer system issues.
It comes with easy system navigation and a modern user interface. This emulator app comes with a lot of features and requires relatively low system resources. You have to buy it from Playstore to access it.
You will have an ad-free gaming experience and it supports almost all PSP games. You can also try the free version before upgrading to the gold edition.
Important Features
It offers smooth performance and a captivating gaming experience.
The user's age rating is 3+, and the operation is widely accessible.
It supports an external SD card, and USB-accessible storage to save and access game files.
This emulator does not include ROMs and game files; You have to manage game files.
It offers console-like visuals and performance with zero system errors.
#10. PSP GAMES: EMULATOR AND ROM
PSP GAME is one of the few PSP emulators for Android that comes with ready-made download ROMs and offline PSP games. You can download and play from any ISO game file. This app also allows you to download from its list of games.
It's very easy to access the game collection. This emulator comes with a downloader. You can play downloaded games anytime, anywhere. It supports various PSP game ROMs.
Important Features
It supports the latest game titles.
You can make PSP games into ISO files and play them on this emulator.
External storage is supported, and you can access game ROMs via PSP GAME.
It supports original PSP games of all categories, such as arcade, action, sports, classic, and so on.
You can also download the Naruto Shippuden series, God of War series, and FIFA series in this application directly.
This emulator offers an excellent control system and supports Android gamepads.
download
#11. Enjoy Emulator for PSP
To turn your device into a real PSP console, you can also try Enjoy Emulator for PSP. This best PSP emulator 2022 includes the best functionality to emulate your favorite PSP games with high graphics and smoothness.
With this supported emulator app, you can easily download PSP games and run them too. Even the performance quality of these games with this emulator is very similar to the games you play on PS4 or PC.
Important Features
It can run ROM, ISO, CSO, COS, and PPS smoothly.
It will always save and restore the game state whenever you stop.
Provides high-quality sound effects and an audio system.
Includes stunning graphics and fps in most games.
It can emulate homebrew PSP in HD resolution and PSP games.
download
#12. Free PSP Emulator
The Best Android, PC & Windows PSP Emulators 2022 which you can try to enjoy your favorite PSP games are here. This is a Free PSP Emulator. It is also a very popular PSP emulator for your Android Phone.
The best part about this app is that it works for free, and won't ask you to pay a penny for each activity. You can play games with high-quality graphics and sound effects if you start using this app. Also, you don't have to worry about how to use it. There is a guide on how to use this emulator, available here.
Important Features
This emulator app can play more than 90% of PlayStation games.
This will restore and save the game state and start again from where you left off.
You do not need the PSP BIOS to run this application.
It includes multi-threading acceleration.
You have to enter the PSP iso image of the PSP game you want to play.
Download
#13. Sunshine Emulator for Android
If you want to enjoy the best gaming speed on your favorite PSP games, you should try Sunshine Emulator for Android. This best Android PSP emulator 2022 is very good for running PSP games on any platform device.
At the same time, it will help you to enjoy the game with the most smoothness and graphics. If you want to learn more about this game, you can take a look at its features. This will help you learn about the game properly.
Important Features
It provides sound quality, which is almost the same as the sound of games on the PlayStation.
The most satisfying graphics and visual effects are also provided here.
It includes very smooth game controls.
It can save and load games from the exact place you stopped.
It is easy to use and all additional information on how to use the emulator is given in it.
Download
#14. Emulator for PSP Games
Another option for you is Emulator for PSP Games. It's also fast to use to run most of the popular PSP games on Android devices.
Running games on your device using this app is easy. The exact instructions are also mentioned so you can do it yourself. Also, the game speed and sound system are satisfactory for users of this emulator.
Not all of these apps can help. The following features are also very important in the case of this emulator.
Important Features
It is capable of emulating thousands of PSP Games.
It provides the fastest and smoothest gameplay.
The performance is good enough for both high and low specs devices.
It also supports PSP Homebrew.
It delivers huge fps on a variety of powerful PSP games.
Download
#15. Gold PSP Emulator
The latter is the Latest and completely free PSP Emulator for Android devices. This is PSP Gold Emulator.
Now you can achieve incredible performance with the satisfying graphics and sound system of the most popular PSP games with this emulator.
Also, it's a good idea to save and restore game stays so you can start where you left off. So you don't have to worry about how it works with the emulator.
You can play and enjoy high-definition games just like you would any other Android game.
Important Features
It includes high-definition game graphics and visual effects.
Able to run games with 3D effects.
It provides a vest game controller.
Fastest game speed and high-quality sound effects.
Easy Network System and able to save the state of gaming.
Supports compressed and Homebrew files.
Download
Read more:
Conclusion:
This is the explanation of the 15 best PSP emulators for android iPhone and windows PC, which you can use to enjoy your favorite PSP games. This emulator is great for providing the best quality gaming experience and graphics.
At the same time, you will enjoy the most satisfying sound effects. If you want to enjoy the most premium service, you should try PPSSPP Gold. But using Enjoy Emulator for PSP and PPSSPP will also be a good choice.
Don't forget to bookmark and always visit every day 
Technowizah.com
 because you can find here the latest Tech Computer Android games How-to Guide Tips&Tricks Software Review etc, Which we update every day.