51+ Ways to Get Many Visitors to Blog For FREE (Updated) – Every website owner or blogger SURE wants more traffic to their website or blog. However, until now the exact way to increase blog visitor traffic is still unclear.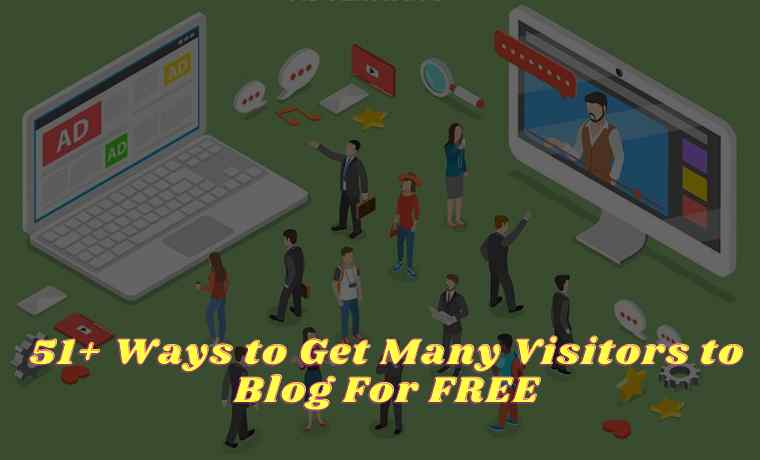 51+ Ways to Get Many Visitors to Blog For FREE (Updated 2023)
This means that it is still a debate on how to get more traffic on our blog or website without having to use Google Adwords or other paid advertising services.
There are many basic SEO techniques for beginners and we often encounter Google search results if we use the keyword "how to increase organic traffic".
Read more:
SEO or Search Engine Optimization is also still uncertain. Sometimes without SEO optimization, our blog posts/articles can get the best ranking on
google search engines
.
The opposite is also the case, sometimes we have done and practiced all the methods taught on sites that discuss basic SEO techniques for beginners on the internet.
However, it did not succeed in increasing the ranking of our articles/blog posts on the google search engine.
51+ Ways To Get A Lot Of Visitors Blog For FREE

Because of that, I personally put SEO first, meaning I don't put SEO aside, but just put it first.
SEO is basically how to make our blog posts or articles read by search engines, or in other words read by "machines".
Therefore, it would be better, when we create blog articles, we make them more liked and read by people/humans, rather than read by machines.
In other words, it would be better if we prioritize how our articles or blog posts become preferable to be read for Humans or Humans.
So, if our blog post articles have been interesting, informative, and useful for readers (people), then automatically the blog post articles will also be liked by the google robot/engine.
Well, if the blog articles that we have created are quite interesting, informative, and useful for readers (people), then we will do the SEO steps that have been taught a lot on the internet.
That is all so that our blog post posts are even easier to rank by Google search engines, which in the end will get a lot of visitor traffic to our website or blog.
This means that the more visitors to our blog, the more income you will get.
The point is income is directly proportional to blog visitors.
Technowizah here will share at least 51 tips and tricks on how to get more traffic to your website or blog for FREE.
Hopefully, the tips and tricks on how to increase organic traffic/blog visitors can help you in developing your blog/website as Technowizah has produced at this time.
#1. Keyword Research – Keyword Research
To succeed in implementing SEO on a blog or website start with an SEO strategy, the Basic SEO Strategy is by researching keywords or in other words doing keyword research.
Internet users perform a search for the information they need, always starting with the words typed into the search engine search box, for example, the google search engine.
For that, it is very important for a blogger to know what internet users are looking for and what words (keywords) they enter into the search box on search engines such as Google search engines.
If a blogger does not know what people or internet users are looking for, then he will never be able to provide the information that the user wants.
So that by doing so, we will also never get the visitors/traffic as we want.
Getting traffic or visitors to a website/blog is not just getting traffic/visitors, but more about getting the right traffic in accordance with the niche or blog theme that we are adopting.
Researching or researching keywords is the same as reading what is on the mind of our audience (users) and customers of our blog.
Doing keyword research means we also learn about how our audience (users) and customers really are.
Understand audience behavior and predict which direction the development of an ongoing demand or trend among blog viewers.
#2. Use Search Engine Optimization (SEO)
To rank higher on Google, of the many basic SEO techniques that exist, the ones we read the most and the ones we need the most are backlinks.
This is indeed still a debate, but if you think about it logically, a website or blog that gets natural, natural, and relevant backlinks to the post article, of course, identifies that the blog or website is very useful and useful for readers (people).
Because of that, backlinks or backlinks are needed and are still a strong signal in ranking blogs or websites so they can be on the first page of search engines.
Keep reading this article for some interesting tips on getting those backlinks or backlinks.
#3. Answer questions in forums related to the theme or niche of your blog
Join forum sites related to your blog's niche/theme, and try to interact and provide answers by linking back (backlinks) to relevant material on your website or blog.
To find forum sites related to or in a niche with your website or blog, use the "keywords" niche blogs and forums on Google Search Engines.
#4. Answer Questions on Quora
Quora is a knowledge exchange site.
Quora collects questions and answers on specific topics and allows its users to collaborate by voting or proposing improved answers.
Join the Quora site, create your own personal profile page for free on Quora, and put your blog or website link there.
Post answers to questions that are relevant to your blog and add a link back to the website or blog you have.
But keep in mind, in answering and adding your own blog link, it must be relevant to the question you will answer.
#5. Create a Twitter Profile
Join the Twitter social media site, and add a backlink (backlink) to your website or blog on your Twitter profile.
#6. Create a Facebook Profile
Repeat the above method as on your Twitter profile on your Facebook account too.
But on Facebook, you need to create a business page and add a link to your blog or website on the Facebook business page.
As well as make sure that you fill in your profile information completely.
#7. Create a LinkedIn Profile
Just like Twitter and Facebook, you can add backlinks (backlinks) to your contact info on your personal LinkedIn profile.
Also, add a link to the description of your current position.
#8. Create a Business Page on LinkedIn
Don't forget to also create your business page on LinkedIn and fill out all the information including a link to a business site.
Also, create a Product / Service page for the business with more links to your website.
#9. Create a YouTube Profile and Channel
Create your own website or blog YouTube channel.
If you already have 100 subscribers, you can include a backlink or backlink to your website or blog in your YouTube channel header.
You can also include a backlink in your video description.
As well as add (embed) your YouTube video into your relevant blog post articles.
#10. Create a Pinterest Account
Create a Pinterest account and make sure you add a backlink (backlink) to your website/blog on your Pinterest profile.
#11. Create an Instagram account 
Create a personal profile account as well as a profile for your blog or website and add your website or blog link on your IG profile for your own blog and IG profile.
#12. Create a long blog post or article
Create a very informative and detailed article, which of course will be a very long article.
Then post the article to your social media accounts on Twitter, Facebook, LinkedIn, etc.
Don't just post once.
You can post them repeatedly manually or use a tool like Hootsuite to schedule blog posts over multiple days.
Or you can schedule it keeping in mind the times when social media users on your network are most active.
#13. Perform Guest Posting on Other Sites (Post Quest)
Try to create guest posts (quest posts) on other sites or blogs that accept guest posts.
Or it could be on blogs that, although not informing you of receiving guest articles, by sending an email/message to the blog owner, that you are interested in writing on the blog.
Make sure that you are allowed and allowed to add a backline (backlink) to your website in the guest post.
However, if a blog that accepts guest articles, wants to post your article, but doesn't allow you to provide backlinks, you can still highlight yourself in the article.
And when visitors read your articles on other blogs, and they realize and get to know you, users will automatically look for you on the internet.
Because most quests can make your name known to new audiences (visitors) who of course will look for you on Google if your blog post is good.
You can also join Facebook groups that specifically provide information about websites or blogs that accept blog guest posts.
#14. Blogging on the Blog Community Site
Try to find and join the blogger community site, and post there, and if possible, enter the backlink of your site/blog there.
There are even some blog community sites that will pay you for every post you make, such as the Web Designer Depot.
#15. Put Your Business in Public Directories
Enter your business and your website or blog in public directories, such as the Yellow Pages and Hotfrog.
As well as other public directories, because out there there are many directories available that you can put a backlink on your website or blog there.
Just use the Google search engine to find it.
#16. Use  Groupon
Use Groupon to create coupon deals for discounts on your products or services to drive traffic to your website (assuming that your website/blog sells something).
Even if your website or blog is not a selling website or blog, you can make it as if your website or blog is a selling site/blog.
Create a discount coupon there, and add your site/blog link. Thus you have got a backlink from there.
#17. Use e-Commerce Sites
Join and use e-commerce sites like eBay and Amazon for world e-commerce.
Or domestic e-commerce sites such as Tokopedia, Shopee, Bukalapak, Lazada, JD.id, Blibli, Zalora, AliExpres, Zilingo Shopping, etc.
To sell your product, if your site/blog is a selling website/blog.
Then in the shipping container (packing), add a flyer with the name of your website or blog on it.
Or even if necessary, you can provide discount coupons to use directly from your own website or blog.
#18. Make Coupons on Hotfrog
At Hotfrog you can create coupons for your own business. Take advantage of the offer because it is free and can increase your business and attract new users.
#19. Add Signature (Signature) in your e-Mail and Newsletter
Remember! Always … always … add your website or blog to your email signature and newsletters.
Nothing drives sales better than your loyal and loyal customers.
#20. Create an e-Book
Create an e-Book that contains a backlink (backlink) to your website it and sell or share it for free on Amazon.
Also, add it to the Lender's Library program on Amazon.
Put a low price on it like $ 0.99 so people are less likely to buy it.
Make your E-book very relevant and useful.
Though it adds a lot to the job, this eBook will go a long way in establishing you as a thought leader too.
#21. Share All Sales, Offers, e-Book, and others
Also make sure that you are always sharing all sales, offers, e-books, and more on your social media accounts.
Then share it again the next day or the following week or month, regularly.
#22. Create a YouTube Video
Create YouTube content or videos that provide relevant information on your subject related to your business.
Also, always include a link (backlink) in the video description and the link in the video itself.
#23. List your business on the Google My Business Page 
Create and list your business on the Google My Business page so that, you will be able to get reviews from the giant Google.
Apart from that, it can also build the branding/name of your blog or website.
Because every user types the name of your blog/website, Google search results will include business information as well as a map of your business/website location.
#24. Post to LinkedIn Groups
Post to LinkedIn Groups and answer other people's questions there. And try to help people.
Then enter a backlink (backlink) to your site or blog every now and then.
#25. Create Your Own LinkedIn Group
Create your own LinkedIn group. The group must be relevant to your business.
If your business is a local business, then target it in your local market by including your province or county/city name in the group title.
#26. Join the Facebook Group
Join an FB group or if necessary you can create your own Facebook group for your business and blog.
Post current, relevant, or viral information consistently and in a language and style that is as friendly and relaxed as possible.
You can also share funny photos, funny memes, and so on because Facebook users really like these kinds of things.
#27. Make a Presentation on Slideshare
Create a presentation on Slideshare that has a backlink to your site.
Add Slideshare to your personal LinkedIn page or other social media sites.
#28. Offline Promotion
If you have a physical location, be sure to put up signs for your website.
Create and distribute brochures or flyers that benefit visitors to your website or blog such as special coupons for example.
You can also make stickers, and attach them to the rear windshield, helmets, license plates, and so on.
If necessary, make a t-shirt, jacket, or hat that has your blog/website name on it.
#29. Make Your Blog Available to Bloggers or Other Writers
Have your blog accept Post Quest or a guest author to guest post on your blog or website.
Try to cooperate and reach out to them.
You might start a blog with low visibility and then work your way up to join their community.
Bloggers or guest writers open up the opportunity to promote their guest blog posts on your blog to their followers on social media as well as their other blogs.
#30. Hold a Contest
Try once in a while to hold a contest, where you give a product or a certificate or discount card to those who post on their website.
For example, the best SEO contests about your relevant field or niche.
#31. Do a Cross Promotion 
Try cross-promotion of your product or website with someone similar to you. Maybe through a newsletter or a joint product or service offering.
#32. Look at What Your Competitors Are Doing And Take Note
See, peek, pay attention, and research what your competitors are doing, then record and save.
To do this, you can use a tool like Moz's Open Site Explorer "or use Google to search your competitors' website URLs.
See, where they or your competitors are getting backlinks or backlinks.
#33. Comments on Blog Posts or Other Web Sites
Try to make relevant comments and include a link back to your site when you have a similar article or related material.
#34. Create a Second, Third … Blogging Website, etc. (Web 2.0)
Create two, three, or as many as you can afford other websites or blogs to backlink to your main blog.
You can use WordPress.org or Blogger and include backlinks or backlinks to your main site on several pages/articles.
Indeed, this will add a lot of work for you, or if you don't want to bother, you can take advantage of guest posts (quest posts) to make it easier for you to get backlinks.
In fact, if you are willing to pay or spend a little more money, you can take advantage of backlink services or better known as a Private Blog Network (PBN).
However, to get a quality PBN, you must be really observant and understand the services it provides.
Don't get your website/blog on Google's blacklist just because you chose the wrong PBN service.
Enroll in Help a Reporter Out. If you get contacted, then be the person to help.
If you are mentioned in the article then it can create a significant amount of traffic for your website/blog. (especially for foreign blogs).
#36. Search Blog Summary 
Find blog summaries that published the best articles of the week in your field/theme or niche or your area of ​​business.
Get them articles, and if they accept yours it can make their job easier.
They may even continue to look to your website or blog in the future to get more articles from you.
#37. Ask Questions on Blog Posts
Interact with other blogs, especially blogs that are in the same niche or theme as yours.
For example, by commenting on other blog posts, or answering questions from visitor comments on other blogs.
Also by asking questions to get others to share ideas similar to those in your posts.
In the future, you may want to contact them to write a guest post on your blog.
#38. Make sure to add backlinks between articles (internal links)
Internal links, or links between articles on your blog, aim to assist users in making it easier for them to surf your website/blog.
Apart from being good at lowering the Bounce Rate, it can also make visitors feel at home to stay on your website or blog for a longer time.
And allows them to find other information that might be very useful to them and that they want to share on their social media.
#39. Asking Other Bloggers
Try asking bloggers or other website owners what tips and tricks they found in generating traffic or visitors and backlinks.
If you are hesitant or embarrassed to ask your competitor's / rival's blog owner, then you can ask people in related fields who are very likely to be willing to help you.
#40. Sign up on Google News 
Try to register on Google News. Learn the rules they've set, and how they require you to structure posts so you can be registered.
Once registered, you can see a lot of potential new visitors.
#41. Short URL of Your Website or Blog
Your blog or website may have a long URL.
If so then make a short URL with google sort URL (currently no longer active) or also with bitly and others.
That way your blog URL will be easy to remember and share on the radio or on podcasts so that people can easily remember it and can visit your blog.
#42. Post to Reddit and Similar Sites
Help and answer other people's questions with your posts, and make sure you provide a relevant backlink (backlink) to answer other people's questions.
Because if you don't, the Redditor will roast you alive for spam.
To open Reddit, you must use a VPN, because this site is either blocked by the government or Reddit itself is blocking our country, because of the large number of spammers.
#43. Do a Reddit AMA for Your Area of ​​Expertise
Find the right subreddit to post.
Sometimes this can be Viral and sometimes you can find that you asked a question or made an inappropriate answer/post.
#44. Give Your Product or Service to  Other Bloggers
Try to give your product or service for free to other bloggers and see how later they will review your product or service on their blog.
Make sure you have a great product or service or this approach could backfire on you.
Also make sure to do your best job here, because that's what is expected.
#45. Perform Free Trials of Other Services or Products
Try testing services or products from other blogs or websites that can help improve your blog/business.
Some of the websites that can help you are Hootsuite or Moz with their 1-month free trial.
Make sure to ask multiple questions in free mode or 1 in 1 session.
Remember, it's free and you don't have to buy it.
Also, try to get free service for a month from SEO agencies.
Where you can plan detailed actions to improve the ranking of your website or blog on Google for free.
#46. ​​Search the Web with the Keywords "how to get lots of visitors for free blogs"
You will find tons of great articles out there that can help you and can get you to come up with lots of innovative ideas.
#47. Create Courses for Sites Like Udemy
This course will help you establish yourself as a thought leader and be able to drive traffic to your website or blog.
Make sure to put out coupon deals for courses and try to encourage more people to sign up.
#48. Use a Blog Aggregator
Use blog aggregators to get your content in front of more people.
Popular blog aggregators are Alltop, Blogarama, and Blogrific.
There are lots of other users that you should check out too.
Also, put a backlink (backlink) to your website or blog in your articles so that people can easily check your website.
#49. Try Interviewing Others for Your Website
Just call and see if they're interested. Do the opposite too.
Try to see if there are other websites that would like to interview you.
#50. Ask Friends to Promote Your Website or Blog
Ask your friends to promote your website or blog on their social media accounts such as Facebook, LinkedIn, Twitter, etc.
You can ask them to share it directly on their social media accounts or it can be just by word of mouth.
If they're willing to recommend you, it can be a classic way to get other people to visit your website or blog.
#51. Host Webinars
People like to watch these things rather than read the same material in blog posts.
Record your webinars and post them on Youtube and on your own website.
Don't try to sell stuff on your first webinar and provide as much useful information as possible.
The audience can ask questions that help you think of new ideas.
#52. Create Dailymotion Account and Video There
Try to register on Dailymotion. Upload video content that is relevant to your website or blog.
And don't forget to include your website backlink there.
#53. Create a Backlinks Profile
Create an account by registering on sites like cplusplus, cycling74, appsplit, telldc, vayable, gamesfort, viki, etc.
Complete your profile there, and also include your website/blog link there (backlink).
54. Choosing the Right Blog Platform
Choosing an appropriate and appropriate blog platform is also one way to increase blog visitors.
The blogging platform that you will choose should be adjusted to the theme or usability of the blog that you are building.
Building a blog in the era of technological development today can be said to be very easy.
By using the right blogging platform, you can write on a blog as easily as you write on a notepad or Ms. Word.
The blogging platform is further divided into 2, namely hosted and self-hosted blogging platforms.
There are currently 2 popular hosted blogging platforms, namely Blogger (Blogspot) and WordPress.com.
The blogging platform you choose should use one that only focuses on writing and publishing content.
But before that, it's a good idea to choose a blogging platform that suits the blog you are building.
For example, suppose you want to build a personal blog or a blog that contains information to help users, it might be better if you use a hosted blogging service.
Like in blogger or WordPress.
However, even if you build a personal blog or blog that contains useful information content for users,
and so that your blog visitors will increase later, it's a good idea to use a Top Level Domain, not a free domain that still has Blogspot or WordPress appendages.
For the hosting itself, you can take advantage of blogger (BlogSpot) hosting if you don't want to pay a larger annual fee.
You can buy the domain yourself and then use it on the hosted platform.
For the domain service itself, you can check cheap domains here.
Meanwhile, if you want to have full control over all your blogging services, then you can use or rent your own hosting, which is commonly referred to as self-hosted.
Self-hosted is usually used for blogs or service websites, online selling websites, or websites that focus on finding customers.
In choosing self-hosted hosting, then use a blog platform with a content management system (CMS).
Because by choosing a CMS to be a blogging platform, you don't have to understand programming languages ​​or coding, just focus on publishing content.
You can add new features with the help of plugins or modules. Configure the appearance of the web/blog design by utilizing a collection of free themes.
There are 3 CMS or content management systems that are popular today among users or website owners, namely WordPress, Joomla, and Drupal.
You must be able to choose a hosting service that not only provides these CMSs but also makes it easy for you to set up them.
You can choose this unlimited hosting to install all three platforms with just one click.
Another advantage when using self-hosting or self-hosting is that there are lots of plugins for implementing Onpage SEO.
On-page SEO itself is one way that is quite effective in increasing blog visitors/users.
The 51+ tips and tricks in the form of ideas on how to get traffic or traffic to your website or blog above can help you and also make you think and become a more creative blogger so you can develop them with your own techniques and tricks.
Read more:
Conclusion:
However, if you think the 51+ ways to get a free blog and web traffic above are still lacking, and you have more ideas, please leave your comments below.
Because providing useful information to readers is one of the most reliable and best SEO techniques out there. Happy blogging, and good luck!