What is Digital Marketing Complete Guide for Beginners – As technology advances, people's needs and ways of doing things change, including marketing techniques.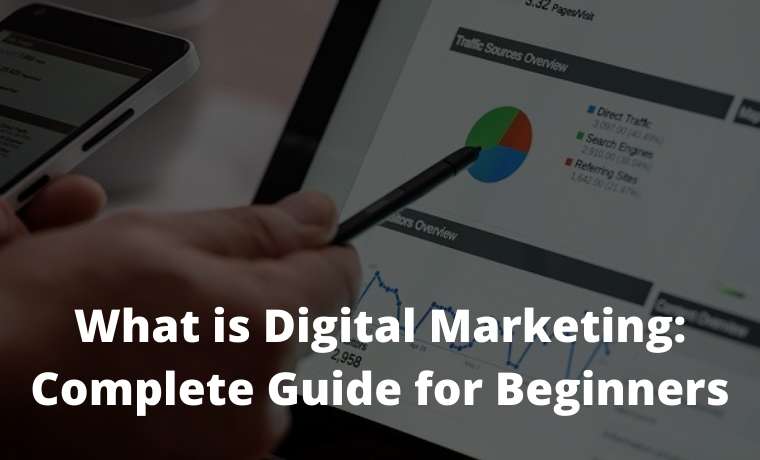 What is Digital Marketing Complete Guide for Beginners 2023
If in the past the marketing method was carried out in a conventional manner such as spreading leaflets, placing advertisements on television or radio, and the like, now the marketing process has entered a new phase that utilizes technology through digital marketing or digital marketing.
Read more:
If you are interested in knowing in-depth about digital marketing for the success of your business, please read this article until the end.
What is Digital Marketing?
Digital marketing is the marketing of products or services using digital technology through the internet, social media, cell phones, or other digital media.
It is also an umbrella term that covers various marketing strategies such as Social Media Marketing, Search Engine Optimization (SEO), and Email Marketing.
Compared to traditional marketing methods such as print media, billboards, and TV, digital marketing is essentially data-driven. Many of today's popular digital advertising platforms provide access to campaign reports for comprehensive data analysis.
With the combined power of the internet and technology, today's Digital Marketers can collect and analyze data from different customer behaviors or user engagement, enabling them to facilitate more personalized content and advertising toward clearly defined audiences for better engagement and outcomes…
Why Digital Marketing?
Unlike traditional and conventional marketing, digital marketing offers the following benefits:
Monitorable and Measurable
Technological advances have made it fairly easy to measure the effectiveness of marketing campaigns through digital analytics dashboards such as Google Analytics, Google Data Studio, or Adobe Analytics.
Through the application of digital analytics, data collected over a period of time is right at your fingertips and can be accessed whenever and wherever you want.
Each user interaction ( touchpoint ) with your business generates its own data set, allowing you to segment the data and understand how each point of contact contributes to your profit which means a sale or a conversion.
A conversion can be any action the user takes such as downloading an e-book, submitting an inquiry form, or making an online purchase.
From here, you can find out which points of contact resonate with your target audience, that is, those that contribute the most to conversions, and reproduce this success in future campaigns.
Efficiency in Optimization
The advent of online media platforms has allowed marketers to purchase ad space on various websites and mobile apps and review live reports within hours.
This allows marketers to review ad campaign performance and make adjustments on the fly such as optimizing creatives to increase audience engagement.
Broad and Targeted Reach
With billions of users on social media platforms like Facebook, YouTube, and LinkedIn, your reach is mainly limited by your budget. Many of these social media platforms also allow you to target your ads to specific audiences, for example by demographics and interests, and behavioral patterns such as retargeting.
Retargeting is a form of marketing that allows you to show relevant ads to users who have visited certain pages on your site.
For example, if a user visits an online store that sells groceries and goes to a product page that sells apples, the grocery store could target the user with an ad related to apples after the user leaves the site and explores other websites, social media platforms, and mobile app devices.
3 Pillars of Digital Marketing
There are 3 Pillars in Digital Marketing. These are:
User Journey
Digital Marketing Channels
Creative Content Materials
#1. User Journey
The first pillar of digital marketing is the user journey.
The user journey is the meeting and interaction of customers with your brand across all digital and non-digital channels that shape their emotions and perceptions about your brand.
This usually starts from the awareness stage and ends at the buying or advocacy (loyalty) stage:
Awareness: Customers are first aware of the brand.
Judgment (interest/evaluation): The customer needs to evaluate his decision and consider other brands.
Purchase (desire/action): The customer is ready to make a purchase.
Advocacy (Loyalty): Customers spread word of mouth and recommend the brand to their friends.
Customers typically interact with your creative or content across various digital channels (social media, search, display ads) and enter your website.
When he's browsing your website or mobile app, your goal is to encourage him to take an important action known as a conversion, such as filling out a contact form or adding a product to a shopping cart.
#2. Digital Marketing Channels
The second pillar of digital marketing is the channel through which you do marketing.
Marketing channels are the media used by organizations or businesses to communicate or convey messages to consumers.
In digital marketing, digital channels are the ways in which your customers know about your business and what it has to offer. This is where your traffic (users) comes from.
Examples of digital marketing channels include:
Organic Search (e.g. Google)
Paid Search
Display ads
E-mail
Social media
Referrals (e.g. Traffic via other websites)
Organic Search
People use search engines for reasons ranging from research to shopping to entertainment, with Google alone handling more than 40,000 queries per second (3.5 billion search queries per day).
Organic search results appear below paid search ads.
In order to rank websites on top of organic search engine result pages (SERPs), marketers employ a digital marketing strategy known as search engine optimization (SEO).
Paid Search
Paid search ad results appear at the top of the SERP.
In order to advertise your website in paid search ad results on Google, you need to register for a Google Ads account and implement a digital marketing strategy known as search engine marketing (SEM).
Display Ads
Display ads refer to ad placements that appear on web pages when users browse them.
For your ad to appear on website placements, you can start with Google Ads or the demand-side platform.
E-mail
There are about 4 billion email users – Statista. Email is still one of the most popular mediums that businesses use to communicate with their customers today.
Digital marketers employ digital marketing strategies which are also referred to as email marketing or email marketing and marketing automation to send targeted and relevant emails to email subscribers that are segmented properly.
Social media
Social Media needs no introduction. People use it every day to keep up with the latest news or connect with friends and family around the world.
Businesses are on social media to connect with potential customers by engaging them in a more personal and authentic way.
With the help of various social media marketing tools, you will be able to understand the needs and interests of your target audience on various social media platforms. This will help you better customize the content to engage your target audience more.
Referral
Referral traffic obtained is the result of the user clicking on a hyperlink (backlink) and navigating from one website to another (hyperlink target or website). This means traffic comes from other websites, not from direct searches to Google.
Referral links are created through strategic online partnerships or as a result of media acquisitions. Applying online PR is one of the most effective methods of gaining brand mention, gaining backlinks, and generating brand awareness.
How Do Various Digital Channels Affect Business?
These are just a few examples of digital marketing channels, and among what you decide to use, it is important to analyze digital marketing analytics reports to understand which digital channels are generating the highest investment in order to allocate the appropriate budget.
Digital marketing campaigns also usually involve the integration of multiple digital channels (multi-channel) strategies such as search engine marketing, content marketing, display advertising, and email marketing.
Don't get confused by omnichannel, which like multi-channel, also engages subscribers through multiple channels.
Omni-channel is more accurately defined as providing a consistent, unified, and good customer experience regardless of whether the customer interacts with the brand on social media, in a physical store, or in an online store.
Digital marketing is and should be integrated with offline marketing channels such as print advertising, exhibitions, popup booths, and in-store promotions to maximize target market reach and lead nurture.
Examples of online/offline marketing integration are launching trade shows (offline) and launching Facebook Ads campaigns (online) to promote offline events.
And during the event (offline), it collects personal details from the prospect such as email and phone number for follow-up via email and mobile marketing (online).
QR codes
are also an effective tool for connecting offline and online marketing efforts. To create a QR code, businesses can use a 
generator tool
 available online and incorporate it into offline materials like print ads or exhibition booths for a seamless customer experience.
By providing an omnichannel customer experience throughout the user's journey, from awareness to post-purchase, businesses can engage their audience at multiple points of contact.
For example, a business could launch an online PR campaign to create awareness, implement content marketing to help customers evaluate their products, drive traffic to attract qualified potential buyers to their website via SEO, digital advertising, and email, and hook up with prospects to repurchase.
through Email Marketing, Digital Advertising, Marketing Automation, and Social Media Marketing Campaigns.
The choice of digital marketing channels depends on various factors such as:
Marketing goals: Are your goals increasing brand awareness or driving purchases?
Marketing Budget: Do you have a sufficient budget to reach your marketing campaign across multiple digital channels?
The workforce: Does your marketing team have the necessary knowledge and skills to manage multiple digital campaigns and agencies?
Customers: On which platforms are your customers? What is your customer touchpoint?
#3. Creative Content
The third pillar of digital marketing is advertising materials and content.
This is content in the form of visual graphics, text, and videos created and marketed by your brand that your customers interact with and digest, also referred to as content marketing.
Advertising materials in the form of:
Advertising banners
Video ads
Text ads
The contents are in the form of:
Blog articles
Video
Infographics

What is a Digital Marketing Strategy?
A Digital Marketing Strategy is a plan of action to achieve defined marketing goals. Goals are determined by what your business goals are and their order of priority. Once these goals are set, a digital marketing campaign will be developed and run to achieve them.
A digital marketing strategy is different from a digital marketing campaign. When talking about digital marketing strategies, we are referring to the master plan or blueprint to achieve long-term or macro goals.
Campaigns on the other hand are specific tactics used to achieve short-term micro goals in a digital marketing strategy.
Why Is Having a Digital Marketing Strategy Important?
Having a strategy is just as important as having a plan to achieve any goal. It fully optimizes workflow implementation, enabling high effectiveness while ignoring various areas for reviewing data analytics and acting on it.
This paves the way for continuous improvement in various digital marketing strategies ranging from search marketing (SEO / SEM), conversion rate optimization (website user experience), email marketing & social media marketing to build your business goals, acquire new customers, and build more. in. relationship with existing.
Your business also needs a competitive and sustainable content marketing strategy to reach and convert more customers by leveraging the power of online content, while integrating multiple digital marketing channels with traditional media.
Key Components of a Digital Marketing Strategy
Some of the main components of this marketing strategy include:
Defining branding: Use brand guidelines to define your branding. Consider your business's Unique Selling Points (USP).
Develop customer personas: Understand demographic information such as age, gender, location, and motivations that drive people to choose products and services. Use Google Analytics to assist in creating buyer personas and segmenting them according to keywords in organic traffic
Defining SMART (Specific, Measurable, Achievable, Relevant, Time-Limited Goals.) Marketing goals and KPIs: For example Achieve a 20% increase in leads resulting from form list filling in the next 6 months
Identify target markets: Use market research tools such as Google Keyword Planner, Google Trends, and Facebook Audience Insights to conduct market research and identify potential target markets
Conduct a competitive analysis: Use the web and social analysis tools such as Web Similar, Semrush, and SocialBakers to analyze your competitors and perform a SWOT analysis.
Manage and allocate resources appropriately to achieve goals: Resources include manpower (internal or outsourced team, external marketing agency) and budget.
Review and optimize campaign performance: Use digital marketing analytics tools such as Google Analytics to track, measure, and report on the performance of your digital marketing campaigns.
Examples of Digital Marketing
There are many types or categories of digital marketing. Examples of digital marketing include:
Social Media Marketing (SMM)
Search Engine Optimization (SEO)
Search Engine Marketing (SEM)
Email Marketing
Marketing Automation
Digital Advertising
Content Marketing
The entire digital marketing strategy can be summarized into this framework:
The journey of the user or purchase funnel starts from the awareness stage and progresses to the interest (evaluation/consideration), action (purchase), and loyalty stages.
Throughout the user journey, customers interact with brands via different digital channels (organic search, social media, email) and take action via CTAs or call-to-action on creatives or website content (e.g. landing pages).
The thing that needs to be considered in building a successful digital marketing business is to ensure that your marketing budget matches your needs, plans, and goals that will be achieved in the end.
Also, make sure you are budgeting costs in the business marketing process so that later you know what expenses you have made for your business.
Read more:
Conclusion:
To simplify this process, you can try to use accounting software that is easy to use whenever and wherever you want, has the most complete features, and is affordable, such as Accurate Online.
Don't forget to bookmark and always visit every day Technowizah.com because you can find here the latest Tech Computer Android games How-to Guide Tips&Tricks Software Review etc, Which we update every day.