How To Fix Boot Loop In Windows 10 Laptop PC – In previous versions of Windows if it fails to boot maybe we need a full reinstall to fix it. But in the Windows 10 version, the reboot loop can be completed relatively quickly.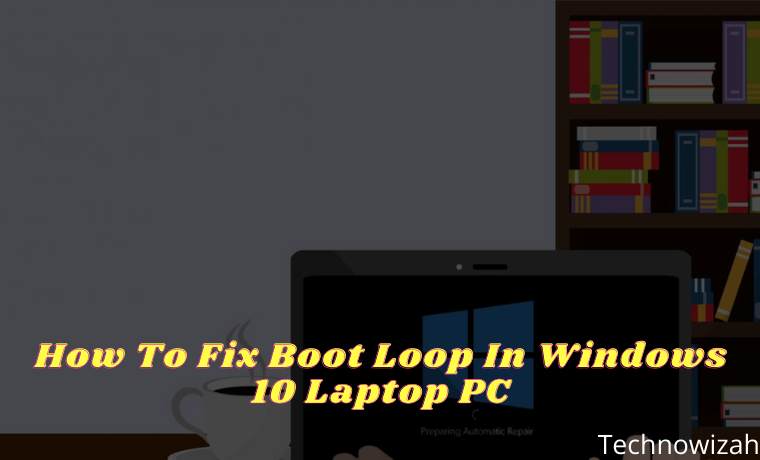 How To Fix Boot Loop In Windows 10 Laptop PC 2023
Here's how to fix a boot loop in Windows 10 and get your PC or laptop up and running in minutes.
Read more:
What is Infinite Boot Loop?
Windows 10 isn't particularly prone to infinite boot loops, but that's not unheard of. It's easy to spot, especially by Windows' failure to load properly after turning on your computer. Otherwise, the computer will fail to reach the login screen before resetting to the boot screen and attempting to reload Windows. Now caught in an infinite loop booting and crashing.
This error occurs because of a problem with the Windows system registry. Unfortunately, without booting into Windows, the registry cannot be repaired. This is called a Catch-22 situation. To solve this problem, use the Windows 10 Recovery option.
What Causes the Windows 10 Boot Loop?
The Windows 10 reboot loop can be frustrating to deal with. But what caused it? Usually, the error can be traced to one of three things:
Windows Update
Updated or new Windows drivers
New software installation (app or game)
Something in the process went awry. The result is a computer caught in an infinite reboot loop. This is a problem that has plagued Windows for years. But don't worry, there are some tips to fix the boot loop in Windows 10.
Wait for 

Windows 10

Automatic Repair

Boot 

Loop

 Repair
If you're lucky, the Windows Repair or Automatic Repair feature might come in without being asked by you. Usually, this will only happen after a few reboots, so give your computer some time to get to this stage. Some manual interaction may be required, use the Automatic Repair option here and follow any steps. However, if this hasn't happened in 15 minutes, it probably won't.
Access Safe Mode to Fix Windows 10 Endless Boot Loops
Three other options are available to fix the infinite boot loop in Windows 10:
Safe Mode: this allows you to access the operating system and uninstall the software, driver, or Windows Update that is causing the error
System Recovery:  a quick way to undo recent changes
Reinstall Windows 10: last option, is to use when nothing else is working or you don't mind losing data.
Accessing Safe Mode will depend on how the boot loop is presented, as well as your system settings.
#1. Windows Dual Boot System
If you have multiple versions of Windows installed on your computer, wait for the OS selection screen to appear. When given a choice, make sure you choose Change defaults or choose other options.  Then follow the steps above to access Safe Mode.
#2. Access Safe Mode Manually
In some cases, you will be able to access Safe Mode from within Windows 10. This will be possible if a reboot loop is triggered on launching an app or certain connected hardware. Before the reboot is triggered, you have three options to reboot Windows 10 in Safe Mode:
Hold  Shift then Start  > Restart to boot Windows 10 into Advanced startup options.
You can also open Settings (press WIN + I) then Update & Security > Recovery > Advanced startup > Restart now.
In the Command Prompt (search for cmd in the Start menu, then right-click and select Run as administrator  ) enter shutdown /r /o to reboot the computer into Advanced Boot Options.
As mentioned, you may not need long to enter the command. The first option is probably the fastest.
#3. Using Installation Media To Access Safe Mode
Windows 10 users should have a recovery partition on their PC's hard disk drive. Otherwise, a recovery USB drive or DVD can be created by downloading the Windows 10 installation media.
Note that this must be created on a different computer. With Windows 10 stuck in a reboot loop, all you need to do is insert the installation media. Alternatively, access UEFI/BIOS (tap Del,  F8, or  F1  when the system boots) and find the boot manager.
Select the recovery partition as the primary device and then restart the computer. These two methods should have walked you through the Automatic Repair tool, or given you access to the Advanced options screen.
Fix Infinite Boot Loop in Windows 10 Safe Mode
With the computer in Safe Mode, you can take steps to prevent further boot loops. This can be anything from uninstalling drivers to uninstalling Windows Update in the Command Prompt.
Solving Windows Update-Based Boot Loops
In the Command Prompt (which you have to open as Administrator on the desktop) enter
net stop wuauserv
Follow this with
net stop bits
Wait for a response, then browse to  C:\Windows\SoftwareDistribution. Here, delete all the contents of the directory.
But if you can only access the Advanced options screen, use the Command Prompt. This is also an option in Safe Mode. When you restart Windows 10, it should boot as usual.
Our Apps/Games Causing Boot Loops In Windows 10?
Maybe you should suspect that the boot loop is caused by the installation of an application. Maybe it's a game you just installed. However, this can be resolved by uninstalling the software. Just find the software in the Start menu, right-click it, and select Uninstall. When you restart Windows 10, the boot loop should be fixed.
Stop Hardware Driver Boot Loops
If the system is in a boot loop due to hardware drivers, this can also be solved in Safe Mode. Right-click Start and select Device Manager. 
Here, look for the suspect device. Usually, this will be something you just added, though not always.
Right-click the device, select Properties > Drivers, and select  Roll Back Driver.  If this doesn't work, disable it, and uninstall the driver.
With the device selected, right-click and select  Disable Device, then  Uninstall Driver. Then you can restart Windows 10.
Restore/Reinstall Windows 10 To Fix Infinite Boot Loop
If you can't access Safe Mode, or the fix doesn't work, the best solution is to use the refresh option. You may also have to reset Windows 10 back to factory settings. This process basically reinstalls Windows 10 for you. Remember to always back up your personal data first!
Did You guys Fix the Windows Boot Loop?
Reboot loops have long been a problem with Windows. While previous versions offered several solutions in recovery options, this solution is far from comprehensive. Luckily, Windows 10 has great recovery tools and makes boot loop problems easy to deal with.
While following the steps outlined above, please be careful to follow them exactly. The error you made while using the command line interface cannot be undone.
If you're lucky enough to recover from Windows 10's infinite boot loop, it's time to take precautions against the things you already know can make boot loops happen.
Read more:
Conclusion:
That's an article on How to Fix the Boot Loop on Windows 10, Wait for other interesting articles, and don't forget to share this article with your friends.
Don't forget to bookmark and always visit every day Technowizah.com because you can find here the latest Tech Computer Android games How-to Guide Tips&Tricks Software Review etc, Which we update every day.